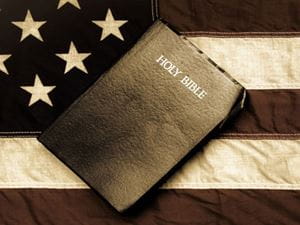 Shutterstock.com
The presidential election has divided the country, and with that division comes disagreement and misinformation. As Christians, we may not all agree with each other, but we can still seek truth each day as we also pray for the country to work toward healing and unity.
Now we must also work harder to seek truth in an age where truth is easy to fake and also easy to spread.
It's a problem that even Google has acknowledged. In mid-November, just after the election, Google announced it would shut down websites with fake news generated from its ad services.
"Moving forward, we will restrict ad serving on pages that misrepresent, misstate, or conceal information about the publisher, the publisher's content, or the primary purpose of the web property," a Google spokesperson said in a statement.
Facebook has also been popular as a space for pushing fake news stories, particularly from right-wing conspiracy sites, with headlines such as "Pope Francis Shocks World, Endorses Donald Trump for President, Releases Statement."
And while these sites are trying to limit those fake news articles, it's our job to make sure we're not helping spread the misinformation. Before we click "Share" or "Like," we need to be vigilant and sure that the information is true. As Christians, we are messengers of truth.
2 Timonthy 2:15 says, "Do your best to present yourself to God as one approved, a worker who does not need to be ashamed and who correctly handles the word of truth."
Here's are some tips to help filter out the fake from the truth.
Read
Last year, two Christian news stories made the rounds on the Internet and kept making the rounds on the Internet as people kept sharing and sharing the false stories. One was an untrue story about a pastor being arrested for refusing to officiate a same-sex marriage. The link, if people had bothered to read, wasn't from a credible site such as ChristianityToday.com or WORLD, but from NBC.com.co.
Notice the extra .co? We need to be careful about what we're reading and where we're getting our information.
"The most important thing in a functional society is a well-informed public," Matt Masur, activist and contributor to The Huffington Post said in a column. "What we have now is not only uninformed but misinformed masses."
Take the time to read the content of the story before clicking to share or like. Too many times we share or spread misinformation based on a headline, but it's important that we dig deeper for the truth.
Fact Check
In an article for Christianity Today, Ed Stetzer writes about Christians sharing fake news. He says there's an importance to making sure the article is verified before we share it with our friends or family.
"If you have not, will not, or cannot confirm a story, do not share it," he says. "As Christians, we have a higher standard than even the journalist. We aren't protecting the reputation of an organization or a website, we bear the name of our King.
"If our friends and families cannot trust us with this type of news, many will not listen when we seek to share the good news of the gospel."
Our job is to glorify God and share his message, and when we share false information, we're not sharing truth. Our social media accounts are places to be witnesses for God, and we need to be careful that what we're sharing is truthful. As Proverbs 16:16 says, we need to "Get wisdom."
Keep Praying
The nation is in a divided place right now. In a recent survey, 15 percent of those surveyed said that they are no longer speaking with a family member or close friend because of disagreements over the presidential election.
Let's not make that worse by spreading misinformation. Now is the time for prayer and healing and truth.
"When God's people will pray with a humble heart – repenting of our sins – then God promises He will hear our prayer," said evangelist Anne Graham Lotz, daughter of Billy Graham. "He will forgive our sin. And the third element is that He will heal our land.
"God is the one who will bring healing," she added. "It's not a political party or one particular person. Our faith has to be in God."
In New York, there have been interfaith prayer and "song services," where healing and reconciliation can occur following the bitterness of the election.
"No matter what the racial and ethnic divisions in America, we can be churches that demonstrate and embody the reconciliation of the kingdom of God," Russell Moore, president of the Southern Baptist Convention's Ethics and Religious Liberty Commission said in a statement. "The most important lesson we should learn is that the church must stand against the way politics has become a religion, and religion has become politics."
Stay in the Word
The best way to seek truth in today's world is to stay in the truth: God's word. James 1:5 says, "Now if any of you lacks wisdom, he should ask God, who gives to all generously and without criticizing, and it will be given to him."
If we surround ourselves in God's word, we are less likely to fall victim to the falsehoods of this world. Stay grounded in the bible and you'll find discernment easier.
Seek Truth Always
Now is the time to seek truth in what we share with others. We are called to be messengers of truth for God. We are called to share his good news. We want non-believers and skeptics to trust us. We want them to see God in everything we do, and that starts with truth. Charles Spurgeon once said, "We entertain God's Truth not as a guest but as master of the house."
There's a lot of misinformation out there, and it's easy to share it, but let's be cautious. Let's read and verify that information first. Let us also guard our hearts and minds with biblical truth and continue to pray for our nation toward healing.