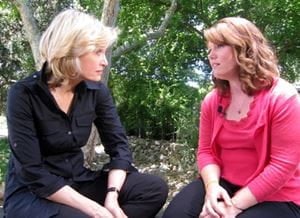 In 1991, a child abduction made headlines nationwide when 11-year-old Jaycee Lee Dugard was kidnapped from her school bus stop just a short walk from her own home. She was held captive by Phillip and Nancy Garrido for more than 18 years, in which time she was raped repeatedly and bore two daughters. All hope seemed lost for finding Jaycee until a suspicisious visit to Phillip's parole officer reopened the investigation.
Two years after her return, Jaycee is ready to tell her amazing story of survival. ABC World News journalist Diane Sawyer spoke with Jaycee exclusively in an interview to air Sunday, July 10, at 9 p.m. Eastern. Here, Sawyer shares with Beliefnet what inspired her most about this brave young woman.
Q. Tell me what surprised you the most about Jaycee?
A. If we look at the fact that there are 20,000 stranger abductions every year in this country, a tiny handful are long term ones and 40 percent of those don't come back alive. She has come back alive, and she has come back remembering. She says she is ready to stare down what happened to her, and most of all, it is so redeeming. She does something I didn't think was possible when I first heard this story; she takes what happens to her and turns it into a life-affirming lesson for everybody else about how you survive, how you hold on to hope, about how you treasure every part of your day.
Q. How did she survive? That's one of the questions that everyone wants to know. After all of the things that she has been through, how can she come out so positive?
A. I think we're going to learn a lot about how she used little stories, words and curiosity to find one thing in every day that would give the day value – no matter what awful things were being done to her. She had the little flame of hope that she kept alive, looking at the moon and dreaming of her mother. By the way, when I say looking at the moon, the window was covered with a towel and bars. So, she could just see the shimmering reflection through the towel. It's also about how she valued life and then ultimately protected her daughters.
Q. You got a chance to speak with Jaycee's mother as well. I can't even imagine the perspective she's coming from.
A. These are two miraculous stories of holding on to hope against all odds over 18 years. The story they tell when they first hear each others' voices on the phone and the joy, the exuberance... there's a conviction that they're not going to let anyone take the rest of their time away. They're not going let him take the rest of the time. I think her mother would be the first to tell you that she has enough anger and rage for both of them. Jaycee, because she loves her family and because she is treasuring every new found moment, says that's not who she is going to be in her heart.
Q. You've interviewed so many celebrities, world leaders, and people of great influence. What personally inspired you about Jaycee's story?
A. I think we can imagine that some immensely wise and experienced adults would be able to give us light to shine over this dark experience... You don't expect a girl who's in the fifth grade to be able to do it. When it happened, you don't expect a young woman to have found little ways to educate herself, stay curious about what it must be like outside, to come through it walking up to you with a giant smile and a hug. You see her and you come alive. I have to tell you when I walked in that first time and saw her, I couldn't believe it.
Q. In addition to speaking with you, Jaycee also wrote a memoir called A Stolen Life.
A. The book is detailed at a level that I think will surprise a lot of people. I loved the phrase she said, which is, "It's about him, not me. I'll just stare it down, on behalf of everyone out there who's going through this. They don't get us to keep their secrets."
To watch the interview with Jaycee Dugard, go to ABC News.