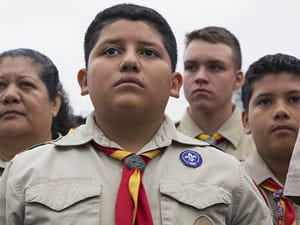 Joseph Sohm/Shutterstock.com
The Church of Jesus Christ of Latter-day Saints (LDS), who have over 11 million members throughout the world, broke ties with the Boy Scouts of America (BSA). According to reports, the decision didn't shock many as the decision was long overdue since the organization started admitting gays into their programs. LDS denied the allegations because they are creating their own in-house programs for youths. The church had a 100-year relationship with BSA and was their largest sponsor that served over 300,000 Mormon youths. "For many Mormons, putting on a uniform and joining a troop has become a rite of passage. The church, which covers the cost for congregations, is the biggest sponsor of troops in the nation," theDallas News reported.
"The church has always welcomed all boys to its scouting units regardless of sexual orientation. However, the admission of openly gay leaders is inconsistent with the doctrines of the Church and what have traditionally been the values of the Boy Scouts of America," said LDS regarding the BDA's decision on allowing gays into leadership roles. But LDS is not the only one disenchanted. Rev. Franklin Graham said: "I think the Mormon Church—and all churches—should pull out of the organization completely," Graham told cnsnews.com. "They need to get their younger boys out as well." What will kids take from these decisions in and out of the church? Here are 5 points to consider when asking this question.
It teaches intolerance.
LDS has the right to their beliefs, but the message tells kids that if someone is gay or different than they should be shunned. "We've applauded its sound decisions — including its acceptance of gay members four years ago — to finally give up old biases and adapt to the world that is rapidly rejecting such prejudices,"
Dallas Morning News
shared. The more children are exposed to racial and cultural differences, the more comfortable they become with all types of people as they grow older. The move by the LDS doesn't support this narrative.
It sets a bad example.
Children follow the examples of the adults and the leaders in their lives. For example, if a child sees people of authority being biased, children will do the same thing. A child may see his father refusing to be treated by a female doctor because he doesn't think women should be working in medicine, or if parents make remarks about a person being gay that are offensive, the kids will do the same. "Let children know from a very early age that name-calling and
prejudiced remarks are hurtful
and wrong. Get children to choose less extreme language, which will help them avoid negative generalizations later on," Beliefnet.com reported.
It doesn't prepare them for the world.
Eventually, children will grow up and move out the bubble of the church. The world is not a nice place for those even prepared for the journey. Many churches have a clear policy on gays and teach that homosexuality is a sin. Even if you believe this, you should treat people with compassion and respect. Respectful behavior is tough at home and is influenced by the church. If kids are not taught this, they will be biased and disrespectful of people who don't share those same beliefs. Kids learn respect, they are not born with it.
It teaches them to not interact with others.
According to LDS and BSA, an estimated 130,000 to 185,000 U.S. Mormon boys ages 14 to 18 are expected to leave the Boy Scouts. There will be 280,000-330,000 Mormon boys ages 8 to 13, who will remain in Scouts while a new program is developed through LDS. With these vast numbers of boys leaving, the decision by the church teaches them that they don't have to engage with others who don't fit into their mold.
It teaches kids that things are black and white.
In the real world, you work with all kinds of people, the message of exclusion does not train children to work with others, who they don't like or who they have a disagreement with. We don't have all the answers, God does. Sometimes there are gray areas in life. This doesn't mean we can't still have our own values, it means that none of us have figured it all out. When the BSA decided to allow openly homosexual Scout leaders, many of religious leaders were upset. They were even more infuriated when the "Scouts agreed to admit members who identify sexually based on gender choice, not biological sex, which means transgender people can join the Boy Scouts," cns.com added.
The Church of Latter-day Saints possesses the right to their own beliefs and to interpret the Scripture as they see fit. Yet, it sends mix messages to kids, showing them that being exclusive and judgmental is godly. However, there are those who believe "Churches should always stand with teachings that align with the Word of God," Rev. Graham added.