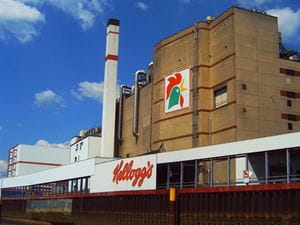 Umland/Flickr
A battle has ensued between Kellogg's and the conservative news site Breitbart after the cereal king extracted their advertisements. The company made the move after consumers charged that the website was bigoted and biased. People became more avid when Stephen Bannon, who once ran Breitbart, was selected by President-elect Donald Trump as chief strategist to the White House. Those opposing the selection were Democrats and activist groups like the Anti-Defamation League and the Council on American-Islamic Relations, which maintained the move would empower white nationalists. Many believe that Breitbart and Bannon are representatives of these narratives. Coupled with the anger of Breitbart being ultra-conservative and the aftermath of the election--a nation remains divided. Many are lashing out through social media and by boycotting brands who don't line up with their beliefs. With this, Kellogg's is now stepping into a politically-charged fight.
The controversy surrounding Bannon and the outrage from the election has kept the embers hot. This has sparked an ongoing outrage by consumers threatening to boycott Kellogg's if their advertisements continued to run on the site. In what appeared to be a knee-jerk response, Kellogg's, the maker of Special K, Fruit Loops, Frosted Flakes and Pop Tarts, pulled the ads off Breitbart. Kellogg's accused the conservative site with a following of over 40 million, that they do not line up with the values of their company.
Kellogg's spokeswoman Kris Charles said that the food manufacturer dissolved all ads on the site. Charles explained that Breitbart does not coincide with the brand. Being associated with them does not reflect the cereal manufacturer's true image. She also announced that they regularly work with media buying partners to ensure ads do not appear on sites that aren't aligned with our values as a company. "This involves reviewing websites where ads could potentially be placed using filtering technology to assess site content. As you can imagine, there is a very large volume of websites, so occasionally something is inadvertently missed." Kellogg's stated that their move has nothing to do with politics.
Inadvertently missed? What was not amiss was the anger exhibited by Breitbart regarding the decision. The site rallied their readers to boycott the brand and responded that it "represents an escalation in the war by leftist companies like Target and Allstate against conservative customers whose values propelled Donald Trump into the White House." The site launched #DumpKelloggs to encourage people to sign the petition against the cereal maker. Over 100,000 readers have signed to date. "Kellogg's offered no examples of how Breitbart's 45 million monthly readers fail to align with the breakfast maker's values," Breitbart shared. Make no mistake, the post-election has incited violence in cities across the country after Trump was declared the winner. After weeks of contention, some Hillary Clinton supporters remain in pursuit trying to overturn the electoral college in favor of their candidate. Are these the same voters contacting Kellogg's?
Breitbart came out swinging against the accusations that they were bigots. Breitbart News Editor-in-Chief Alexander Marlow responded that Kellogg's actions were cowardice and were anti-American. He wrote impart: "They [Kellogg's] insult our incredibly diverse staff and spit in the face of our 45,000,000 highly engaged, highly perceptive, highly loyal readers, many of whom are Kellogg's customers. If you serve Kellogg's products to your family, you are serving up bigotry at your breakfast table," Marlow protested. Kellogg's is not alone as other companies like Nest and EarthLink also pulled their ads from the site.
Welch's is another company that pledged to remove their ads from Breitbart. The brand known for its jams and juices received complaints. One consumer wrote that she would boycott Welch's if they do not stop giving Breitbart their advertising business. The company responded on Facebook that the proper measures were being taken and replied: "We assure you that we are taking the necessary steps to remove all Welch's content from this site, and others like it. Thank you for reaching out." The San Diego Zoo removed all advertisements from the site in November. The digital ad firm AppNexus banned Breitbart from their services. A spokesman said according to published reports that they did a human audit of Breitbart. They determined there were "enough articles and headlines that cross that line, either using coded or overt language." Breitbart is not the only one that experienced a loss of revenue because of political stances. Corporate sponsors decided not to support the Republican convention in 2016. According to TIME magazine Wells Fargo & Co., United Parcel Service Inc., Motorola Solutions Inc. and Ford Motor had limited sponsorships or did not support the convention as they did in 2012. Trump supporters are coming to the aid of Breitbart by advocating the boycott of Kellogg's. Trump fans also boycotted Grubhub after a memo from CEO Matt Maloney was leaked suggesting that supporters of Trump should resign from the organization.
The decline in ad revenue should concern any company.
But Breitbart shared that the loss of Kellogg's as an advertiser is not consequential. They believe it is "a war from leftist companies against conservative customers whose values propelled Donald Trump into the White House." No matter who wins this fight, people vote with their wallets. What is frightening is the probability of having to observe the same division that has ripped this country apart for years to continue. Marlow took the matter further and explained that "Breitbart has the largest platform for pro-family content online and Kellogg's is just placating to the left-wing totalitarians." We don't this for sure, but the angst of the election definitely has disappointed many. Still, this is not a reason to pull ads from a website unless bigotry has surfaced. If this is true, it is justified. If it is a case of politics? Then it looks like Tony the Tiger has a war on his hands.