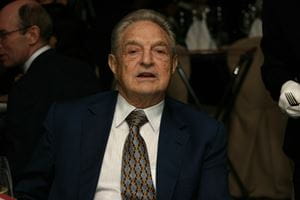 Does billionaire George Soros look to harm evangelical support for Israel?
According to published reports Soros funded groups to raise tension to convince American supporters that Israel is the problem in the Middle East, wrote Alexander H. Joffe, PhD. Organizations like the Telos Group are largely funded by Soros' Foundation to Promote Open Society to sway American support for Israel.
The Telos website states that they aim to strengthen American evangelicals to transform the Israeli-Palestine conflict, not fuel tensions. "Our vision is security, freedom, and dignity for every human being in the Holy Land, and our belief is that a two-state solution supported by the United States is the only viable way to realize that vision."
Soros is Jewish and JNS.org reported that the aim of the group is to train Israeli and Palestine civil leaders, human rights activists on the "effective engagement with U.S. policymakers and the public, and to facilitate relationship building between partners and leading U.S. policymakers."
Co-founder of The Telos Group Todd Deatherage reputed charges his organization was ant-Israeli.
"The individuals we work with from the Evangelical community, as well as every other community, share in our commitment to being pro-Israeli, pro-Palestinian, pro-American, and pro-peace," Deatherage wrote in a statement to JNS.
Founder and national chairman of Christians United for Israel John Hagee told Glen Beck that Soros is attempting "to convince the 18 to 24-year-old members of the evangelical churches that Palestinians are suffering at the hands of Israelis."
A growing number of youths who don't want to hear about their parent's heaven and hell teachings, called the "New Evangelicals" in addition to the liberal churches like the Presbyterian Church are becoming leaders of anti-Zionism.