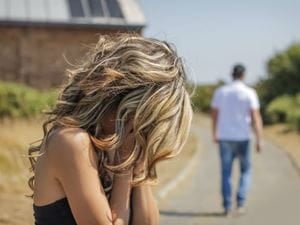 Shutterstock.com
There is no way to sugarcoat it, as much as we like to make you feel better---you were dumped. As much as that word is overwrought and has no semblance or tact, it is never easy. When a relationship ends, it can be devastating. Maybe you fought hard for the relationship or maybe the signs were there all along and you glossed over them, hoping that something would improve. Your emotions may be raw right now and you may need to process the situation before you can move forward. Everyone deals with a breakup differently. If you're one of those gals that have a troublesome time with heartbreak, you are not alone. We urge you to pick your head up and rise above the fray. In fact, use this as fuel to become a more vibrant you! In the book of Isaiah 41:10 we are reassured to not fear. "Fear not, for I am with you; be not dismayed, for I am your God; I will strengthen you, I will help you, I will uphold you with my righteous right hand." Let that be your mantra and let us be your cheerleader to get you to the other side of a breakup. Here is what to do when he dumps you.
Accept what happened.
Anytime that we are in trauma--it takes some time to settle as our insides are shaking. We tend to go on auto-pilot to deal with the event that has desolated us. The first thing to do is accept the experience once the shock wears off. Things did not turn out the way you anticipated and you probably are thinking of trying to win him back. This is a natural progression after being dumped. However, not facing what you are currently going through will delay the healing process and could cause more emotional distress.
Release your emotions.
Instead of turning to something that is unhealthy and self-destructive, release your feelings to help the healing process. Expect varying degrees of sadness to hit during different moments. To deal with this, you may want to see a therapist or someone that you can talk to. This will help you work through your feelings. Another thing that helps is writing a letter to the person and not sending it. When you do this you are free and will not judge yourself. "There are so many emotions involved in a breakup — anger, sadness, loneliness, feelings of rejection and uncertainty about the future — and it's essential to confront them head-on," the Huffington Post shared. Give yourself permission to grieve. Step back from the situation for a moment to gain a clearer perspective.
Get out and get going.
After going through a breakup we want to hide in our apartment and become a hermit. We might even toy with the idea of going into a nunnery. This is when getting out and moving forward is ideal. Look for a healthy alternative to your situation. Try exercising, doing yoga, start a class at the college or find a new hobby. When you are ready, reach out friends who you can confide in. All of us have been on the other end of a relationship and there are a plethora of people to help if you allow them.
Be good to yourself.
So, he left you. Well, we don't need to look like we've been through the mud. Get your hair cut, get your makeup done and go shopping. Maybe he hated short hair and so you kept it long. You have a freedom now to do whatever you want. Use what he didn't like and turn into a power movement in your life. Every time you start feeding into the monster cynicism, worry, insecurities--you give power to him. Take these keys back and celebrate your liberation.
Remember the bad times.
Most of the time an ex is more attractive when they are gone! During the relationship, there might have been signs that it was an unhealthy relationship. "If you suffer from a case of the rose-colored rearview mirror, keep a list of the top 5 reasons you're better off without your ex and review it as needed," Anxiety.org reported. Keep this handy to remind you when you start missing the jerk. Always keep the bad in perspective in order for you to move on.
Think on the good things.
We can get caught up in the negative aspect of a breakup and rightfully so. However, we need to turn a corner here and compile a list of all the great things that make you awesome! Think of this time as being an emotional bruise and not a failure. Although there will be discomfort, it does not need to destroy you. You will be better in the future for choosing a partner and setting up better boundaries for the next time around. This will also make you more confident to not settle for less. Grab a friend to help you list all the qualities that make you attractive and ride a wave towards hope.
Beat him at his game.
If your former man did you a disservice by breaking up for no good reason or he was cheating on you--beat him at his game. Men like that usually come back or at least call. Even if you never get the chance to tell him off or make him know that he lost a good woman, being strong is your answer. This is how you win.
Broken relationships are necessary for us to grow and prepare us for the better things in life. Give yourself time and yourself much love to deal with being dumped. Some relationships work out and others don't. At its core, it might have been damaged anyway. Injecting self-hate just glorifies it, so move on. Soon you will be singing the song "I will survive" in no time.