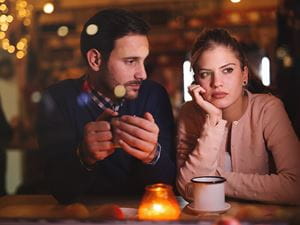 Shutterstock.com
Unrequited love, also known as one-side love, is love that is not openly reciprocated. We believe we know when we love someone but sometimes we don't know if they love us back. If you're constantly perplexed, concerned or wondering about a person's level of interest in you your love for them might be unrequited.
We've all been there, loving someone when they just don't love us the same way. The idea of loving someone with all your heart and soul sounds romantic but it's really difficult to deal when they don't love you the same. The pain of loving someone who doesn't share the same feelings can be devastating and almost unbearable. The truth is rejection hurts. These situations can leave you feeling alone or ashamed about your feelings. It's important to remember that you're not the only one going through it – many people have and will experience unrequited love. What does the Bible have to say about this kind of love? We know from reading Scripture that the Bible offers us great wisdom when it comes to love, including love that's one-sided.
First Corinthians 13:4-8 says, "Love is patient, love is kind. It does not envy, it does not boast, it is not proud. It does not dishonor others, it is not self-seeking, it is not easily angered, it keeps no record of wrongs. Love does not delight in evil but rejoices with the truth. It always protects, always trusts, always hopes, always perseveres. Love never fails…" In this popular reading from 1 Corinthians, Paul gives us a clear explanation of love and what it looks like, particularly in our relationship with others.
Love here is the Greek word agape defined as "affection, good-will, love, benevolence." It represents the kind of love described throughout the Bible. In fact, Agape is the highest form of love, recognized as the love of God for man and of man for God. It is a form of Christian love represented in the Bible, and is related to the concern for the welfare of the one we love. This form of love is filled with purpose over emotion and impulse. This is the kind of purposeful love that we as Christians should aspire for in our relationships with others. But this love can't exist in our lives if it is not a part of our practice, or if we've lost belief in its existence. Agape love tells us how we should be toward others and at the same time reveals God's nature towards every person because "God is love." If you feel your heart is breaking and that you're growing increasingly more discouraged, remember that God is love and that you can find strength in Him.
The Bible also says, "For as the rain and the snow come down from heaven, and do not return to it without watering the earth and making it bud and flourish, so that it yields seed for the sower and bread for the eater, so is my word that goes out from my mouth: It will not return to me empty, but will accomplish what I deserve and achieve the purpose for which I sent it" (Isaiah 55:10-13). When you give your love to someone and they don't return it, you can feel completely defeated when a relationship doesn't translate. You begin wondering why you even cared in the first place. Isaiah reminds us here that nothing happens without reason, including the people that come into our lives. There is a reason why we met that particular purpose. It may not be the reason we expect or want, but everything God does is according to His purpose.
Love is word we see often in the Bible. It's an essential part of God's nature. The Bible asks us "Who shall separate us from the love of Christ? (Romans 8:35). The answer is given to us in verses 37-39 "Yet in all these things we are more than conquerors through Him who loved us. For I am persuaded that neither death nor life, nor angels nor principalities nor powers, nor things present nor things to come, not height nor depth, nor any other created thing, shall be able to separate us from the love of God which in Christ Jesus our Lord." This verse greatly emphasizes the depths of Christ's love for us, and the kind of relationship we can grow in with our Heavenly Father, when we accept His love. When we recognize the power of this verse, we know there is nothing we can't face or conquer because we have God's love on our side. Nothing can keep us from God's love. He loved us first.
The Bible is a great tool to assist us in loving better, in creating stronger relationships, even in the face of brokenness. We know that God is love and with Him our faith in love can be restored, no matter our situation or absent love appears to be in our world. God's love is a great starting place to understand and experience love better. Even in a world of darkness, there is hope with love.