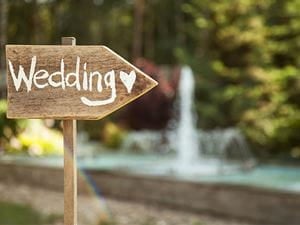 Shutterstock.com
Wedding season is upon us, and for some that means total misery. After getting invited to half a dozen weddings, they can become tedious and overwhelming for someone who is single. It's a reminder that you have yet to find love, and no one wants to have that nagging thought in the back of their mind.
Unfortunately, a lot of wedding guests (and even the wedding party) sometimes forget what it's like to be single and how difficult it can be. They may begin to ask you the dreaded question "why are you still single" or offer to set you up with their grandson/coworker/whoever. This can make you feel jealous, angry and envious.
However, it doesn't have to always be this way. Weddings don't have to be as bad as you think, if you go in prepared. Having a positive outlook going into the wedding will do wonders in helping your experience. Here are six tips on how you can not only survive a wedding while single, but do it while having fun and banishing away jealousy.
Have a tantrum before you go.
It's okay to feel hopeless and like you will never find the love of your life. It's okay to get frustrated, cry, and feel bitter because deep down you know you want your friends to be happy in their marriages. It's not unreasonable to also be a little jealous of it, especially when you have been on your 3rd date this month and are only meeting complete duds.
However, get all of your emotions out now. Have a breakdown at home where you watch three romantic comedies back to back. Cry and yell into your pillow because you hate the last date you went on. Get angry that you have another wedding to go to this year. As long as it's not on the day of the wedding or during a wedding function, you're totally allowed to wallow in your feelings for a day or two. Once you've purged yourself emotionally, you'll be less likely to dwell on it during the wedding.
Give yourself a make-over.
A wedding is a great excuse to get dressed up and treat yourself to a few things you normally wouldn't get to do. Maybe you have been eying a cute dress at the store for a while, or you need an excuse to go get your makeup done without feeling guilty. It's perfect because you're going to a wedding and you have to look nice, right? Cut and color your hair, get a manicure done and go out of your way to get dolled up. You will feel absolutely great about yourself, and it will be a reminder that you have confidence, self-love, and are going to be fine. It's hard to be in a bad mood when you're looking all kinds gorgeous.
Genuinely be happy for the couple.
When you are invited to someone else's wedding, they are open to sharing the best day of their life with you. They want you to be a part of a beautiful and special moment, so it's important to respect that and appreciate that they want you to be present. While it sounds harsh, simply put the day is not about you.
There is good news in this. Focusing on someone else's happiness will help you push aside all the envy and jealously you have. When you choose to share in the couple's excitement, your sad feelings and single-blues will temporarily take a back seat.
Unapologetically enjoy the cake.
Without a date by your side, no one will notice when you go grab a second piece of raspberry chocolate wedding cake or another piece of filet mignon. So go up there and grab as much wedding cake as you want. And not only do you get to eat great food, it's all free. Any day that involves delicious cake is going to be a great day.
Get on the dance floor.
Weddings are supposed to be fun! Get out on that dance floor and shake it like no one is watching. No one cares, because all the attention is on the bride and groom. So let loose and have a great time dancing the night away. Do the robot, bust your favorite boy band moves with your friends and be completely unapologetic about being a dancing goof. You won't be able to help but have a good time. If dancing isn't your thing, see what other activities the wedding has to offer. A lot of weddings like to have fun photo booths with silly costumes or corn hole set up for guests to play. Take advantage of all the entertainment and you will forget your single in no time.
People will envy you, too.
Going to a wedding single actually has a lot of perks that you may have never thought of. When you look around, you might see the moms struggling with children who just want to sleep or the frustrated wives that are having to nurse their drunk-by-9 p.m. husbands. Know that these women are actually envying you a bit, as well. They miss the freedom and ability to go out and let loose sometimes as well. While it's great to be in relationships, there are always positives to being single as well.
Weddings are supposed to be fun and enjoyable. So get out on the dance floor and stick your arms out after the bride's bouquet. Do so with confidence, a smile on your face, and with the knowledge that you will have your time too. It's okay to be single and frustrated, but don't let the jealousy take away from a chance to have a great time with friends, family, and the bridge and groom you love.