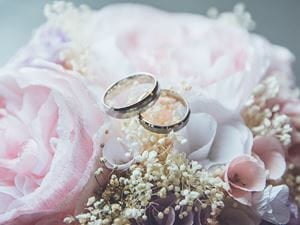 Unsplash
Planning a wedding is an exciting time for couples. You're in love, you're happy and you can't wait to spend the rest of your lives together. But before you say your vows, you might want to consider some subjects about your relationship.
No big life discussion should be off the table when you're engaged to be married, but experts say some conversations are absolutely non-negotiable. Marriage experts often advise couples to ask the same standard set of questions before considering a long-term commitment, like, "Do you want to have kids?", "What are your religious beliefs?", and "How much debt do you have?"
But there are plenty of less-conventional conversations that can reveal even more about a person and their expectations for marriage that also should be answered. Here are some questions you should ask before you walk down the aisle.
How much alone time do you need?
At the beginning of a relationship, it's not uncommon to see couples connected at the hips because they are eager to spend time with each other. However, eventually everyone needs a little bit of alone time. A simple discussion about how much time you need to spend by yourself each week will help avert hurt feelings in your partner. They can understand you aren't rejecting them, but just recharging your batteries. In addition, if they have problems accepting you wanting time to yourself you might need to see if they have some codependency problems.
How do you envision family life?
While every couple is unique, it's important to examine how your parents and other relatives contributed to your expectations about family life. For example, in your family your parents may have always put you and your siblings first. But in your fiancé's family, the marriage was top priority and the children were expected to be more independent. While you might want to steer clear of how your parents created the family structure, it's important to understand where you both came from. Furthermore, this allows you both to also talk about if you want children in your family at all. Some differences are harder to negotiate then others. If one partner does want children and the other doesn't, it's going to be tough to find a compromise.
How do you define monogamy?
In today's society, what it means to be monogamous has shifted greatly. Thanks to technology, it's easier than ever to access others. You need to both ask what your limits are and what each other's definition of monogamy is. Be very specific. For example, what type of boundaries do you expect your fiancé to have when it comes to friends of the opposite sex? Do you consider online porn to be a violation? While this might seem like common sense to you, many couples don't realize they may be crossing the lines.
What's your attitude about money?
Money is the most difficult subject for couples to talk about. We can manage religion, politics and sex, but we avoid discussions about cash if at all possible. A similar attitude to expenditure is a good thing to have but if you're not similar (maybe one of you is a spender and one a saver). Make sure that you have a pretty strong agreement about your finances before you tie the knot. Quarrels about money are often bitter and can lead to a miserable marriage. In addition, almost everyone's got debt and you should be aware of where your fiancé currently is.
What will we do for Christmas?
...or Easter, or any major holiday, really. These are the times when we tend to expect to indulge ourselves in the traditions of our childhoods. And we often feel uncomfortable if we have to spend the holiday in ways that differ from how we spent them when we were young. You may find that your partner assumes you will always have his or her parents to stay, or that your parents will assume you and your partner will always go to them. It's important to discuss these things in advance so that you can find a way to accommodate what you both want.
Is staying fit a long-term priority to you?
It may be you both have similar attitudes to exercise – and you may even exercise together currently. Will this be a priority after you wed? What about when you have children? It's always useful to discuss how you will keep fit when life and priorities change and you have new challenges and commitments. It's worth checking that you understand what's important and non-negotiable.
Will we still go out on dates?
Finding time together as a couple isn't always easy, particularly when you have mortgage payments to meet and children to feed and care for. But before you marry, it's a good idea to have a chat about how you will continue to have time together as a couple. Married couples who do this tend to keep their relationships more romantic and companionable.
Marriage is a huge commitment, so you want to make sure that your other half is the perfect fit. These non-conventional questions will give you more comfort and understand about where your partner sees your marriage going. Before you take the plunge and say 'I do', ask these questions to make sure you get your happily ever after.