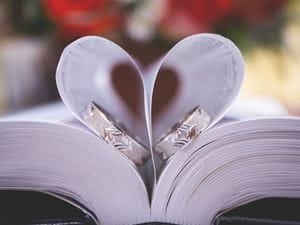 Pixabay.com
Marriage is a beautiful blessing from God. You are likely feeling excited, nervous, and scared all at the same time as you prepare for your big day. Wedding ceremonies are a great way to bring together two people who love each other, while also celebrating God. One way we can do that is through prayer.
Prayer is the glue that holds a marriage and a family together. Before you walk down the aisle, consider reading out these prayers.
Opening Prayer For Wedding
You may want to start off your wedding ceremony by bringing in God. A prayer to Him as a large congregation is a perfect way to start off the day, and puts Him in the forefront of the event.
Lord God Almighty, creator of the heavens and earth.
Thank you for the gift of marriage. For all the joy and love that it brings us. We thank you for (Bride Name & Groom Name). Thank you that you have brought them together for this special day,
And that you hold them safely in Your hands. We pray that you would richly bless them as they exchange their vows and their wedding rings, And from this day forward they would walk hand in hand into everything that you have destined them to be. We give our hearts and beings to You now in adoration, and welcome Your Holy Spirit amongst us.
Amen.
Prayer For the Bride
Being a bride is a scary, nerve wracking time. Praying before the big day for wisdom and guidance will help calm down fear and anxiety. God is with each and every bride as they enjoy the journey of engagement.
May I, as a bride, be the wind beneath my husband's wings, the one who believes in him more than any other human, continually committed to supporting and encouraging him no matter what. And may I remind him I am not going anywhere and never will. I pray I will demonstrate the presence of the Holy Spirit's promise to never leave us abandoned. I will show full loyalty to my spouse.
May I follow him with grace when he doesn't lead well and with wisdom when he makes mistakes. No leader is flawless. Every good leader learns by failing. So when he fails, and he will, I will give him grace to try again, encouragement to keep going, and love that says, "I'm with you forever, no matter what."
And as my wedding will be filled with dancing for joy over God's brilliant plan for the two of us and for all of us who are married, may we dance frequently throughout your lives.
Amen!
Prayer For the Groom
The groom should have a deep, loving relationship with the Lord as his soon-to-be wife does. This prayer is perfect for the groom to say leading up to the wedding, or even the morning of. It will help him keep his head focused on the priorities of the day.
My God,
On this great day I kneel before you at the dawn of a new life. Ahead of me lies a life of love joined to the woman I have chosen. I pledge to you fidelity, devotion and service to her. By myself I am not capable of this honored task but your help and grace will conquer all.
I need your presence. Make me the man you expect me to be. Mold me into another Joseph. Make me resemble that silent and just husband of Mary. Give me pure love and noble sentiments, a love as true as Adam and Eve's before sin tainted paradise.
Give me love for her which extends far beyond myself, which is not limited or measured by days, weeks, years. May it never fade when age and infirmities rob us of youth. Give us both an understanding of higher things; and make that knowledge blossom into wisdom.
Thank you for creating the woman I love; thank you for giving her to me. Amen.
Prayer the Morning of the Big Day
Feeling nervous on your big day? This prayer will help you get started on the right foot when you first wake up in the morning. Celebrate your day with God.
Father,
You know that today is a significant day for me and the people with whom I serve and worship. You know all of the moments which have led up to this particular moment. You know each step wherein we have walked with precision and balance. You know every place where we have stumbled and staggered. You have blazed this trail for us and You have grown us in our ability to follow You, as You have led us to places where we have not been before. We are stronger because of the challenging path. We are wiser because we have learned from our stumbles, scrapes and bruises. Lord Jesus, there has not been one moment when You were not watching over us or watching out ahead of us. You have proven Yourself again to be the impeccable Shepherd. We trust You and rejoice in knowing that You are among us today as we sign our names to the next leg of this long, unpredictable hike. In omniscient wisdom, You have not disclosed every bend in the road, each obstacle blocking the path or even the dangers that will come our way as we faithfully follow You. Thank You for simply training us to keep our hearts fixated on You. When we do so, we experience a deep, abiding peace that is indescribable.
Thank You, Father, for letting us take part in Your plan. We have tasted it and declare it to be very good. For Your glory in our generation,
Amen.
Traditional Prayer For Exchanging Vows
If you are a couple that is more on the traditional side, having a more structured prayer may resonate with you. This is a perfect option to pray while exchanging your vows.
Eternal God, creator and preserver of all life, author of salvation, and giver of all grace: Look with favor upon the world you have made, and for which your Son gave his life, and especially upon this man and this woman whom you make one flesh in Holy Matrimony.
Give them wisdom and devotion in the ordering of their common life, that each may be to the other a strength in need, a counselor in perplexity, a comfort in sorrow, and a companion in joy.
Amen.
Prayer For the Couple
This is a prayer that others can say on your behalf. It's a beautiful and sweet way that the guests in attendance can celebrate you as a couple and lift you up to God.
Heavenly Father,
We come to you asking your blessing and favor on (Bride Name & Groom Name). We pray for patience, tolerance and understanding as they begin to adjust to wedded life. May theirs be a home where there is much joy, laughter, support and an atmosphere of acceptance and safety. We pray that they will always respect each other and may both of them enjoy the freedom to become all that you want them to be individually and as a family unit. Grant them courage to choose God's instructions in a world that often abandons these. May their trust in you increase. May their home be filled with your peace. We ask this in the name of our Lord Jesus Christ.
Amen
You must be so excited that God has blessed you with the spouse of your dreams. Thank Him in prayer before your big day. He should always remain at the center of your relationship, and be the foundation on which you two stand.