No matter how much some people may want to project the image of a glorious, happily ever after marriage that is straight out of a fairy tale, no marriage is completely perfect. Spouses argue, no matter how much they love each other or how well their personalities mesh. Conflict is simply unavoidable when you live in close contact with another person for an extended period of time. Constant exposure to each other will not only drive you each crazy as your little quirks and bad habits rub the other person the wrong way and make it easier to deal with any problems that arise because you know each other well enough not to take it personally. Experience with past arguments will also help you two make sense of the best way to address a specific issue.
Time can help you figure out how to handle most problems in your marriage, but that does not mean it is a perfect panacea. There are some issues that only crop up after you have been married for some time. Here are some of the most common problems people have after they have been married for 10 years or more.
---
Lack of Couple Time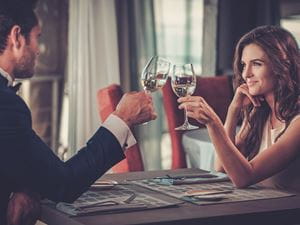 Shutterstock.com
When you begin seriously dating someone or have recently married your spouse, you get to enjoy the honeymoon phase. Everything is roses and kittens, and the sun shines out of your significant other's every pore. You are walking on air, and you both want to be together constantly. You arrange your schedule around date night, and you two spend loads of quality time together regardless of how busy you are that day.
The giddy passion that fuels the honeymoon phase eventually fades. In its place, a deeper connection and comfortable understanding grow. This is the natural progression of a relationship, but that is no excuse to let the passion die entirely. It can be easy to let quality couple time slide after years of marriage, but you need to feed the connection you have with your spouse in order to keep it alive. So, go back to dating. Make it a point to schedule date night even if your "date" is nothing more than a couple of Netflix episodes on the couch with your favorite bottle of wine. What you do is irrelevant. What matters most is spending time with your spouse.
---
---
Feeling Taken For Granted

Shutterstock.com
One of the most dangerous things to have happen in a relationship is for your spouse to start feeling like you are taking them for granted. Down that road lies emotional disconnect, festering hurt, bitterness and resentment. These are the last emotions you want making a home in your marriage. If they are starting to find their way in, you need to get rid of them quickly.
To avoid your spouse feeling like they are being taken for granted, make it a point to recognize the little things they do for you. Be thankful even for the things they do that are technically their job. Yes, it is the unofficial rule that whoever cooks gets to skip out on cleaning up after dinner. Still thank your spouse for doing the dishes. Yes, your spouse promised to make breakfast in the morning. Thank them for doing so anyway. Just because someone is supposed to do something does not mean you should not bother to show some appreciation for it. How would you like it if your boss never told you that you were doing a good job?
---
Loss of Intimacy

Shutterstock.com
You have probably heard that intimacy dies a slow, inevitable death after you have been married for a certain amount of time. Some people will say that happens after five years. Others will claim it takes 10 or 20. In reality, the number of years varies wildly. Some couples may start to become distant a few months after the wedding. Others can keep the spark alive until after they have celebrated their 50th anniversary. The trick, as with anything in a relationship, is working at keeping the intimacy alive.
Keeping a relationship intimate does not simply revolve around having a healthy sex life. You and your spouse could have the best sex lives in the world and still completely lack intimacy. On the flip side, you two could rarely have sex and still have a deep intimacy.
The intimacy required for keeping a relationship intact is not physical intimacy. It is emotional intimacy. You need to continue to feel close to your spouse and have conversations that involve baring your soul, not debating whose turn it is to cook or take the kids to soccer practice.
---
---
Lack of Patience

Shutterstock.com
Everyone has bad days. You and every other human being on the planet have inevitably had those mornings where you simply woke up on the wrong side of the bed and were angry with the world. You are human, so you have times where you get impatient with people. Unfortunately, your loved ones are not usually immune to this. They end up having to deal with you being short tempered and irritated all day, and you end up feeling like a total heel the next day.
There is a big difference between having to make up the occasional bad day to your spouse and constantly being short tempered when it comes to your spouse. Sadly, impatience tends to creep into relationships that are older. On one hand, dealing with your spouse's quirks for a long time can make you immune to them. On the other hand, the little things that you brushed aside during the honeymoon phase can really get on your nerves after you have dealt with them for 10 years. It may have been no big deal that they left their wet towel on the bed during the first few months of marriage, but 10 years of damp sheets could start to wear on anyone.
---
Too Serious

Shutterstock.com
Marriage is pretty much the ultimate sign that you are an adult. As such, most people are going to expect you to act like it. When it comes to your responsibilities, you absolutely should be a grown up. You need to pay your bills on time, compromise successfully with your spouse and shoulder your share of work in the relationship without complaint. That does not mean, however, that you should kill any sort of childishness left in you. The couple that plays together will stay together, so make sure you know how to bring out the inner child in both yourself and your spouse. Challenge your significant other to a monopoly duel or the ultimate game of crazy eights. In the summer, have a hide-and-go-seek death match. During the winter, watch your favorite movies from under a blanket fort. Get silly with each other. Smear chocolate on their nose when you are baking or flick water at them when you wash your hands. Do something to bring the lightheartedness and fun back into the relationship.
---
---
Regrets Creep In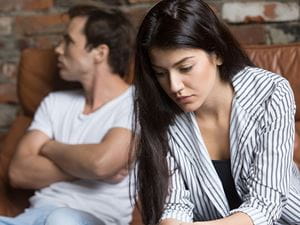 Shutterstock.com
Relationships always involve compromise and sacrifices. Most people go into relationships with their eyes wide open on that front. Since they expect to be making sacrifices, they do not complain when they have to do so. A lack of complaining, however, does not mean that a person does not have regrets. After 10 years, people can begin to wonder about what they missed or wish they could go back and do certain things all over again. They may not regret marrying their spouse, but they do regret giving up certain things. If you followed your spouse in a cross-country move, for example, you might regret leaving behind that great job when you were next in line for a promotion. If you and your spouse bought a house or had children, you might wish that you had taken time to travel before you two really settled down. You may not regret marrying your spouse, but be careful when you start looking back with rose-tinted glasses. You might forget how much your coworkers at that great job irritated you and instead begin resenting your spouse or feeling like they forced you to leave a great opportunity. This breeds bitterness which is always a disaster waiting to happen in a relationship.
---
Creatures of Habit

Shutterstock.com
Some people love to have a daily routine. Others hate anything resembling a schedule on their day off. Neither of those is necessarily right or wrong, but even routine haters have to admit that schedules are sometimes a necessary evil. Routines make it easier to get everything done in the morning before your morning coffee kicks in, and schedules are often a necessity if young children are involved.
Routines can do a lot of good in a relationship. After all, no one likes doing a daily dance to figure out who gets the shower first. They can, however, consume a relationship entirely if left unchecked. If you and your spouse are both creatures of habit, it can be easy to essentially put your relationship on autopilot. You both check out mentally and thus lose track of each other. You can have a caffeine deprived morning routine, just be sure you check back in once the coffee finishes brewing.
---
---
Time may heal all wounds, but it will not prevent all problems from manifesting in the first place. A long marriage will make it easier for you and your spouse to address certain problems, but it will create new ones to take their place. When it really comes down to it, you can never put your relationship on autopilot. Regardless of how long you two have been together, you need to always be focused on your spouse and your marriage. Otherwise, you will look up one day and wonder where in the world your happily ever after went.