Many of us grow up believing in the perfect marriage found in fairy tales. We want the true love that we can find in the Bible – our soul mate sent from God Himself. We wait and wait and finally think our lives are complete when we say "I do." Nothing can ruin our happiness.
The truth is, though, that God allows us to make mistakes, and it's possible to marry the wrong person.
Are you in need a wakeup call in your marriage? Are you noticing signs that the person you thought was your fairytale ending actually isn't right for you? If you are feeling unsure, it's time to seek God's council and ask Him if you made the wrong choice. If your spouse isn't who you thought they would be, it's time to reevaluate your union.
---
They are not close to God.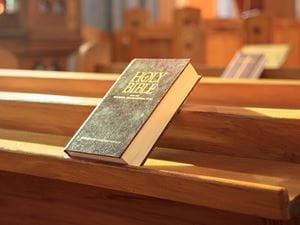 Shutterstock.com
A marriage is supposed to glorify God. He should be the foundation of the relationship, and the couple should celebrate Him each and every day. When you are married to a non-believer, you are doing a disservice to God. This disconnect can make it very difficult for the believer and non-believer to live in harmony, because fundamental values are different.
The Bible, however, does say that we should not immediately divorce a non-believer. It is very important not only to be content in our situation, but also to look for ways to bring glory to Him out of our challenging circumstances (1 Corinthians 7:17). Being married to an non-believer does not alter the sacredness of the relationship, so it should be the priority of every Christian to pray for their spouse and set a good example.
---
---
They have committed adultery.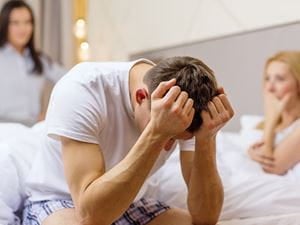 Shutterstock.com
God is not lifting up the marriages that start out this way. That doesn't mean that a marriage can't overcome problems of infidelity, but it makes it quite a lot harder than God intended it to be. Even marriages that don't deal with these trust issues are hard to navigate. God has no desire to put you through such a type of pain. Hebrews 13:4 says "Give honor to marriage, and remain faithful to one another in marriage. God will surely judge people who are immoral and those who commit adultery." God has a very specific vision of what a marriage is supposed to be like, and infidelity tears that apart. He echoes this again specifically for men in Proverbs 5:20 which says "do not be captivated by other women." Our world is full of distractions and forms of temptation – but the one God wants us to marry is able to overcome those. If your spouse frequently has issues with staying faithful, know that you deserve much better. You deserve to have a partner that focuses all their attention on you, and you only.
---
You all were set up.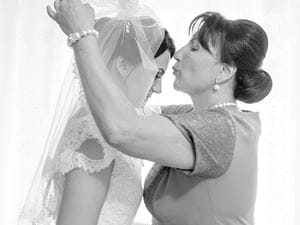 pixabay.com
Did you have the type of mom that was pushing you towards dating someone specific? Was she always trying to control your relationship, and encourage you to be with someone even if you didn't want to be? While your parents likely just wanted what was best for you, the truth is that they aren't always right. Our parents can help guide us on the right path to find a successful marriage, however if we solely have chosen our spouse based on what our parents say or do not say, we've most likely chosen wrong.
Ephesians 6:1 says, "Children, obey your parents in the Lord, for this is right," but if we study the context of this verse it clarifies, "in fellowship with the Lord and in obedience to Him." We should only be taking the advice of our parents when it is aligned with God's Word. Ultimately, God has the final say on who you should marry, not your parents.
---
---
You feel badly about yourself.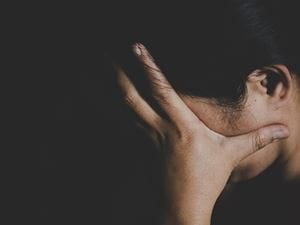 Shutterstock.com
One of the strongest signs that you are not with the person God wants you to be with is if your spouse makes you feel terrible about yourself. It's normal to have insecurities, but it crosses a line when your spouse is the reason for their growth. Do you feel they constantly put you down instead of lifting you up? Have you felt that you have lost yourself in the relationship? Maybe you once were a confident individual, but recently you feel like you are shutting down.
1 Peter 3:7 says "Husbands, in the same way be considerate as you live with your wives, and treat them with respect…" Respect is such an important part of healthy relationships, and God knows this. No man or wife should ever make their partner feel that they are not good enough. You are good enough for God, as He created you to be beautiful. God would give you a spouse that knows your value.
---
You wanted to get ahead in life.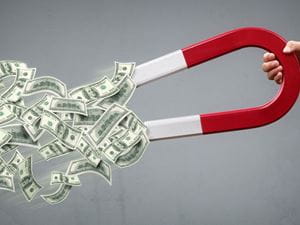 Shutterstock.com
Making the choice to marry someone based on their income, social status, or the like is incredibly risky. None of these earthly things are guaranteed to last forever. Furthermore, we are told that money is not the key to happiness. Our lives should be lived in a way that glorifies God, because that is what will bring you true happiness. While being spoiled with gifts and being taken on nice vacations is fun, that doesn't mean that your spouse is the right person for you. If you aren't truly in love with them, you will only be miserable in the long run.
In addition, no matter how much success your spouse may have that doesn't mean they are a good person. They might have a heart that lusts for money over God, or they treat you poorly or only as a trophy spouse. That is not the way God wanted us to live out our marriages.
---
---
They are dishonest.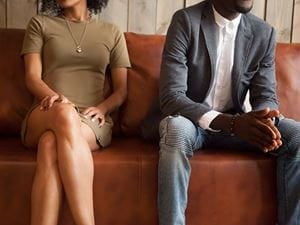 shutterstock.com
There is perhaps nothing more detrimental to a relationship than lying. This goes much deeper than a little fib about whether you took out the garbage or ate all the leftovers. When it comes to big issues, such as money or fidelity, lying can destroy a marriage. If you or your spouse even feel the need to lie about a big issue, there's a chance you shouldn't be married. This is a red flag you shouldn't ignore.
Proverbs 31:11 says "The heart of her husband trusts in her, and he will have no lack of gain." This goes the other way, too. A marriage should be built on a solid foundation of trust the way God intended. The Lord doesn't want you to feel that you are always doubting what your spouse has to say.
---
You don't enjoy spending time with them.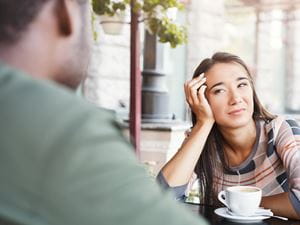 Shutterstock.com
Being in a marriage to the wrong person might make you feel lonely, because you feel like they are more a distant roommate than a romantic partner. That being said, you might prefer to be by yourself than in the same room as them. It becomes more a chore and something you have to do, as opposed to something you want to do and look forward to. At the beginning, you might have felt you could spend hours upon hours with your spouse without ever getting bored. Now, you might feel there is nothing to talk about. Some married couples get so comfortable that they stop being curious and asking each other questions, because they simply stopped caring. If you have tried to rectify the marriage and bring back that spark or connection without any luck, it might be a sign you aren't with the one God intended for you. God wants you to be with someone that makes you happy, challenges you, and allows you to grow. Not someone that makes you feel lonely.
---
---
You were the child that dreamed of finding your perfect spouse sent from God, but now you worry you made the wrong choice. God has someone in mind for your life that exceeds all of your expectations. If you are starting to see these signs in your marriage, and are genuinely feeling unhappy where you are, you might have not married God's choice for you.