We've heard this before. You have been married for a while now, and sometimes you catch yourself wondering what ever on earth happened to that in-love feeling that you used to have towards your wife. Your relationship feels flat and in a rut. You love her, sure, but that over-the-top spark between you two just doesn't flicker like it once did.
This feeling can be incredibly scary. You might start to doubt if you married the right person, if you two can really last forever, or if you will ever find that romance you once had. You want to make your marriage thrive rather than just barely survive.
The good news is that you really can do something about it. In fact, there's a lot you can do about it. Falling back in love with your wife can be a fun and exciting process. Here are some easy ways you can fall back in love with your wife and start fresh.
---
Talk with the Lord about your frustrations.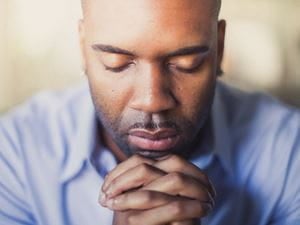 lightstock.com
When you start realizing you're feeling off about your marriage, the first step should be to pause and try and understand why you are feeling this way. Are you really just stressed out at work and it's bleeding into your home life? Are you feeling ignored by your wife? This is where God can step in. God is your best friend, therapist, teacher and guide. He can help you navigate your feelings and put them into coherent, logical thoughts. He will help open your eyes to possible solutions and actions you can take.
Dedicate some time each morning to chatting with God. This can be in prayer form, through meditation, or journaling. Keep track of how your feelings are evolving and adjust as necessary. Keep an open ear so you can listen out for God's answers.
---
---
Spend more time together.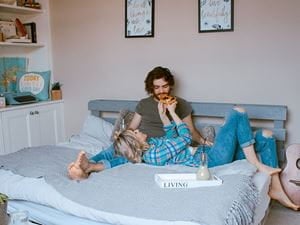 Pixabay.com
When you live with someone, you sometimes underestimate the importance of quality time. You think just because you see their face often, you have spent time together. However with how busy our lives really are, that's not always the case. Do you go to bed hours before your wife does, or barely even get a moment to kiss her before she goes off to work? While it might not seem like much, trying to have a more connected schedule can help your romance blossom more.
Through this, you can enjoy more conversation and activities with one another. Communication is a huge key for marriage success, so make sure you are leaving opportunities available for your wife to chat with you. There's nothing worse than feeling ignored, and sadly this is how many spouses feel. It may be quite unintentional and, with today's hectic pace of life, it happens so easily. Maybe you spend most of your day rushing around, too busy to notice how your spouse may really be feeling.
---
Remember you are both always evolving.

shutterstock.com
Your priorities change as you grow and so do hers. It's amazing that any relationship survives, but it's because of the dedication and hard work both parties put in to make it successful. The potential for two people to veer off into completely different directions is always there, but don't let that be a reason your marriage starts to crumble. In one way or another, communication is always at the heart of any solution, no matter what the problem is. An open conversation that begins by acknowledging her for her growth and asking how you can be more attractive to the 'new her' will open the door to solutions. Furthermore, as she feels safe and understood in the conversation, she'll naturally ask you how she can be more attractive to the 'new you.'
---
---
Be grateful.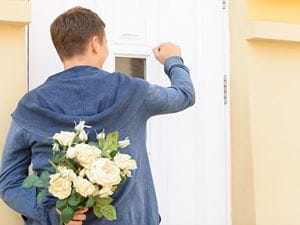 Shutterstock.com
Perhaps it's time to revisit the things you take for granted. The fact that someone loves you enough to even care that your needs and desires get met is incredible, and it's important to realize they are as much a gift as they always were. When you really sit down and think about all the things your spouse does for you on a daily basis, you may be shocked to realize how much you actually take for granted. If you're a list person, try writing down one thing every day that you're thankful to your wife for. Maybe she did your laundry, made your lunch every day, or gave you a massage after a hard day. Find the small things that really matter. Then, at the end of the week, give them a big hug and say thank you for all those things.
---
Show affection.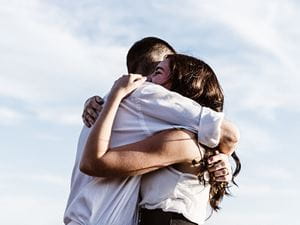 Unsplash
Affectionate touching throughout the day, or whenever you are together, will go a long way towards rekindling the flame of love. Affection is both physical and verbal, and the best results are when these two elements are combined. For example, you can express your love for your wife while you squeeze their hand. Other small gestures can include small things like holding hands, longer hugs, extra kisses, and placing arms around shoulders.
Make a point of slowing down and being attentive to your spouse. Look into each other's eyes when you're speaking and learn to listen without interrupting or thinking about what you want to say next are some easy ways to show you respect someone.
---
---
Try new things together.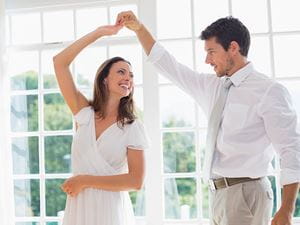 Shutterstock.com
When you first fall in love, in some ways, you are probably the most open you'll ever be. After all, you're learning about someone completely new. The excitement and willingness to try new things is actually part of what creates a spark between two people. Continuing to explore side by side and seek out new experiences to share is a powerful way to keep the excitement and vitality going strong. This helps to change up the daily routine of kids, work and sleep.
Finding a new sport or hobby that you can do together often rejuvenates a relationship. What about dancing lessons, tennis, or kayaking? Being creative together is also an idea – such as redecorating a room in your home or landscaping your garden together. Focus on a shared goal and have fun together.
---
Pray together.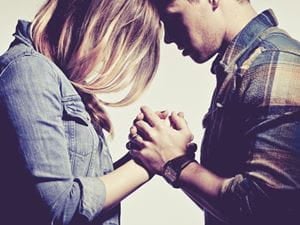 Lightstock.com
It's so important for married couples to pray together. Praying with your spouse, if you haven't made it a habit yet, can feel awkward at first, but will then become something you will find comforting and encouraging. There are so many benefits to praying with your wife, and it helps create more dialogue between the two of you. Praying teaches you to be other-focused, because you hear first-hand about issues and concerns of your spouse. Praying together also encourages vulnerability and grace. It helps you to get through difficult times together and remember the importance of forgiveness. That vulnerability can also strengthen the love and affection you feel for one another. The Lord should be at the center of your marriage, so this is a great way to help boost your love for each other and also with Him.
---
---
When your marriage seems in a rut, it can feel like you don't love your wife like you once did. However your marriage doesn't have to feel so grim. With these steps, you can breathe some life into your union. Making the extra effort to keep your marriage alive will help you realize how much you truly love your wife, and how you never want to let her go.