All couples fight at some point. This is more or less unavoidable when you are sharing space with another person for an extended period of time. The arguments may be over something small such as the correct way to put away the dishes or who is responsible for cleaning up the mess in the bathroom. The fights may also be over larger things or things that are more important. Regardless of the size of the original issue, spouses need to make sure that they are fighting fair.
It may sound odd to say, but lover's spats do have rules. When both people follow those rules, the fight may be productive and a step toward solving problems in the relationship. At the very least, following those unspoken rules of engagement will keep a minor argument from turning into something that could damage the fabric of your relationship. No one thinks that the question of whether dirty socks should go in the hamper or straight into the washing machine is worth hurting their marriage. That said, it is easy to let your mouth run away with you when tempers are flaring. That is why you need to keep the rules for fighting with your spouse in your head whenever you two find yourselves snarling at one another. Here are seven things you should never do when fighting with your spouse.
---
Stonewalling

Shutterstock.com
Have you ever argued with someone who is so stubborn that you may as well be hitting your head against a brick wall for all the good your arguments do? What about someone who refuses to string more than three words together at a time? If you have dealt with either of these things, you know how maddening it is and how immature it makes the other person seem.
When a person refuses to answer questions, digs their heels in or gives one word answers, they are stonewalling. This is a common tactic when someone wants to punish the other person in an argument or knows that they do not have a good rebuttal to the other person's concerns but are unwilling to give up. When you or your spouse start stonewalling, all it does is make the other person angrier and close the lines of communication. An argument between spouses should not be won as much as resolved, and there can be no real resolution without two way communication.
---
---
Comparison to Others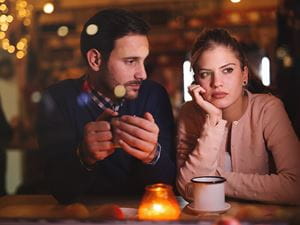 Shutterstock.com
When you are arguing with your spouse, it can be tempting to point out to them that they are acting exactly like someone they dislike or that someone they admire would never behave as they are behaving. Resist this temptation. Using comparisons to make a point is manipulative and can do an incredible amount of damage. Comparing your spouse to someone else can make it seem like you want to change who your spouse is as a person or that they are not good enough for you. This, of course, is one of the last things any married person wants to think.
The only thing worse that being compared to other people and being found wanting is to be compared unfavorably to one of your spouse's former flames. If you give the impression that you preferred a previous lover to your current spouse, your spouse may walk away from the argument wondering if they are actually the love of your life or if you just settled for them.
---
Bringing Up Old Fights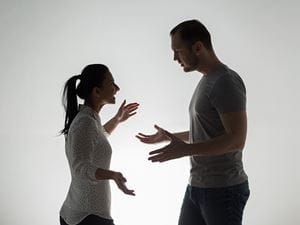 Shutterstock.com
When a fight between a married couple is over, it is over. You cannot hold a grudge or walk around with the argument in the back of your head for the rest of your life. If you feel that the issue was not resolved, you need to talk it out with your spouse. Old fights should not become festering wounds. They also should not be stored up as ammunition for later arguments.
If you are fighting with your spouse, focus on what you two disagreed on. Stay in the present instead of bringing up old arguments. Digging up the past will not help you in the current disagreement. All it will do is convince your spouse that there are other things that also need to be discussed or destroy a solution that you two had previously found for another issue.
---
---
Hit Where it Hurts
Shutterstock.com
Fights within families are always messy and unpleasant. Most people pull their punches with their loved ones, but when things get nasty people become absolutely vicious. Family members, close friends and spouses all know each other's weak points. They know what the other person fears, what they are insecure about and the words that will bury a metaphorical dagger in someone's heart.
Do not use your knowledge of your spouse against them. When you fight with your spouse, you know exactly what you need to say or do to tear them apart. If you hit where you know it hurts, though, you will have turned your spouse's trust in you against them. Anything that they have told you in confidence suddenly becomes a potential knife in the back. If you use what they told you or what you know of them against them in a fight, you will have shattered the trust between the two of you. Trust is the bedrock of a healthy marriage, and it is very difficult to rebuild once broken.
---
Dismiss Them

Shutterstock.com
When you argue with your spouse, you need to treat them and their arguments with respect. This means that you cannot dismiss them as hysterical or say that they are overreacting. The issue at hand may not seem like a big deal to you, but if your spouse is upset about it, it clearly matters to them. You need to show them the respect they deserve by taking the matter seriously. Do not simply brush off their concerns. If your spouse is actually being too difficult to talk to, address their behavior in a respectful manner. Instead of telling them that they are hysterical, explain that they seem to be talking in circles and that you would like to take a moment for both of you to calm down before continuing the discussion. Make sure that your spouse knows you are not simply blowing them off. You intend to have the discussion, you just want to make sure you are both in the right mindset for it.
---
---
Calling in Backup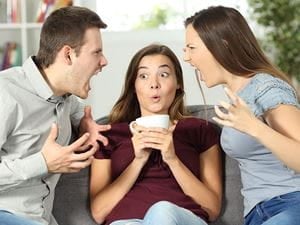 Shutterstock.com
As a general rule, fights between spouses need to stay between spouses. This means that the only other person who should be involved in your disagreements would be a professional counselor or mediator, and that is only if the argument has reached the point where you need serious help. Your B.F.F. or sister is not someone who should be involved in an argument between married people. This means that no matter how unreasonable your spouse is being, you need to resist the urge to bring in their mother, brother, friend, cousin or coworker to back you up. You cannot go to a family member and ask them to tell your spouse that they are being unreasonable. If you simply cannot resolve the argument with your spouse without third party intervention, seek out a couple's counselor or mediator instead of calling in friends as backup. They will be of limited help, and frankly, they want no part of your marital spat.
---
Threats, Intimidation or Manipulation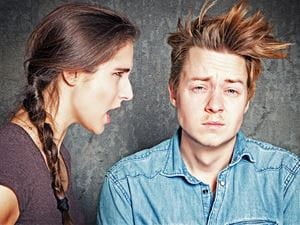 Shutterstock.com
When you fight with your spouse, you need to do it as adults. That means that you need to be calm, reasonable and civil. You cannot try to intimidate or manipulate your spouse. Turning on the crocodile tears or bemoaning how your spouse always takes it out on you might stop the argument, but they are not going to fix the problems that caused the fight in the first place.
If your spouse is intimidating you or threatening you in any way physically, you need to see to your own safety and get out of the house. You also, however, need to be on the lookout for emotional threats. Marital spats can cause some people to regress back to middle school. As such, the threat of leaving is sometimes thrown around as a way to browbeat the other person into agreeing. Do not do this to your spouse. The threat of leaving can destabilize the entire marriage and shatter a relationship. This is not something to risk because your spouse consistently forgets to do their dishes, and their mess is starting to draw ants.
---
---
Fighting with your spouse is awful. They are the person you love, the one you chose to spend the rest of your life with, and you are arguing over something that may or may not be a serious issue. There is no reason to make that situation worse by letting your temper get the better of you. Once something is said, there is no taking it back, and far too often anger leads people so say things they did not really mean. So, next time you find yourself arguing with your spouse make sure you keep the rules of engagement in your head. They will save you a lot of pain down the road.