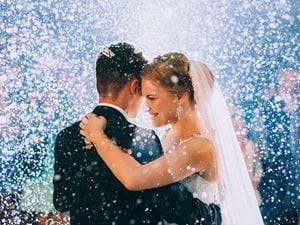 Shutterstock.com
There is no such thing as a perfect wife, but your wife may have qualities that are perfect for you. While each man will be attracted to a different sort of woman, specific actions a woman may display in her marriage make a man feel loved and appreciated. Some of the qualities people think are found in great wives are not ones that make for a good, lifelong relationship. Therefore, it is essential to pay attention to both the significant actions and the subtle actions she takes in your marriage. A quality wife shares long-term goals with her husband and is willing to do what it takes to make that vision a reality. Here are five things husbands secretly love about their wives.
Her encouragement.
There is no more significant turn on for men than a woman who makes them better. Any man who has a great wife will tell you that she makes him a better man. She does not have to say or do anything; it just is the way. If every day is hell, that should be a significant red flag. Your wife should elevate you to your best self. You can get a good idea from your friends and family. Do they say or act differently in a wrong way when you are around her? Not a good sign. She should bring out the best in you, not the worst in you.
Sharing beliefs.
One quality that men love in a woman is one that shares and respects their beliefs. The more you have gotten to know each other in marriage, the more you realize how similar you are. You share a lot of common interests. On top of being unbelievably identical, a good wife should share the same beliefs, values, hopes, and dreams. You will be immediately inspired by each other when you share the same core beliefs, which allows the two of you to build a strong, loving foundation based on mutual respect. You become attracted to each other physically, emotionally, intellectually, and spiritually. Too often, we end up in relationships with people who do not share our beliefs and values, and the relationship gets derailed before it even had a chance.
Her selflessness.
Never overlook a selfless woman. You know you have found a good wife when she values others. A selfless woman cares so much about the people she loves, and she demonstrates that through her actions. Look at the way she treats your family and friends. Giving to others comes naturally to her. She finds happiness in giving away her energy, time, and hard-earned money, even to those who need help but do not ask for it, she is selfless. A selfless wife can also show a husband what it means to put the needs of others first.
Her relationship with family and friends.
Another big turn on for a man is the relationship his woman had with his friends and family. A great wife will try to get to know the people that mean the most to her husband. She will help your parents out at Christmas, try to understand your cousin's corny jokes, and want to get to know your friends. She wants a quality relationship with those her husband has been closest to throughout his life. Ultimately, a man loves a woman who is a good fit for the people in his life. Marriage is a joining of two lives. This woman also knows when to give you space to have quality time with your friends. While she connects with them, she also does not impose when she knows you want a little space.
Her love.
People tend to believe that glorious 'true love' relationships are out of reach, but we can turn our marriages into just that. A man loves a woman who loves him for who he is and who he is not.
He also enjoys a woman who sees his weaknesses and will try to uplift him. Husbands can recognize when the love from their wives is pure. This is the kind of person who cares about the happiness of another person without any thought for what we might get for ourselves. This kind of woman loves her husband just the way he is and does not try to make him become a different person. The only change she would push for is one that would make him a better person. A good wife is not afraid to challenge her husband in ways he has not been tested before.
Men are attracted to women who make them feel good, whether that means feeling good when they are around or feeling good as a person. A good wife adds to your life. She does not take away from it. Your emotions can lead you to women that you would be better without. If you can take a step back and say your life is better because that woman you are with is a part of it, she is an excellent value to your life. Wives that demonstrate all these qualities are quite distinctive and deserve to be acknowledged.