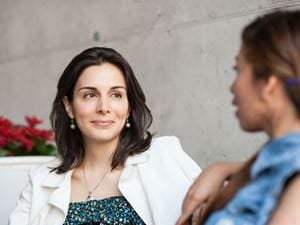 Shutterstock.com
In a world of loneliness and emptiness, building worthwhile friendships are important now more than ever. As Christians, it's important to not just have friends in general, but that we are invested in Godly friendships. A Godly friend is someone who leads you towards Jesus. They walk with you on your faith journey, while also encouraging you to be the person God created you to be rather than the person they want us to be. Godly friendships are one of the most precious relationships you can build. Here are a few ways to identify and build Godly friendships.
Friends Who Are in A Steady Relationship with Jesus and Scripture
To be a good friend starts with a good friendship with Jesus. It's important that the people you choose to be friends with make Jesus their first priority. They build up their relationship with Jesus by reading the Bible, so that they are in tune with His life. They pray often, and also listen to His instruction. Finally, they are in healthy community, surrounding themselves with other people of faith, and living a life that demonstrates it. The Book of Proverbs tells us "A man of many companions may come to ruin, but there is a friend who sticks closer than a brother" (Proverbs 18:24). You should be able to share your pains and wounds with your friends and know that they won't turn against you like an enemy. Do you have tons of friends, but not many (or any) that you can really open up to and talk about life? You should be able to confide in your friends, and trust that they support you no matter your circumstances. The Bible also tells us "Greater love has no one than this, that someone lay down his life for his friends" (John 15:13). Are you willing to lay down your life, as Jesus did, for the people you call friends? Your friendships should make your heart glad.
They Help You Grow In Your Relationship with Christ
Are your friends helping you to grow in your relationship with Christ. If they aren't, you need to make sure you are strong enough to be a witness instead of continuing to not grow with Jesus. It's important that you set boundaries in these types of friendships so that you are not separated from Him. You may have to even give up the relationship (or relationships) so that you keep Jesus your priority.
The people that you choose to be related to should help you grow in your relationship with Jesus.
Let God Bring Them to You
These friendships are usually a result of God placing them in your path. I encourage you to let God bring these people into your life and not force friendships. Forced friendships can lead you down a path of destruction. As lonely as it can seem, it is in your best interest to be alone than with people who bring no value to your life. There's no reason to force a friendship with someone just for the sake of being in the company of others. If you are feeling alone, or broken, in time God will bring special people into your life. Pray on this God. God knows your every need.
They Shouldn't Be Idols
An idol, by definition is anything that takes away from your devotion to God. When most people think about idolatry, the following things come to mind: money, career, activities, vehicles, celebrities, shopping, etc. Many people don't think of friendship as it relates to idolatry, but as little as it's discussed, your friends can become idols that you worship. While healthy and loving friendships are important, it's also important that you don't allow the devotion to your friendship (or friendships) to take priority over your relationship with Christ. The Bible tells us "Every good gift and every perfect gift is from above, coming down from the Father of lights with whom there is no variation or shadow to change" (James 1:17). We know from this reading that friendship is a blessing from God; however, our friends do not belong to us. Once you begin thirsting for Christ and intentionally seeking Him, you can begin to see this. If we are in a close relationship with God, when we experience the loss of a particular friendship, including feelings of sadness, anger, even regret, we see that the only relationship we need is one with Christ.
Know That Friends Are Imperfect
This goes back to the previous point around idolatry. It's important that we see our friends as children of God, but also as imperfect human beings. While we can enjoy spending time with them, learn from them, and invest our love and time in them, we shouldn't place these friends on a pedestal. When we do this, we are placing those friendships before and above God. A godly friendship thrives when you can see that person for who they truly are, and love one another without the pressures or demands of each person pretending to be who they are not. These friends will have flaws, and they may fall short even as it relates to your friendship, but you don't look down on them because of them. You work through these issues by encouraging each other, and loving each other as Christ loved us.
Remember that godly friendship are not only a gift, but also a blessing. When you enter into these kinds of relationships, you will grow in ways that you wouldn't have otherwise. As you have someone else by your side walking with you towards the cross, your faith and relationship with God will transform. Any friendship less than this should be reconsidered.