Dating is far from easy. It can be difficult always trying to stay on the same page as someone else and no relationship is perfect. There is more that goes into a relationship besides just affection, care, and cuddles. Real hard-work is needed to keep a relationship alive.
A good relationship should make you feel secure, happy, cared for, respected, and free to be yourself. On the flip side, however, a toxic relationship can make you feel drained, empty, and defeated. There are many different behaviors that can lead to a sour relationship, and they can build up slowly over time without you noticing.
When is the last time you took a hard look at your relationship and your attitude towards it? Are you still putting in the same work you use to, or have you started to be apathetic? Do you show your partner you trust them, or have your insecurities flourished? Here are some destructive behaviors that will ruin your relationship if you are not careful, and how you can fix them.
---
You never show affection.

Shutterstock.com
Just as being together is too much, lack of affection in a relationship is damaging. Relationships can fall into a rut after a while, but it's important to keep the magic going. Continue to touch each other in gentleness, kiss each other as you leave the house, and send kind messages throughout the day. This shows your partner that you are thinking about them.
No affection is a sign that things have grown apart. If you want to rekindle the relationship, then you must take initiative. The longer you let things dwindle, the harder it is to reignite the fire. Cuddling, hand holding, and hugging are simple ways to reintroduce the love you once shared.
---
---
You have no other interests.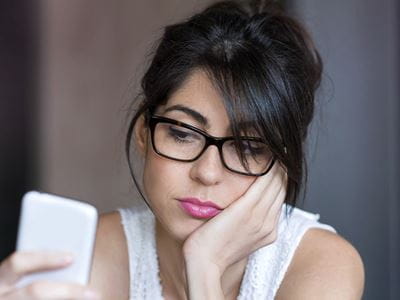 Shutterstock.com
Is your lover the only thing you care about in life? Do you rely on them for all your emotional needs? If so, this can be incredibly damaging for your relationship and for yourself. When you don't have your own life, you tend to lose who you are and become who you think your partner wants to be. You give up your own needs for the sake of theirs, because you don't know who you are anymore.
A healthy relationship is one where you each have the ability to do activities apart, as well as together. You do not have to partake in every single thing your partner does. You need your own life, friends, interests, hobbies and alone time. Otherwise, this borders on co-dependency.
---
You are overly sensitive and insecure.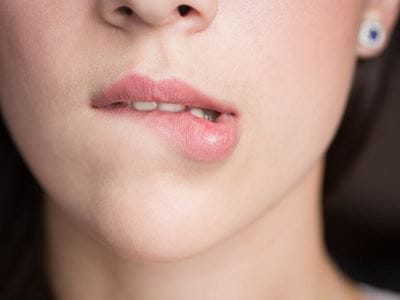 Shutterstock.com
Are you happy with whom you are? Do you feel confident in where you are going? If the answer is no to these questions, there is a chance you are bringing your insecurities into your relationship, which can cause huge problems. Being overly sensitive is damaging, because it can make your partner feel that you do not trust them.
If your partner is not doing anything and you continue to live in the memories of past relationships, then you should expect to eventually lose them. Insecurities means you are living in the past and haven't let go of past issues. Take accountability for your behavior, and seek out professional help if you need to. You do not want to live in your past, but instead focus on your present.
---
---
Finances are an issue.

Shutterstock.com
No one likes to discuss it, but money is the root of many relationship problems. People that go out of their way to overspend or waste money on the wrong things are typically doing so as a way to overcompensate for how unhappy they are. This kind of overspending creates insecurity around one's finances, making it difficult to build a relationship on such an unstable financial foundation.
When you go around spending as if you are the only one in the union, things begin to fall apart. This goes back to acting like you are still single. You have a responsibility to your mate to partake in the expenditure. Make big financial choices together, and don't hide your debt from one another. This could only create a lot of drama further down the line.
---
Still acting like your single.

pixabay.com
There are many fun reasons to be single. You don't have to stress over someone else's needs, you never have to consider another's feelings, and you can be a free spirit. When you enter into a relationship, though, you have to understand that certain dynamics of your life will change.
You might not be cheating, but if you are still acting like your single by staying selfish then your relationship is doomed for failure. It's unfair for you to keep holding on to the single life while also trying to have the benefits of someone at home. While your new partner shouldn't control your life and you should feel free to still have independence, it can cross a line when you don't commit to the other person's needs.
---
---
You shut down emotionally.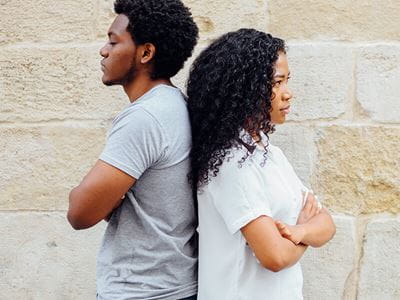 Shutterstock.com
Stonewalling is a destructive behavior more typical of men, and is defined as withdrawing from the conversation as a way to avoid conflict. This could be when you are staring at your partner as they talk about a problem you all are experiencing, and not actually listening to anything they say. You don't process what they are saying and brush it off as "yeah, sure, whatever you say."
When you tune out your partner, you don't successfully solve any problems in your relationship. It can also come off as smugness, disapproval, distance or disconnection to your partner, making them angry and frustrated. This only makes the conflict you were trying to avoid worse. Sometimes, the simplest solution is taking a time-out and coming back to the conversation when both parties are ready to talk.
---
You always create excuses.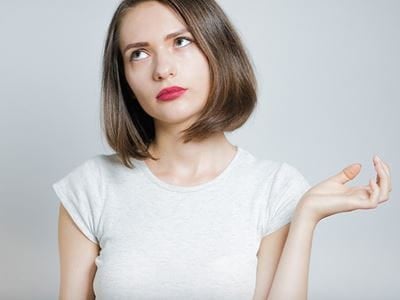 shutterstock.com
Creating excuses is a part of being human. From time to time, we all make excuses for a variety of reasons, from wanting to explain away our mistakes to shifting the blame to someone else. Processing our mistakes can feel uncomfortable and excuses are a defense mechanism.
However, in relationships excuses shouldn't be a standard. It means that you are incapable of taking a hard look at yourself to see how you may have played a part in a problematic situation. Excuses stop you from growing and becoming a better person in your relationship. When problems arise, look to see how you could have acted better to keep the peace.
---
---
Being in love is far from easy, and requires work and dedication to make a union work. If you are regularly displaying these behaviors, you ware putting your relationship down a path of destruction. Talk with your partner about action items you both can put into place to help salvage your relationship. By doing so, you'll grow more secure together.