Everyone knows the story. Two people who are friends cannot decide if they are meant to be more than that to each other. One person is definitely interested in taking their relationship into a more romantic area, but they do not know if the other is open to that idea. So, they try and feel out their crush's interest and intentions. The other person, meanwhile, may be doing the same thing. They are also caught in the equally exciting and frustrating dance of will-we-won't-we that comes when two people are attracted to each other but unsure if the interest is mutual. Being trapped watching your friends make fools of themselves while they try to figure out what is abundantly obvious to everyone around them can be exasperating. Getting caught in the dance yourself with one of your friends can be enough to drive you up the wall. Thankfully, most people actually give off relatively clear signals of interest. The recipient of those signals simply overthinks them. These seven things mean they want to be more than friends. What happens after is up to you.
---
They call, message or text you often.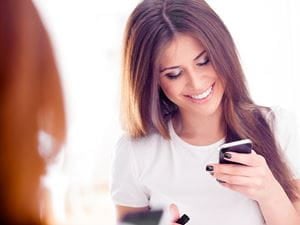 Shutterstock.com
Friends often spend a decent amount of time texting, calling and online messaging each other. In the digital age, this is simply how many people communicate. When someone is interested in being more than friends, however, they often spend far more time than other people communicating with you. They may text or message you every day. It will often involve questions about random things or funny pictures that they felt you simply had to see. If your friend has always been someone who sends their friends things that they claim reminded them of their friend, you may not want to take a large number of texts as a sign that your friend is looking for romance. A sudden increase in communication, however, could mean that you are always on their mind, and they are hoping for more than friendship from you.
---
---
They find excuses to spend time with you.
Shutterstock.com
People enjoy spending time with their friends, but when someone wants to date you, they tend to start looking for more reasons than ever to spend time with you. They invite you to nearly everything they do and accept every invitation that you offer them. They are always available to hang out with you, and if they are not for some reason, they immediately try and make plans for a day when they are around. They will join you for events even when it is not something they themselves were normally interested in doing. When a friend is interested in you romantically, they will find excuses to spend time with you and work hard at making sure they have lots of plans with you. They want to be with you, and they are willing to put in the work to make sure they are available when you are also available.
---
Your compliments seem to matter more.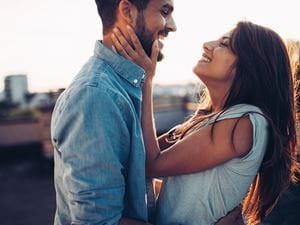 Shutterstock.com
Everyone likes compliments, but when a friend is interested in you romantically, your compliments will often mean something special to them. If you pay attention, you will likely notice this. When you tell them that they are hilarious, they will subtly, or not so subtly depending on the person, preen at the compliment. If you mention that a certain color looks especially good on them, you might notice that they start wearing that color on a more regular basis even if they claimed not to like it that much in the past. They might also ask for your opinion about their appearance or actions more often than they would from other people. They want to know what you think so that they can either stop doing things you find unattractive or continue doing the things you do like. There is always the possibility that your friend simply likes praise, but when they react differently to your compliments than those of others, it is likely because they are harboring a crush.
---
---
They try to look nice for you.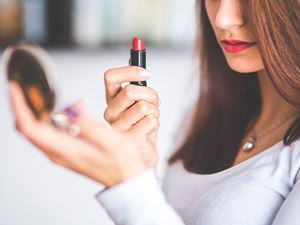 Pexels
Everyone knows that a relationship cannot be built on physical attractiveness alone. That said, humans like to look at pretty things, and everyone would prefer it if their partner was physically attractive. Outward beauty is more important to some people than others when it comes to a significant other, but there is no doubt that everyone is more willing to go on a date with someone they find gorgeous than someone they think is unattractive. As such, a friend that is interested in you is going to do their best to stack the deck. As your friend, they already know what you like and know what to talk to you about in order to keep a conversation from dying off into awkward silence. What they may or may not have going for them is a physical attraction from you. So, someone who is interested in you is going to make it a point to look nice when they spend time with you. They may not show up in formal attire for every friendly movie night, but they will likely be wearing a nice shirt in a color that they have been told looks good on them, and their hair will be freshly washed and styled. If you have a friend who suddenly looks gorgeous every time you two are together, they might well have a crush on you.
---
They always sit or stand close to you.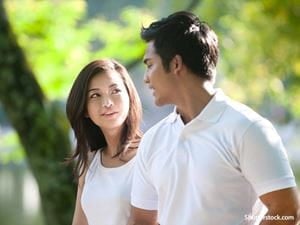 People like to be and want to be near those that they are attracted to and in whom they hold a romantic interest. As such, if your friend is interested in being more than friends, they are likely to do their best to stand next to you when you are both with a group of friends. When there are multiple seats open at a table, they will choose the one that is closest to you. When one that is closer opens up, they may find an excuse to change seats. If you pay attention, you will likely also notice that your friend tends to stand a little closer to you than they do to their other friends. When someone is romantically interested in you, they tend to show it by trying to be as physically close to you as either you or society will allow. Even someone who is attempting to hide their interest will likely sit or stand a little closer to you than they would with anyone else.
---
---
They initiate physical contact.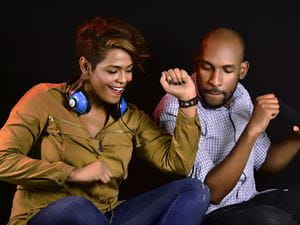 Pixabay.com
Part of attempting to be as physically close to you as you are willing to allow is touch. When a friend is interested in you in a romantic way, you are likely to notice that they look for excuses to touch you. When they cannot find reasons to reach out to you physically, they manufacture some. Rather than let you know that you have a leaf in your hair, they will reach out to remove it themselves. When you say something funny, they will not just laugh, they will also rest a hand on your shoulder. They may sit or stand close enough that their arm or leg brushes against yours. Plenty of friends are touchy-feely with each other, but even usually reserved people tend to try and touch those with whom they want to be more than friends. If your friend was previously one to reach out physically to others, you will likely find that those seemingly-casual touches increase dramatically if they are interested in you romantically.
---
They ask you out.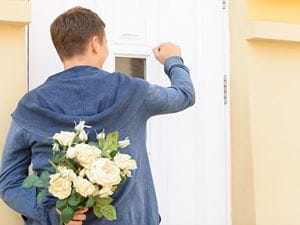 Shutterstock.com
The most obvious sign that your friend is interested in being more than friends is when they ask you out. They may or may not explicitly say that it is a date, but they will likely act differently when they ask you if it is meant to be a romantic overture. Rather than asking casually or in an offhand manner, they may be more nervous or intense about asking you the question. They may also invite you to a nicer restaurant than the two of you usually attend. Their behavior on the actual date will also be a pretty obvious clue. If they insist on meeting you at your house and driving together, bring flowers, look much nicer than usual or refuse to let you pay for the meal or activity, it is very likely that they are viewing the outing as a date. If you reach the end of the date and realize they thought of it as a date when you did not, you need to make sure both people understand each other's intentions immediately, or you are setting the stage for broken hearts later.
---
---
Determining whether or not your friend is interested in you romantically can be a pain, but most people do give off relatively clear signals about their attraction to you. The trick is avoiding either overthinking their clues or reading into something that is not there. Once you know if they are interested, however, options open up for you and your friend. You can ignore their interest, you can discuss it with your friend and decide not to pursue something further or you can take a chance on potentially finding love. The choice is yours.