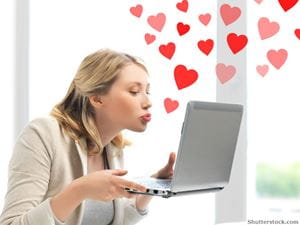 Online dating has become the go-to method for finding a partner for millions of people. Dating websites make a small fortune every year off lonely souls who are desperate to find a connection. Smartphone apps have exploded. An entire new vocabulary has arisen to help people accurately describe the situations and shenanigans they find themselves in while searching for a significant other online. "Catfishing," "ghosting," "benching" and a host of other terms have taken on new meanings in the age of online dating.
In some ways, online dating has made it easier than ever to connect with potential partners. There are, after all, millions more people online that you would be able to meet in person. While that may seem to improve your chances of meeting someone, the fact of the matter is that higher numbers also mean more people you have to sift through that you would not date at gunpoint. So, what is the best way to sort the potential mates from the creeps, jerks and those who are simply not a good fit? How can you best find a match online?
Choose Your Site Carefully
Christian Mingle is meant for Christians looking to find a person to marry. Tinder is infamous for being filled with people hunting for no-strings-attached sex. If you want to find a life partner, it makes no sense to bury yourself in Tinder. Similarly, if you want a one-night stand, why would you use Christian Mingle? When you want to find a good match online, you need to use the websites, apps or services that are filled with people who are seeking the same things as you. Be honest with yourself about what you are looking for, and then choose a platform that favors that outcome.
Use Multiple Websites
The entire point of online dating is to make the statistics favor you. Rather than hoping to find a connection within each person's relatively small circle of in-person acquaintances, online dating gives you access to a massive proportion of people on the worldwide web. It may not sound romantic, but online dating is largely a numbers game. The more profiles you view, the better your chances are of finding a match. As such, it is not a bad idea to have a profile on more than one website or app. Make sure each platform fits your goals, but cast your net as wide as possible.
Honest Profile
It seems like it should be a no-brainer, but when you set up your profile, be honest. If you are a homebody, do not claim that you love to travel. If you have not been to the gym in six years, do not put down that you are a health nut. Not everyone is adventurous, passionate, ambitious and spontaneous. Not everyone needs to be. There is nothing wrong with being an introvert or preferring to set down deep roots in one place rather than bouncing all over creation. That is what some people of both genders want for themselves and in a partner. Words such as "introvert" and "mellow" may be perceived as less attractive on a profile than "outgoing" and "energetic," but you need to be honest about your interests and personality.
Whether you are trying to meet people online or in person, lying about who you are is a terrible plan. You want to find someone who is interested in you, not a façade you constructed out of who you want to be or wish you could be. Be brutally honest when you write your profile. You do not have to include that you hate doing laundry so you own 40 pairs of socks in order to get away with doing it as little as possible. Do, however, be honest about preferring a schedule instead of spontaneity or liking quiet evenings spent cuddling on the couch better than a night on the town. Have a friend read over your profile before you use it to make sure you have not accidentally put down something incorrect. You might think that you are perceptive, but your best friend could tell you that you are about as observant as a brick.
Be Patient
The speed of every other type of online interaction makes it seem like online dating should lead to instant connections with wildly attractive people. Building a relationship, however, takes the same amount of time regardless of whether you met your beau-to-be online or at the supermarket. No screens or algorithms can remove the need to build trust or work your way up to emotional intimacy. As such, be patient both when searching for a match and when getting to know the person you are interested in dating. Love cannot be rushed.
More Than Looks
Truth time. Everyone wants a partner that is physically attractive. Anyone who says that looks do not matter in the dating process is lying. Looks are obviously not enough to carry a relationship, and they are far from the most important thing. When trying to find a first date, however, attractive people have it easier. Online dating only makes this phenomenon worse because it is so visually oriented. People who are not quite as attractive are more likely to be passed over in favor of someone with a better face, body or smile. If you actually want to find love online, you need to resist the urge to do the same. Read each profile carefully instead of simply zeroing in on the people who look great in a swimsuit. Relationships depend on matching personalities, not similar hair colors.
Online dating seems like it would make finding a partner easier. In some ways it does, but in others it makes things more difficult than ever. Whether it is successful or not depends largely on you. If you truly want to find love online, you need to be honest, patient and look beyond appearances, just like you would if you were scouting out the dating pool in your hometown. There are more people to decide between online, but screens do not change what is needed in a relationship. Technology cannot influence love. It might be able to help you find it, but from there, it is all up to you.