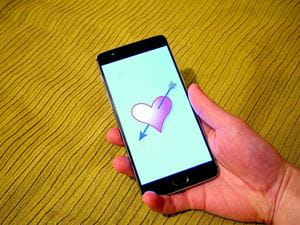 Santeri Viinamäki/Wikimedia Commons
Finding your forever spouse is something that takes time and patience. However with modern technology, it's incredibly easy to connect to a large group of new people quickly. This has created an entire new world of online dating. People use different phone apps, websites, or just their social media to find prospective love interests.
For Christians, the new world of online dating has been one of some intense debate. In one camp, there are those who believe looking for love online betrays a lack of faith in God's timing of when He will give you a spouse. In their view, the endless scrolling of online profiles is just a superficial way of finding romance and undermines the sacrificial nature of Christ-centered love. There is also the fear that the people online really aren't who they say they are, which causes a lot of safety problems that Christian should avoid.
The other side, however, believes that online dating is just another tool God can use to bring two people together. Users aren't placing their faith in the matchmaking site, but instead have faith God will show them the right profile at the right moment. Chances are, they typically know other Christian couples that have found great success through online dating and are inspired to do the same. There are some great people you can meet online to connect with.
While arguments on both sides have merit, online dating for Christians really isn't that black and white. Like many other things, online dating isn't inherently good or evil. It's a lot less about what we do, and more about the intent and reasoning's behind our actions. For example if you choose to go online to date in hopes of getting something in return, your intentions are going against God.
The Bible doesn't specifically mention online dating, but it does give us general principles we can follow. We can take these big ideas and apply them to how we use online dating sites. Here are some tips on surfing the dating world if you choose to do so.
Pray
Get God involved in your choice to date online right from the start. If you feel that it's not really the right timing, or that God is giving you signs that you shouldn't try to date, don't try and do so anyways. You still have to trust in God's timing and believe that He has a great plan ahead for you. Do not try to wiggle your way out of whatever situation you're in and go behind God's back. If at any point you feel like God is trying to say this isn't right for you, than stop.
Be Yourself
If you are seriously considering marriage, there is no reason to lie about who you are. Lying about your likes, interests, goals, and passions might seem like a nice way to impress someone, but no one likes being tricked and it will only backfire in the end. So, yes, close the Photoshop. It is better to have no relationship than one that doesn't make you happy in the long term. In addition, never hide the fact that you are a Christian. Be open and honest about your religion. While it might turn some potential suitors away, you need to stick to your true self.
Be Smart
When choosing to meet them in person, be smart about it. Drive separately and meet in a public place, or go with a group of people. Tell someone your plans encase of an emergency. The reality is, you are meeting a stranger, and as much as you hope this stranger has been as truthful as you have been, there is always that chance they have not. Put yourself in an environment that discourages possible attacks. The Internet presents us with many dangers and it is wise to be cautious.
Trust God
Meeting online can be a great way to meet people, but you still must trust and obey God throughout the process. Every step of the dating journey should be used to glorify Him. God should be your ultimate matchmaker, not the dating site itself. So trust that He is doing what is right for you, and don't put too much pressure on yourself.
For the most part, the risks of online dating are avoidable for Christians. With prayer, intent, direction, and caution, a person can avoid the dangers and reap the benefits of great friendships and, perhaps, one day, marriage. There is an abundance of Christian men and women out there ready to meet the one they will love forever, so don't be shy to get online and try and find the person right for you.