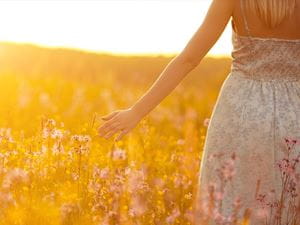 Shutterstock.com
When it comes to Christian relationships, or biblical courtship, the mindset, motives and methods of the relationship can be very different than modern relationships. First and foremost, a biblically-based relationship is about a relationship with Jesus Christ. The Bible says "Be completely humble and gentle; be patient, bearing with one another love. Make every effort to keep the unity of the Spirit through the bond of peace" (Ephesians 4:2-3). From this, we know that relationships take work, but they are also rooted in love.
The Bible also says "Flee from sexual immorality. All other sins a man commits are outside his body, but he who sins sexually sins against his own body" (1 Corinthians 6:18). From this, we know that sexual immorality is a sin, and if we want to build up secure relationships that reflect Christ, we shouldn't sin against our bodies, or the bodies of another. While courtship culture is something that many Christian girls strive for, we live in a time where modern methods of dating dominate dating culture and young girls are following suit. Christian girls are seeing less value in courtship, but why? Here are four major reasons.
They Aren't Ready for Marriage
Courtship doesn't start with a first date or even with an introduction by a mutual friend. It actually starts much earlier than that with each individual deciding on their intentions. While dating can be more casual in nature, courtship has a decidedly more serious goal in mind: marriage. But with more and more people getting married later in life, there are many young women that are finding it helpful to date more than one person before considering marriage. These less serious relationships can actually teach you a lot and help you determine not only what you're looking for in a potential spouse, but also help you to see what true commitment in marriage looks like. Unless your goal is to ultimately make a commitment to marry, you are not courting. While not all couples who court get married, they go into the relationship hoping to find out if they are truly meant to be together forever.
There Are Other Ways to Have Biblical Relationships
The words "dating" and "courting" are not found in the Bible. However, many Christians believe that courtship is more biblical than dating when that isn't always the case. Many Christian girls are choosing dating over courtship and that's ok when they apply biblical principles to their dating relationship. We are given some principles to go by during the time before marriage. The first is that we must separate from the world's view on dating because God's way contradicts the world's (2 Peter 2:20). While the world's view may be to date around as much as we want, the important thing that the Bible emphasizes is that we discover the character of a person before making any commitment to him or her. The most important thing a Christian girl can remember in a committed relationship, whether dating or courting, is to love the Lord above all else.
Many Guys Aren't Courting
Many men aren't doing courtship anymore. Given many Christian men are no longer courting women, they are choosing dating over courtship. That doesn't mean that they don't apply the same biblical principles to their relationship. Many men are withdrawing from courtship because the dating landscape has changed. Many men are also afraid of meaningful commitments, being alone, rejection, the future, being betrayed, being loved. Because of this, many women choose a different way.
Parents and Outside Parties Can Be Too Involved in the Early Stages of the Relationship
Modern dating is focused squarely on the two people involved but with courtship, it's another story. When women decide to follow the path of courtship, other people will have a say in your relationship. In addition to thinking about God's will for your life, you'll also be taking into account the guidance of outside parties. The most common outside parties in a courtship are the parents of each individual. Often, they are closely involved in the courtship process. They offer advice to their son or daughter. They spend lots of time interacting with the person their child is courting. And they offer support when they are in agreement about the potential marriage of the two people courting.
Besides parents, the couple may also include siblings, mentors, pastors, close friends or other authority figures in their courtship. Having the support of those closest to them is an important part of courtship for Christian couples. While it's great for your parents and other important figures in your life to approve of your relationship and have their blessings before marriage, having them so involved in the process can be overwhelming, especially when you're still in your 20s. At that age, we're not only taught to be independent, but also still figuring so many things out about our lives.
These realities shouldn't take value away from courtship.
There are so many great principles that young women can learn from courtship that they can apply to their relationships like dating one person at a time, praying for God's direction, letting the man pursue you, setting clear boundaries for intimacy and accountability. The best thing a young Christian woman can do is seek God's counsel when it comes to their relationship and apply biblical principles to their decision making. Many modern relationships take an "all about me" approach. The relationship centers around the needs of the person as opposed to the needs of the couple. When it comes to God-centered dating, the relationship mindset is centered around Christ. There should always be a desire for love and attraction, but also a desire to love sacrificially the way Christ loves us.