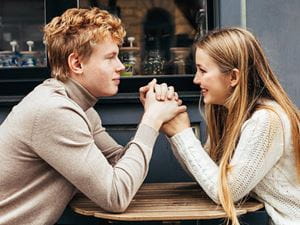 Twenty20.com
Finding love and a companion is a big goal for many people. Everyone has their view on how to pursue a relationship. From how-to books to opinions from family and friends, everyone has a method on how to go about wooing someone. Relationships are on a pedestal within our personal desires but also fragile, requiring a discerning approach and attitude. It makes you wonder, is there a correct way to pursue a relationship? If we concur that following God is an absolute truth, how can we pursue a relationship in a Godly way? What does it look like in practice? Here are some Godly ways to pursue a relationship.
Obedience and prayer.
Timing is essential in more than one way. To pursue someone in a way that honors God and the person you're attracted to requires reliance on God through obedience and prayer to what He wants you to do. God sees and knows all; He even knows what we don't know. This thought is why pursuing someone in a Godly way entails obeying God and not our flesh for action and timing. For example, you may be interested in someone but don't know they recently ended a relationship. If you move on your time, you may ask them on a date before they're ready, and they may be inclined to say no. However, God knows that you want to ask them out, and they ended a relationship, so He'll have you wait until the time is right. Your careful precision in walking and waiting on the Lord will make the timing perfect for your relationship on the right foot. It's a testament to walking in obedience and trusting God even when He tells you to wait.
Respect and kindness.
Something else to consider while pursuing someone in a Godly way is respect and kindness. Not only do you show kindness and respect to God, but also to the person you're interested in. For communication and healthy boundaries to exist in any relationship, romantic or otherwise, respect and kindness are ways to honor the other person. To do so, you have to put your desire for control on the back burner and try to understand what the other person needs at that moment. You can discover this revelation by communicating effectively with the other party, or it can come from asking God to give your perspectives and understanding. Godly pursuing someone involves knowledge below the surface level or what you see on the outside. It also requires putting God before your desire for control, wants, or preferences and allowing Him to take the lead. You have to offer full consideration and hand God the pen to write your story. Respect and kindness are loving the other person and God in full measure.
Godly encouragement.
When you're dating and getting to know someone, pursuing them in a Godly way ultimately encourages God. Ecclesiastes 4:9 tells us, "Two are better than one because they have a good return for their labor: If either of them falls down, one can help the other up." Similarly, we can support one another in our daily walks with Christ. Think about a triangle with God at the top and the wife and husband at the two bottom corners. The purpose of the triangle is to show that as the couple grew closer to God, they would also grow toward each other. With this idea in mind, pursuing someone in a Godly way should also include seeking God. There's nothing more delightful, attractive, or captivating than a partner who encourages you to walk with God. It's something worth praying for, and you shouldn't give up for a relationship. Boldly ask God for a partner that helps you develop a personal relationship with Jesus.
Respects your friends and family.
When dating someone, they come with other people who mean a lot to them. Whether it's friends or family, their communities are essential to them, and part of getting to know them is supporting what's important to them. Supporting what's important to them can be as simple as joining a hiking group or participating in a pastime like Sunday afternoon football games. It can also look like getting to know their family and friends at a steady, timely pace. Putting in the effort shows that you respect them, and it helps promote other relationships in contributing to the wholeness of life, not only parts. Showing respect to people they care about shows you value them entirely, not just bits and pieces.
Authenticity.
Being genuine in mind and heart offers a vulnerable part of yourself in the future. This idea means confessing and showing your shortcomings and flaws and choosing not to stay in them but sharing your process of offering these things to God for healing and redemption. Part of pursuing means sharing your authentic self, not a perfect, plastic, superficial version. Intimacy comes with opening up. It also offers a place where the Lord can show what He's actively doing with the Lord.
It's sharing your whole heart, not just the top layers. Intimacy comes with time and should consider the Lord to share when, what, and in what way. Still, trust that if God is leading a discussion that opens the door to vulnerable communication, there's a reason for it. If the person you're seeking is someone you want to spend the rest of your life with, you have to show your true self. Blessings will only come when two people are for each other by God presents this sincerity.
Pursuing someone in a Godly fashion is something to handle with great care and should be prized. In the end, it requires seeking God before anything else, only looking through His lens and letting the Spirit lead you to moving forward with the other person. When we pursue each other through Christ, we're allowed to see the other person as God knows and sees them. To do so, we must surrender our flesh desires and get everything to God.