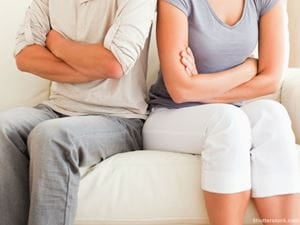 My husband gave up on our marriage. Well, he didn't exactly give up... He found someone else. So, why would I stay and fight for someone who stabbed me in the back and left me to bleed? Why would I fight to save my marriage, when the one I loved and trusted betrayed my love?
I'm sure part of the reason started when I was six or seven. My teacher asked us to make a Father's Day card for our daddies. I raised my hand and told her I didn't have a daddy (or rather, I'd never met him.) She suggested I make one for my grandpa. I didn't have a grandpa either. My grandma and grandpa divorced when my mommy was two, and I had only met him once or twice. I decided to make a card anyway, but that day life pierced my heart. As a tender child surrounded by a loving family, I experienced the deep wound of loneliness without a father.
So, when I married my husband, I was determined never to give my children the same bitter pill of my childhood. No matter what, I would work hard to give them something I had only dreamed about — a mommy and daddy together.
You see, my husband and I never had a terrible marriage. In fact, I would've said we had a good one. He had always been my best friend. So his affair wasn't something I ever expected; it blindsided me on a Monday night.
I'm sure at first I stayed out of fear:
Afraid to be alone.
Afraid I wouldn't find someone else.
Afraid I would find someone else and he would break what's left of me.
Afraid my children would feel rejection, and experience the same pain of loneliness.
Afraid of raising them alone.
Afraid of the shame.
Afraid of the unknown.
Afraid of shattered dreams.
Afraid of everything.
As I began to walk through an icy hell, I had a spiritual awakening. Cue Kelly Clarkson. "What doesn't kill you makes you stronger." My scarred heart was riddled with self-hate. I didn't believe I was worthy of love or to be loved. I never fathomed I was good enough. My fears were causing me to self-sabotage my life. As I peeled back the scabs of lifelong wounds, I encountered love. A supernatural force rushed through me, whispering, "You are worthy. You are loved." Little by little, day-by-day, my wounds began to heal, and I experienced freedom from my inner prison.
My family was restored. My husband came back and fought for us again, but what he never expected to encounter when he returned was a changed woman. He found a girl who knew she was worthy to love and be loved. Even if he had never come back, even if our marriage was never restored, my identity no longer was defined by outside factors. My identity comes from within. At first, I stayed and fought out of fear, but in the end, I stayed and fought because of love, and it was worth the fight.
Now, I have the power to forgive with no reason. I have the courage to be vulnerable in a guarded world, and I have the confidence to love with no guarantee.