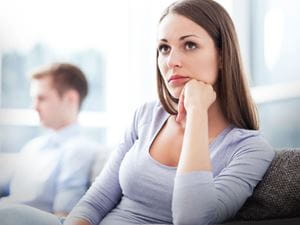 Shutterstock.com
"OMG!" comes to mind after the news came out that your church-going man and your faithful is cheating on you. You're thinking "It just can't be." Upon further investigation and a confession later, it's true, your guy was messing with the new cute thing in the congregation. First, you run to the pastor to cry your heart out and then, you run to friends and rant with ferocity about your broken heart. Fear may be gripping your soul, but let us remind you to fear not. In the book of Isaiah 41:10 we are reassured to not fear. "Fear not, for I am with you; be not dismayed, for I am your God; I will strengthen you, I will help you, I will uphold you with my righteous right hand." Anyone who cheats not only breaks hearts but can damage your faith in the process. We will look at 7 ways on how you can navigate this insufferable time.
Allow yourself to grieve.
Who would think that your spouse would cheat with someone at church? The church is a place of refuge, not a place to pick people up if you're married. "There are so many emotions involved in a breakup — anger, sadness, loneliness, feelings of rejection and uncertainty about the future — and it's essential to confront them head-on," the Huffington Post shared. Give yourself permission to grieve and to process what has happened to you.
Confront your spouse.
You also need to tell your spouse how you feel to help process the betrayal. We are often told to use "I" statements rather than "you" statements. You have every right to accuse him and go off on the actions, but this will just encourage more contradictory reactions. Behind the layers of anger, there is rejection, fear and hurt because anger is considered a secondary emotion. You may need to have a third party to prevent things from getting violent. Know that acquiescence is not the answer, and understand that you have a right to be outraged.
Talk with church leadership.
Adultery is one of the most frequent and severely condemned sins in the Bible and it is mentioned 52 times. We know what they did was a sin, but now you have to brave it out and talk with leadership if needed. You don't have to go the same church anymore as this will just add more salt to your already raw emotions. However, reach out to the pastor and advise them on what is going on. This is important especially if you were at the church for a long time. Depending upon their advice, seek the Lord and contemplate what you should do. You may go to another service or look for another church to attend altogether.
Release them to God.
It's hard to believe that God will work this out for your own good, but He can. "Trust in the Lord with all your heart, and do not lean on your own understanding. In all your ways acknowledge him, and he will make straight your paths." In John 8:1-12, people in the church told Jesus that a woman was caught in the act of adultery and then He showed the woman mercy. This is no excuse for the act, but eventually, you have to release them to God and let Him work on them. This means you need to show mercy in this area.
Take care of yourself.
The Lord is close brokenhearted and binds up their wounds. "He will wipe away every tear from their eyes, and death shall be no more, neither shall there be mourning, nor crying, nor pain anymore, for the former things have passed away." You need to heal your fractured heart and find a sense of peace. Getting away for awhile or going on a retreat may help you gain perspective and distance from the situation. Get your hair cut, join a gym and seek a therapist to help you transition. When taking the steps to achieve a new life, you might realize that there were problems in the marriage you didn't see and this could be a blessing in disguise.
Forgive yourself for being fooled.
Yeah, we know this is a tough one to do. The self-loathing for allowing yourself to be fooled can create more damage if not taken care of. The act of adultery is bad in itself, but the lying to cover it up makes you feel duped again. First, you need to forgive yourself before there is any forgiveness flowing towards your spouse. If you don't, resentment is going to poison life further. Carrie Fisher famously said that "Resentment is the poison you swallow hoping the other person will die." You can't get back at someone with resentment, but you can by forgiving yourself and becoming stronger. Don't become a prisoner of victimhood.
Lean on God.
Look, no one wants to pray or read the Word when they're dealing with being cheated on. Mostly, you can't even drag yourself out of bed let alone read Scripture and pretend to play church. Understood, but if you refuse to plug into any power source, depression and the devil will use this as a good time to keep you down. Then, we allow the event to invade our souls and we may miss out on what God wants to say to us. "Peace I leave with you; my peace I give to you. Not as the world gives do I give to you. Let not your hearts be troubled, neither let them be afraid."
No doubt about it, this is a shame and using the church as a disguise of deception is immoral. As all bad deals, playing the victim doesn't need to define you. Yet, there will come a time when there needs to be a decision on whether to make the marriage work after the affair. You decide if it's worth holding onto. If you do, seek a marriage counselor for guidance.