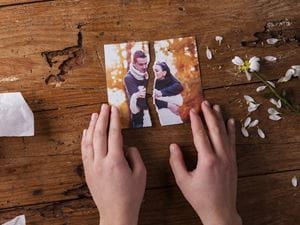 Shutterstock.com
When you walked down that church aisle wearing your beautiful white dress, years or decades ago, you never thought you'd one day be labeled a "divorced Christian woman." The phrase becomes a scarlet letter of shame, or a mark you feel you have to bear. That divorced title can make you feel so dirty, unwanted, and unworthy of anyone. Maybe you feel like a failure, and constantly replay those last moments in your head.
The more serious a woman is about her Christian faith, the more devastated she is about a divorce. If a divorce happens for any reason, a Christian woman is not only distraught about the divorce, she feels as though she has disappointed God, too. Not long ago, the idea of Christian divorce was not acceptable. Christians were taught, and many still believe, that divorce breaks not only our promises to each other, but also our sacred promises to God. These women often feel guilty because of their divorce. They often feel as though they have let down God, their families and the Church, even if they tried everything they could to save their marriage.
There is hope with the Lord, though. No matter what happened to cause the divorce, you are not unworthy of God's love. You can get through the pain and become stronger.
Find a Good Support System
After a divorce, many Christian women feel like they can't find the support they truly need. Churches usually do not know what to do with Christians going through divorce. They don't want to appear to endorse divorce, so they shy away from the topic. Some even shun the Christians in their own congregations who need advice and care. The Bible encourages us to "comfort the broken-hearted," but most churches ignore those who are broken-hearted because of divorce. If this is your situation, it's time to look for another place to go. There are churches, Bible studies, and the like out there that are accepting of the situation you are in. They want to welcome you in their doors and support you while you heal in this difficult process. It might take time to look, but it's important to find support from fellow Christians.
In addition, you should look to reach out to friends and family for help. Unfortunately after divorce you do lose a lot of people that were once close to you. You may have to cut off some people that were formally the person you would regularly go to for advice, because they have chosen to judge you instead, or are picking sides in the divorce. Spend time looking for those that want to lift you up and be a beacon of hope.
Lastly, if you feel as though the divorce is too overwhelming for you to survive then seek out professional help. There are many great Christian therapists, support groups and the like that are available for the divorced women. If you aren't ready to talk to someone directly, there are also many resources online and a variety of books you could read.
Read About Divorce in the Bible
You most likely have a lot of misconceptions about what God thinks about divorce. One major one is that divorce is indicative of a lack of faith or trust in God. That if the couple just believed more or worked harder, their marriage would survive. Marriages are not exempted from the destruction of this world, even if two faithful Christians are a part of it. Being faced with divorce does not mean you are any less spiritual than the next girl. Your relationship with the Lord is a very personal one, and you should not be comparing your faith to others.
Another misconception is that staying in a destructive marriage is better than getting divorced in the Lord's eyes. Just because a couple chooses to stay together, does not mean they have a marriage that glorifies God. Co-existing in a poisonous, unhealthy, potentially dangerous marriage for the sake of not divorcing is not good for anyone. What God desires is that you thrive in marriage that is glorifying to Him, not just put up with one.
Many Christians also falsely believe that divorce is an unforgiveable sin and that if we divorce; we are destined to live a life of loneliness and guilt until we die. However that is simply not true. The beauty of Christianity is that we always have a chance to start fresh with a clean slate, and God covers us with His forgiveness and grace continually, no matter what happens in our lives.
God has a purpose for pain and suffering, and that includes your divorce. Throughout scripture, we are given so many promises to show us that there is always hope. Romans 8:28 tells us that all things work together for the good of those who love God. Zechariah 9:12 tells us that God will repay two blessings for each of our troubles. In John 11, Jesus proclaims that he is the resurrection and the life; he will take you from the death of divorce and breathe new life into you. And 1 Peter 5:10 says that the suffering won't last forever but one day he will have you put together and on your feet again.
No matter what stage you are in the divorce process, know you worship a God who has not left you alone, but desires to dwell with you in this season of struggle. Hold tight to His promises. All you need is Jesus, and He will provide everything you need and walk with you through this trial.