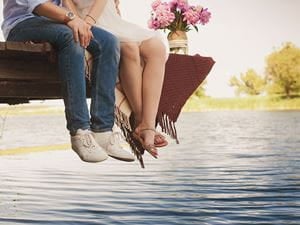 Shutterstock.com
Nobody wants their relationship to fail, but there are many factors that can cause a downward spin. Every relationship has its challenges, even when the relationship is good. If you've been feeling like something hasn't been quite right lately, it could be because there are things to do in the relationship that you've been letting slide or simply not doing at all. While many of us know the traits of a successful relationship, we often find ourselves still falling short in many of these areas. It's not that we lack the time or the know-how, but we often lack the focus to be intentional in our relationships. While this might sound discouraging, the great thing is that there are things we can do to make our relationship better and stronger before it's too late. The most important thing is that you recognize when there's a problem and understand what you might be doing to contribute to it. Are you ready to do the necessary things to ensure your relationship can withstand any difficulties you may face? Here are seven ways to stop settling for less than love.
Don't compromise your values.
Do you and your spouse share similar values or are they very different? If you're not sure what values are important to the one you're with, you may be in a bit of trouble. It's dangerous riding on the path to marriage without any idea of where you're going. This doesn't require you to grill the person you're talking to on the first date to make sure the meet all of the qualities you're looking for. This list is more of framework for dating as opposed to a checklist. However, you shouldn't compromise. Your heart is too important to give it away because you're frustrated, impatient or settling.
Date with a trajectory towards marriage.
Some of us have heard of Stephen Covey's best-seller, "The 7 Habits of Highly Effective People." The second habit he mentions is beginning with the end in mind. We should be dating with our future in mind. If you are a Christian, there is no reason to date without a trajectory towards marriage. People date with a future in mind. No one wants to exclusively commit to a relationship that doesn't yield a future or goes nowhere. Your time, love and heart are too precious to wait. Dating with a trajectory towards marriage means dating with a purpose. When people in the world are expecting less and less of each other in dating, God isn't. Among the single we have to work harder in our not-yet married relationships to preserve what marriage ought to picture and provide.
Seek God's guidance.
Two of God's main concerns are the will for your life and your potential spouse. It's important that you ask yourself where God fits into the equation. Has He entered the discussion at all? It's the most important aspect, central to the success of your relationship. Seek God's guidance when it comes to your relationship life. The first step in making this a reality is desiring the Will of God for your life. This requires you to surrender your life to God and ask Him to be the agent that directs your relationship. Another step is practicing God's obedience in every area of your life. Allow His Word to be a lamp to your feet and a light to your path (Psalm 119:105).
Date those with similar interests.
If you want to be in a healthy relationship, you should search for someone who shares your beliefs and values. The Second Epistle to the Corinthians speaks much to this, especially Chapter 6:14, "Do not be unequally yoked with unbelievers. For what partnership has righteousness with lawlessness? Or what fellowship has light with darkness?" If the person you're dating isn't grounded in Christ, their thoughts and actions will only separate you from Christ and take you further into darkness. Without a Christian spouse, one of two things will happen: you will drift away from God or your spouse will become your center focus, ahead of God. Both of these aren't good.
Don't look for partners to supply your every need.
You shouldn't date if you are dependent on someone for things only God can provide. Relationships are not for those who rely on another person for peace, joy and purpose. When you walk into a relationship co-dependent on the one you're with, this will lead to a co-dependent marriage. These relationships eventually fall apart because they are too heavy. God should be the center of your life before you begin dating. You should also have an active relationship with God's Word and an assurance of God's love for you. Turn to God to supply your every need.
Discuss your feelings openly.
Communication and openness is important in any real relationship, but when you can't ever find common ground, there's a problem. If you're not comfortable communicating your concerns or don't feel understood when you do, the relationship is in serious trouble. It's significantly unhealthy for couples to be secretive. You can't afford to be keeping your feelings from one another especially when your feelings are directly tied into the state of your relationship. If you don't feel free to open up to one another, then your relationship is in trouble.
Let Christ be your model.
Remember, God created us out of love in His image. We must carry out our relationships in a way that fulfills that image. To do this, we must follow Christ's example in all things. Christ had the perfect relationship. Not only is He part of the Trinity, but He also give His life so that world might have salvation. Christ must be our model in all of our relationships if we want to achieve the life God intended for us. We must also know how we can be of service to the person we're with and how we can offer our unique gifts to the relationship.
All relationships go through different phases. There will be good times and there will be challenges. However, when you place God at the center of your relationship, you are allowing Him to mold your relationship into His amazing design. Let God create the picture of your relationship.