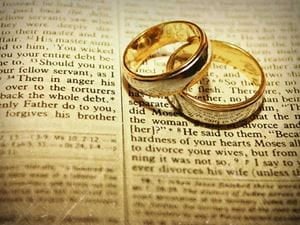 Shutterstock.com
All relationships have their ups and downs. Sometimes, the cause of the high or low is obvious. You and your significant other are thrilled because you just bought your own home. Your significant other just lost their job, so you are both struggling with questions about the future in addition to disappointment. These are the highs and lows that can be easily understood. Sometimes, however, the root of your joy or distress is difficult to place. You both seem to have entered a second honeymoon phase for no easily discernable reason. You and your significant other cannot seem to stop fighting, even if neither of you can figure out why you are both so short tempered all of the sudden.
When the cause of the trouble in your relationship is difficult to place, the Bible might be able to help you figure out where things have gone wrong and how to fix them. Here are seven Scriptures for relationships in trouble.
"Whoever loves money never has enough; whoever loves wealth is never satisfied with their income. This too is meaningless." – Ecclesiastes 5:10
Money troubles are a common cause of strife in relationships. Few Christians want to admit to caring about money, but the fact of the matter is that money matters. When finances are tight, people's tempers are short. Struggling to make ends meet is a surefire way for people to end up at each other's throats.
If you and your significant other are struggling to make ends meet, be prepared to sacrifice something. Maybe you both agree to stop getting takeout during the week. Perhaps you cut back on the fish and buy chicken instead. Maybe your significant other stops shopping online in order to avoid shipping costs. Do what needs to be done, and do not dwell on what you are giving up. It does not matter in the long run.
On the flip side, if you and your significant other have enough money to live comfortably but want more, remember this verse for a different reason. Even if you both had all the money in the world, at some point it would not be enough. So, start finding solutions instead of picking fights.
"Like a broken tooth or a lame foot is reliance on the unfaithful in a time of trouble." – Proverbs 25:19
No one likes to think of themselves as dishonest or unreliable. Yet, some people end up becoming total flakes once they are in an established relationship. They have the subconscious belief that because they have "won" they do not need to continue trying as hard for their significant other. This can lead to problems when they claim they will do something and then forget to do it. While everyone has brain blanks, people start getting annoyed when it happens over and over again.
If your significant other seems to be calling you lazy when you are arguing, consider if you have been faithful to your word in the little things. Did you say that you would do the dishes and then left them piled up in the sink? Did you promise to take the car into the shop and are still driving around on the spare tire a week later? If you are guilty of flaking out, your significant other is likely angry because they are unsure if they can rely on you. Make it a point to show you will keep your word, even in the littlest of things.
"Do two walk together unless they have agreed to do so?" – Amos 3:3
You and your significant other do not have to agree on everything, but you two should be on the same page most of the time. Both you and your relationship will be going nowhere fast if you are forever working at cross purposes. Take some time to make sure that you and your significant other agree before moving forward with projects or assuming that your significant other is ready for the next step in your relationship, whatever that might be. Working toward the same goal will decrease friction, frustration and help you both avoid feeling like the other person is deliberately undermining you.
"My dear brothers and sisters, take note of this: Everyone should be quick to listen, slow to speak and slow to become angry."– James 1:19
Listening is probably the single most important skill anyone in a serious relationship can possess. If you cannot listen, you cannot understand what your significant other is feeling. You are not a mind reader. You need to pay attention to your significant other and hear both what they are saying and what they are not saying. If you have been refusing to listen or you have been quick to lash out, it is unsurprising that you are having problems in your relationship. A lack of communication is the number one reason couples break up, and the problems are more often due to a refusal to listen than a refusal to speak. So, check and see how much you are really listening. Are you paying close attention to your significant other's words and body language, or do you assume you already know what they are going to say? This is especially important if you feel like you and your significant other are working from a script. Your significant other may actually be saying something very different than what you assume and be struggling to get you to listen.
"A gentle answer turns away wrath, but a harsh word stirs up anger." – Proverbs 15:1
As a general rule, people give as good as they get in fights. Hitting back is a natural response in both a bar fight and a verbal throw down with your significant other. Unfortunately, this tendency makes it very hard to sit down and speak calmly once the gauntlet has been thrown. It can also lead very easily to people saying things that they regret later. That is the worst part of fighting with those you love. They know exactly where to hit so it hurts, and so do you. In a harsh argument, this can lead to both of you turning each other's wounds and fears against each other in vicious ways that are hard to overcome later. Walk away from fights rather than hitting back, and return to the problem when you are both calmer. If there is no way for you to avoid the argument in the first place, make sure you watch your words so you do not say something in anger that should never have left your lips.
"Love is patient, love is kind. It does not envy, it does not boast, it is not proud. It does not dishonor others, it is not self-seeking, it is not easily angered, it keeps no record of wrongs. Love does not delight in evil but rejoices with the truth. It always protects, always trusts, always hopes, always perseveres." – 1 Corinthians 13:4-7
Love is selfless and patient. If you have been struggling with impatience or some selfishness, there is your problem right there. You should always be patient with your significant other, and seek compromise when you disagree. You should never "keep score" with someone you love. Holding that sort of grudge only hurts you both. If you have been keeping a mental list of wrongs, you need to seriously consider how important those wrongs are to you. If they are serious, then you need to talk with your significant other about them instead of storing them up like the twisted hoard of a dragon. Let go of the little things before you poison the relationship irrevocably.
"Like a city whose walls are broken through is a person who lacks self-control." – Proverbs 25:28
As soon as you enter into a serious relationship, you have to always have the other person in your mind. You are not an island. What you do affects your significant other. This means that you need to be in control of yourself. You can no longer go out and get plastered on Friday night. You cannot spend as much money as you want whenever you want. You have to consider the other person and practice self-control. If you and your significant other are arguing or you are getting the cold shoulder, think about what your habits have been like lately. If you have cheerfully thrown self-control out the window, it is no wonder that your significant other is getting annoyed with you.

Relationships should be more highs than lows, but if you find that you and your significant other are stuck in the trough, think about why. If there is no immediate cause, look back over what makes a good relationship, and think about where you may have fallen short. Then, go make amends with the one you love.
More on improving your relationship:
7 Prayers for a Struggling Relationship
How to Create a Healthy Relationship