It has happened. Your former-beau, now ex broke your heart. They said the dreaded words and ended your relationship. You may have been let down gently with "it's not you, it's me," or you might have gotten the hard and blunt "it's over." Regardless of how the relationship ended, you now need to heal, let your heart recover and move on. You have to relearn how to be just "me" instead of part of an "us." This is easier for some people than others. It is also easier depending on how and why the relationship ended. Ironically, it can be far easier to get over a person who dumped you cruelly than a person who let you down gently. After all, a "complete and utter jerk" can be easier to set aside than the person who was "just not working."
The person who was dumped is not the only one who needs to heal. Unless the relationship was truly worth nothing to the person who did the dumping, they are hurting, too. If you ended the relationship, you can still mourn for what could have been. You can still wish that everything had worked out.
Whether you were dumped or dumped your ex, you still need to heal. You need to recover before you throw yourself back into the dating pool. Here are four ways to help you move on after a relationship.
---
Cut Off Contact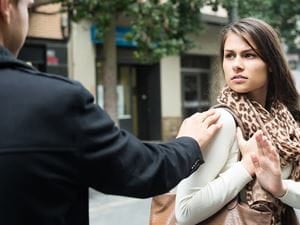 Shutterstock.com
You heard that right. When the relationship is over, the first step to healing is to accept that the relationship is over. If your ex is still a constant part of your life, you may well end up clinging to the fantasy that they will realize it was all just a mistake. You might have visions of them begging you to take them back or a reunion kiss like something out of "The Notebook." In reality, however, you will most likely end up with your friends trying, with questionable success, to hit you with the clue-by-four and make you face the truth that the relationship is over. As such, your best bet is truly to cut off contact for a while. Resist the urge to call them when you are lonely, and unfollow them from social media. No, you are not allowed to Facebook stalk them to see if they regret breaking up with you.
If you were the one who called it off, you still need to take a step back if only to let the other person heal. Besides, you are likely disappointed that the relationship did not work out either and need some time yourself to grieve for lost opportunities.
In the event you two have lots of mutual friends, talk to your friends about what you are trying to achieve. There may be no way for you to avoid your ex entirely at your mutual friend's wedding, but you can ask that they not seat you beside your ex.
---
---
Box Up Reminders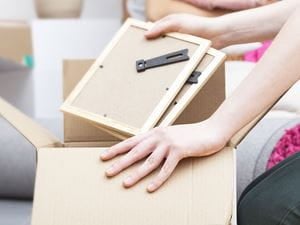 Shutterstock.com
Everyone has seen the dramatic videos where a person shreds, burns, runs over, buries or otherwise destroys all the gifts their ex gave them and all the pictures the two took together. Going that far is probably a bad idea, you might want that silver watch or beautiful photograph of the Hawaiian sunset later, but getting reminders of your ex out of your face is a good idea. Put photographs, gifts and other clear and tangible reminders of your ex in a box, then shove the box into the back of your closet. Stick a label on the box so you do not find it by accident when you are getting out Christmas decorations, but do not make the label so obvious that you are risking a breakdown every time you need a coat.
If there is a particular reason that you truly cannot stand having any reminders of your ex in the house, ask a friend to keep the box for you. In the event you do not feel comfortable keeping something your ex gave you, or you have healed enough that you can look at old gifts without falling prey to tears and regret, do not destroy the items. Instead, donate them to charity. You may loath that red shirt because your ex let their lover borrow it after their secret tryst, but someone who lacks the emotional memories you attached to the shirt would probably love to have it.
---
Let Yourself Grieve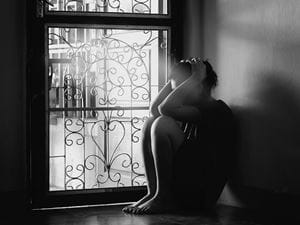 Shutterstock.com
Regardless of whether you were the one who ended it or you were the one left standing miserably in the rain watching your now-ex drive away, the end of a relationship hurts. Do not beat yourself up for feeling that hurt. It is normal to cry. It is normal to rage and scream into a pillow. It is normal to tell your best friend all the reasons why the break-up is your ex's fault and end up tearfully begging your best friend to tell you why you were not good enough for your ex.
When a relationship ends, let yourself grieve. Do not tell yourself that you are being stupid when the sight of just one toothbrush by the sink makes you sad. Do not think that because you ended the relationship you have no right to cry. Grief is normal when a relationship ends, so let yourself mourn. Depending on how deeply you are mourning the end of the relationship, it may be a good idea to recruit a friend to keep you from tearfully calling your ex or sending them a Facebook message made up of nothing but curse words, but the desire to do either of those is normal. Keep yourself from taking those unhelpful actions, but do not begrudge yourself the desire to do such things.
---
---
Take Care of You

Shutterstock.com
When you are dealing with emotional pain, the odds are you just want it to go away. You want to bury it, drown it, burn it, not feel it. Unlike physical pain, you cannot watch the wound heal. You cannot carefully keep it from bumping into things without giving up half your life. When it comes to emotional pain, in many ways you have to simply deal with it. This, of course, is terrifying. You are in pain with no way to get rid of said pain and no way of knowing when that pain will go away on its own. Small wonder that people turn to less than healthy alternatives to lessen that pain.
After a breakup, do not lose yourself in alcohol, drugs or bury yourself in a nine day Facebook-scrolling, Netflix-watching, Etsy-shopping internet binge. Take care of yourself instead of numbing the pain, because that is all such things do. They numb the pain. They do not heal it.
Do something productive that you have been wanting to do. If you wanted to repaint that old chest of drawers, break out your paint brushes. If you wanted to start taking language lessons again, go sign up for a class. Do something that you enjoy, and preferably, do something that gets you out of the house. When you are home, do not neglect yourself in order to cry into your pillow. Eat healthy food, exercise and get plenty of sleep. If you need to relax, skip the wine and whisky, and instead take a long, hot bath or shower. Do not let the breakup break you.
---
Breakups are never easy. When a relationship ends you are automatically going to be dealing with at least some measure of emotional pain. You did not get the fairy tale ending you were hoping to achieve. Instead, you are left feeling anything from vague regret to complete and utter heartbreak. Regardless of whether you ended the relationship or were the one left out in the cold, your heart is hurting, and you have to deal with the struggle of getting over the person you loved. It is not easy, nor is it pleasant to accept that you have to leave behind those dreams of a happily ever after with your now-ex. It will not, however, be the end of you. Painful as it is, take comfort in the knowledge that your breakup with not break you.