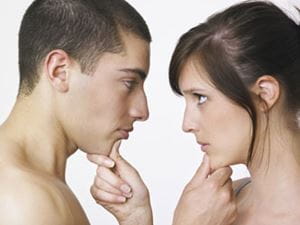 Unless and until you access the consciousness frequency of presence, all relationships, and particularly intimate relationships, are deeply flawed and ultimately dysfunctional.
They may seem perfect for a while, such as when you are "in love," but invariably that apparent perfection gets disrupted as arguments, conflicts, dissatisfaction, and emotional or even physical violence occur with increasing frequency.
It seems that most "love relationships" become love/hate relationships before long. Love can then turn into savage attack, feelings of hostility, or complete withdrawal of affection at the flick of a switch. This is considered normal.
If in your relationships you experience both "love" and the opposite of love — attack, emotional violence, and so on — then it is likely that you are confusing ego attachment and addictive clinging with love. You cannot love your partner one moment and attack him or her the next. True love has no opposite. If your "love" has an opposite, then it is not love but a strong ego-need for a more complete and deeper sense of self, a need that the other person temporarily meets. It is the ego's substitute for salvation, and for a short time it almost does feel like salvation.
But there comes a point when your partner behaves in ways that fail to meet your needs, or rather those of your ego. The feelings of fear, pain, and lack that are an intrinsic part of egoic consciousness but had been covered up by the "love relationship" now resurface.
Just as with every other addiction, you are on a high when the drug is available, but invariably there comes a time when the drug no longer works for you.
When those painful feelings reappear, you feel them even more strongly than before, and what is more, you now perceive your partner as the cause of those feelings. This means that you project them outward and attack the other with all the savage violence that is part of your pain.
This attack may awaken the partner's own pain, and he or she may counter your attack. At this point, the ego is still unconsciously hoping that its attack or its attempts at manipulation will be sufficient punishment to induce your partner to change their behavior, so that it can use them again as a cover-up for your pain.
Every addiction arises from an unconscious refusal to face and move through your own pain. Every addiction starts with pain and ends with pain. Whatever the substance you are addicted to — alcohol, food, legal or illegal drugs, or a person — you are using something or somebody to cover up your pain.
That is why, after the initial euphoria has passed, there is so much unhappiness, so much pain in intimate relationships. They do not cause pain and unhappiness. They bring out the pain and unhappiness that is already in you. Every addiction does that. Every addiction reaches a point where it does not work for you anymore, and then you feel the pain more intensely than ever.
This is one reason why most people are always trying to escape from the present moment and are seeking some kind of salvation in the future. The first thing that they might encounter if they focused their attention on the Now is their own pain, and this is what they fear. If they only knew how easy it is to access in the Now the power of presence that dissolves the past and its pain, the reality that dissolves the illusion. If they only knew how close they are to their own reality, how close to God.
Avoidance of relationships in an attempt to avoid pain is not the answer either. The pain is there anyway. Three failed relationships in as many years are more likely to force you into awakening than three years on a desert island or shut away in your room. But if you could bring intense presence into your aloneness, that would work for you too.
Whether you are living alone or with a partner, this remains the key: being present and intensifying your presence by taking your attention ever more deeply into the Now.
For love to flourish, the light of your presence needs to be strong enough so that you no longer get taken over by the thinker or the pain-body and mistake them for who you are.
To know yourself as the Being underneath the thinker, the stillness underneath the mental noise, the love and joy underneath the pain, is freedom, salvation, enlightenment.
To disidentify from the pain-body is to bring presence into the pain and thus transmute it. To disidentify from thinking is to be the silent watcher of your thoughts and behavior, especially the repetitive patterns of your mind and the roles played by the ego.
If you stop investing it with "selfness," the mind loses its compulsive quality, which basically is the compulsion to judge, and so to resist what is, which creates conflict, drama, and new pain. In fact, the moment that judgment stops through acceptance of what is, you are free of the mind. You have made room for love, for joy, for peace.
First you stop judging yourself; then you stop judging your partner. The greatest catalyst for change in a relationship is complete acceptance of your partner as he or she is, without needing to judge or change them in any way.
That immediately takes you beyond ego. All mind games and all addictive clinging are then over. There are no victims and no perpetrators anymore, no accuser and accused.
This is also the end of all codependency, of being drawn into somebody else's unconscious pattern and thereby enabling it to continue. You will then either separate — in love — or move ever more deeply into the Now together, into Being. Can it be that simple? Yes, it is that simple.
Love is a state of Being. Your love is not outside; it is deep within you. You can never lose it, and it cannot leave you. It is not dependent on some other body, some external form.
In the stillness of your presence, you can feel your own formless and timeless reality as the unmanifested life that animates your physical form. You can then feel the same life deep within every other human and every other creature. You look beyond the veil of form and separation. This is the realization of oneness. This is love.
Although brief glimpses are possible, love cannot flourish unless you are permanently free of mind identification and your presence is intense enough to have dissolved the pain-body — or you can at least remain present as the watcher. The pain-body cannot then take you over and so become destructive of love.