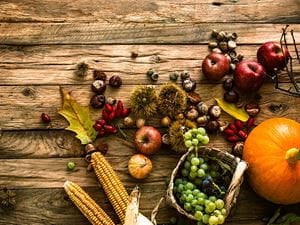 Shutterstock.com
Being veganish is not about what you can't eat. There's nothing you can't eat; the difference in moving toward a plant-based diet is simply what you choose to not eat. It's about adding in amazing new foods. There are an abundance of food varieties that are not sourced from animals.
Simple swaps are a great first step. You can find a substantial variety of great alternatives to most of the things you're used to eating that are sourced from animals. Beyond exploring your grocery store, health food and natural food stores tend to offer the widest variety of plant-based, whole-food staples.
 Swap This
For That
 Chicken


Tempeh, tofu, meat alternatives in the freezer section


 Meat burgers


Veggie burgers


 Beef


Beans, veggie "beef" crumbles


 Bacon/Sausage 


Tempeh or seitan bacon, veggie sausage


 Ice cream


Ice cream made with nondairy milks, sorbet, or frozen banana pureed with a touch of almond milk in the food processor or blender


 Milk


Almond, soy, rice, coconut, hemp, hazelnut, cashew, oat, etc.


 Butter


Vegan butters, extra-virgin olive oil, avocado, fruit butters, nut butters


 Cheese


Nondairy cheese, homemade cashew nut cheese, avocado, hummus


 Eggs


Tofu for scrambles, or for baking use applesauce, flax, agar, chia, banana, vegan egg replacements


 Cold cuts


Sliced tofu, veggie meat slices in the refrigerated case, avocado, hummus, PBJ for sandwiches


 Half-and-half/
 Heavy cream


Soy or coconut creamer



 Cream cheese  
 or sour cream


Vegan cream cheese/sour cream



 Yogurt


Yogurt made from coconut, almond, or soy milk


Once you've got a few of these simple swap-outs in your fridge or pantry, it will be a breeze to veganize one meal per day.