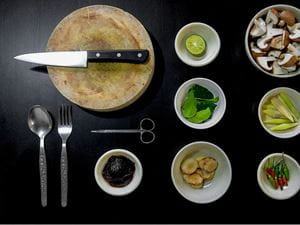 Pixabay.com
God reaches out to where you are. He isn't cooped up in church, glued to the pews, or detached from what matters most to you. He's walking alongside you through your crowded schedule, waiting for you to notice His presence. He speaks even while you're in the middle of a vegetable-slicing, dinner-prepping, multi-tasking moment.
God is trying to serve you up generous helpings of His love and mercy, seasoned to perfection with His grace. When you are busy running around, know that God is still trying to create a deeper connection with you. The next time you are cooking, reflect on these many ways you can bond with the Lord.
Get in Touch With His Creations
When it comes to our physical fitness, we tend to forget that God had a hand in our bodies design. Most people don't trust God to provide incredibly delicious food that is also healthy. They think eating natural God-designed foods couldn't taste near as good as a stack of pancakes dripping in artificial maple syrup or a double cheeseburger and fries. However the foods of the Bible, and the ones that come straight from earth, are part of God's fantastic creation! "In the beginning" God gave us plant-based foods, such as fruits, vegetables, nuts, seeds, beans and grains. Later in the Bible we see that God identified certain meats that are both healthy and flavorful. In general, if there are only one or two ingredients on a food's label, then you are close to God's food plan. Appreciate the food God has already provided for us on this land and you will draw closer to Him.
Learn a Skill
Have you ever wondered how to use your skills for God? God created each of us for a purpose and the skills He gave you are not by random chance. He made you drawn to certain tasks for a reason. If you are someone that has a true passion for spending time in the kitchen, it might be for a bigger reason. God no doubt gave you that pleasure so you can serve others with your skills. You could volunteer in a small soup kitchen to help feed the homeless, or help provide goodies for a bake sale to raise money for a local church. Jesus used food to give back to His community many times. For example, the Gospel of John reports that five barley loaves and two small fish supplied by a boy were used by Jesus to feed a multitude.
God wants you to take the skill He blessed you with and grow with it. Check out new cook books, take a new cooking class, or join online forums. Through harnessing your skills, you will see how God wants you to use them. In addition the lack of learning new skills helps you to gain self-confidence and be grateful for God's aid.
The Table as a Place of Blessing
The dinner table is a great place for families to come together and grow in Christ. While the meals are being shared, so are laughs, tears, and memories. You come together to share a blessing over the food God has provided for you, and experience God's blessings as a family. Sharing tables is one of the most uniquely human things we do. No other creature consumes its food at a table. And sharing tables with other people reminds us that there's more to food than fuel.
Tables are one of the most important places of human connection. We're often most fully alive to life when sharing a meal around a table. We shouldn't be surprised then to find that throughout the Bible God has a way of showing up at tables. In fact, it's worth noting that God's people in both the Old and New Testaments shared tables: the table of Passover and the table of Communion for example. These are ways we can see food again as a blessing from the Lord.
Chat With the Lord
When you find yourself spending a fair amount of time in the kitchen, you realize how much time you actually spend just meditating and in silence. It might be the only time you get during the week where you aren't running a million miles a minute. You get into a routine of cutting up carrots, turning on the oven, washing the dishes, etc.
Instead of wasting this time not doing anything productive mentally, it's a great time to start conversations with God. One way to do so is by tacking up Bible verses on the window sill, or at a similar convenient location. Meditate and memorize ones that mean the most to you. Ask God to speak to you while you're prepping, cooking, or cleaning. You can also tune into Christian podcasts, listen to gospel music, or reflect on recent devotionals during quiet time.
Your life might be busy, but God is following you everywhere you go. From the grocery story, the kitchen and all the way to the dining table, God is reaching out to you. He wants to connect with you on a deeper level. Next time you are baking up something for your family, remember these ways you can also chat with God and reflect on His many blessings.