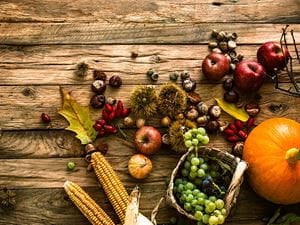 Shutterstock.com
Sukkot is known as the Feast of Tabernacles, and arrives quickly after Rosh Hashanah and Yom Kippur. Each year, many find themselves scrambling to prepare a menu, get the groceries and cook in time for the holiday.
Sometimes Sukkot is referred to the Jewish version of Thanksgiving since it is all about the autumn harvest. In America, Sukkot tables are filled with dishes made from apples, pears, sweet potatoes, carrots, and other root vegetables that are readily available this time of year. Squash soups, hearty stews and one-pot casseroles that are easy to transport straight from the kitchen are popular. 
Because the holiday falls so close to Rosh Hashanah, there is a lot of overlap between dishes served. The honey-sweetened root vegetable and dried fruit stew, tzimmes, for example, is commonly eaten for both holidays.
Here is a list of some of the best Sukkot recipes to try when you are short on time, but still want your guests to enjoy healthy, delicious and relaxed meals!
Stuffed Options
One traditional way that Jews honor the overflowing abundance of the harvest season on Sukkot is to serve stuffed foods. Cabbage, grape leaves, zucchini, pepper and squash can all be common items.
Easy Meat Stuffed Cabbage: This takes some time to prepare, which is why many only use it as a holiday dish. However the effort is worth the wait! The end result is reminiscent of the Torah due to its cylindrical shape of the filled cabbage rolls.
Meat Stuffed Peppers: Meat Stuffed Peppers are the perfect dish for Sukkot. They go nicely next to the Roast Chicken and compliment some of the more sweet flavors traditionally found in other foods. Use ground turkey instead of ground beef for a lite, healthy stuffed pepper. Stuffing peppers is much easier than stuffing cabbage leaves, and the resulting dish is just as delicious.
Quinoa Stuffed Acorn Squash: This recipe is very filling, satisfying and full of health-promoting ingredients. This is a great option for a family that has a vegetarian eater in the mix. Acorn squash gets filled with chickpeas, basil, raisins, pine nuts and more to make a delicious side dish.
Delicious Sides
Lettuce Salad with Pomegranates and Apples: This fresh and crisp Pomegranate Apple Salad is festive, delicious and in the spirit of the holiday. Everyone usually feels a bit heavy from previous meals so this salad keeps things light.
Red Pepper Soup: This is a great way to honor the fall season! It's a vibrant and colorful soup thickened with potatoes and sweetened with pears. It tastes as good as it sounds! It can be garnished with toasted pumpkin seeds for a festive touch.
Sweet Brown Rice Kugel: Kugel isn't quite a casserole or pudding, but that is the closest English translation. Traditionally, kugel was made out of noodles, potatoes, or Yerushalmi. But most anything can be used, including cauliflower, broccoli and onions. This unique sweet brown rice kugel will bring a sweet twist on a classic favorite.
The Main Course
Savory Grass Fed Pot Roast: This is an easy and flavorful recipe that is filled with onions, garlic, carrots, potatoes and beef post roast. It can be switched out for your favorite veggies and only needs one large pot to be made!
Meatballs with Mushroom Sauce: This is a great one-bowl dinner that is one of the best comfort foods. It's important to use fresh mushrooms for this dish, as it will give the dinner a strong and flavorful taste that canned mushrooms can't accomplish. This is also a great alternative for those who dislike or cannot eat the traditional meatballs in tomato sauce.
Oven-Fried Schnitzel with Apricot Dipping Sauce: Many love schnitzel but don't want to do the labor-intensive work. If so, this one is for you. It requires minimal oil and no frying. The apricot sauce adds the fall flavor and tastes delicious.
Sweet Desserts
Graham Cracker Sukkah: While not a traditional holiday practice, a family friendly activity to celebrate the holiday is by making graham cracker sukkahs. Modeled after gingerbread houses, they use graham crackers, royal icing, pretzels, nuts, cinnamon sticks, and other edible decorations to craft miniature replicas of the real thing. Kids will have fun enjoying (or eating!) their creation.
Apple and Pear Strudel: This incredibly easy strudel yields a large amount that will be sure to fill up the whole family. Apples and pears are perfect for Sukkot and are a sweet end to a delicious and hearty main dish.
There are many recipes that you can use for Sukkot, and they don't have to be difficult. If you are looking for more ways to change up your recipes, consider incorporating the seven species of the Hebrew Bible – wheat, barley, grapes, figs, pomegranates, olives or dates – to give your food a special taste. Be adventurous and enjoy the festival of abundance!