Making a healthy meal in today's on-the-go living style can be challenging. Some nights you don't feel like cooking, and eating out is more convenient. Maybe you feel like you don't know to make healthy meals. Preparing delicious, healthy dinners at home may sound like a complicated process. However, it doesn't have to be. You may enjoy cooking and love food, but you want to keep it simple for mealtime. To do so, you have to choose recipes that don't involve complex cooking techniques or never-ending steps and are easy to follow. Here are some simple dinner recipes that help you eat healthily and don't take long to make.
---
Brown rice pasta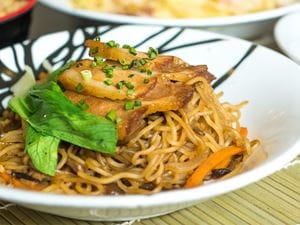 Pexels
Everyone loves pasta, but the majority of pasta dishes don't have the necessary ingredients, like fiber or protein, to help you feel full. Luckily, utilizing some tips can help you make a nutritious and filling pasta dinner dish in no time. Start by choosing your pasta. Brown rice pasta is healthier, but you can use whatever pasta you like. Using zucchini noodles instead of pasta is suitable for low-carb diets. Next, select a protein source. You can use ground chicken or chicken breast. Chickpeas are the way to go if you're going for the plant-based approach. After choosing your protein source, choose your vegetables. The classic combination of broccoli and spinach is always a good choice, but any veggie will work. Finally, pick your sauce, like marinara, pesto, or olive oil. Here's a broccoli pesto chicken pasta recipe to try out if you're craving a pasta dish.
---
---
Stuffed sweet potatoes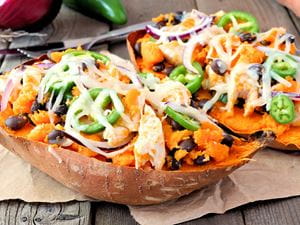 Shutterstock.com
Sweet potatoes have many beneficial nutrients like vitamin C, fiber, potassium, and beta carotene. They're also tasty and go with almost anything, serving as the perfect base to build a satisfying meal. You can roast the whole sweet potato and fill it with other ingredients like chicken, cheese, beans, and sauteed vegetables. This meal is very flexible, and you can pick from various flavor combinations. You can try this recipe or do it yourself and pile your favorite ingredients into a baked sweet potato.
---
Grain bowls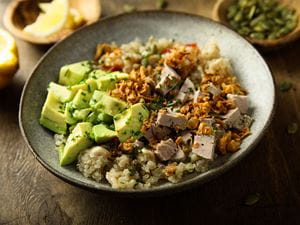 Shutterstock.com
Grain bowls are sure to be a hit in your kitchen. They're adaptable, simple, and easy to make when you want something flavorful. If you follow a gluten-free diet, you can use grains like brown rice or quinoa. If you're not on a gluten-free diet, you can use any grain of choice, including millet, barley, or farro. Grains are a great source of fiber and other nutrients, including magnesium. Studies have linked grain-rich diets to a lower risk of numerous health conditions like type 2 diabetes, colon cancer, and heart disease. To make a grain bowl, top your cooked grains with raw or cooked vegetables and protein like grilled shrimp, salmon, hard-boiled or fried eggs, or chicken. Afterward, you can finish your grain bowl off with dressing, leave it plain, or drizzle some lemon juice and olive oil on top. For example, this Green Goddess Buddha Bowl has a tasty combination of roasted broccoli, brown rice, avocado, sugar snap peas, toasted pumpkin seeds, hard-boiled eggs, and a yogurt-based sauce. If that doesn't sound delicious to you, here are another grain bowl recipe for nights when you're short on time.
---
---
Salad for dinner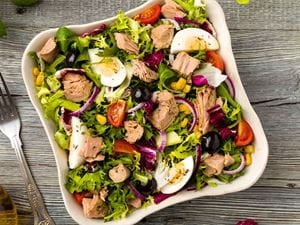 Shutterstock.com
A big, satisfying salad can be one of your go-to dinners when you don't feel like putting time into a meal. The main issue with most salads is they're not made correctly, and you wind up feeling hungry again shortly after your meal. The key to making a dinner salad is ensuring you have fiber, healthy fats, and protein.
Begin with a base of your favorite greens like kale, arugula, romaine, or spinach. Next, add in some vegetables like carrots, cucumbers, red onions, or peppers to add more fiber content. Then choose your protein. You can use hard-boiled eggs, salmon, or grilled chicken and shrimp. Combining these with a fiber-rich carb source, like roasted sweet potatoes or beans, will increase the fullness factor. Lastly, finish it off with roasted pumpkin or sunflower seeds for crunch, then add a drizzle of your choice of healthy dressing, like balsamic vinegar or olive oil.
---
Roasted chicken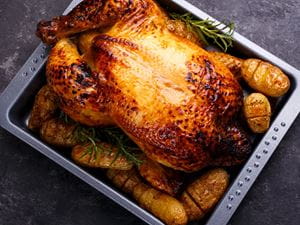 Shutterstock.com
Roasting a whole chicken may take a while, but it couldn't be easier. When roasting your chicken, ensure it's dry before you start, season it with a generous amount of salt, and truss (or tie) the legs together. You can stuff the bottom of the roasting pan with onions, potato wedges, and carrots so the vegetables will cook with the chicken. After roasting your chicken, let it rest for 15 minutes before you carve it.
---
---
Burgers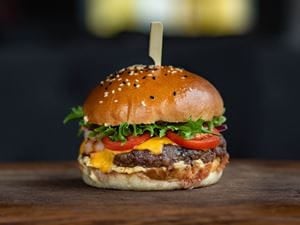 Pexels
Burgers are excellent for families because they're easy to make, and even your pickiest eater will love them. Beef burgers are the typical choice, but you can make a burger from any protein source, like tuna, salmon, lentils, or ground chicken. You could serve roasted sweet potato fries or a big salad for sides. For buns, you could go the traditional route and use a whole grain bun or serve up your burgers on a bed of greens or in a lettuce wrap to suit your nutritional needs. Try this sweet potato cheddar BBQ chicken burger recipe for your next family dinner.
---
Sheet pan meals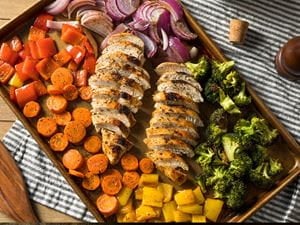 Shutterstock.com
Sheet pan meals are perfect for people who hate cleaning dishes. Most recipes require you to use numerous bowls, pots, and pans. However, sheet pan meals let you pile your ingredients onto a single pan to cook, which saves you cleaning time.
---
---
Creating satisfying and healthy dinners doesn't require hours in the kitchen and complex recipes. Not only are these recipes easy to make, but they're also nutritious. In today's fast world, don't be afraid to try out one of these recipes instead of eating out for dinner. It may seem intimidating at first, but once you get the hang of it, you'll be cooking nutritious meals for your family almost every night. The next time you're drawing a blank at dinner time, give one of these recipes a go.