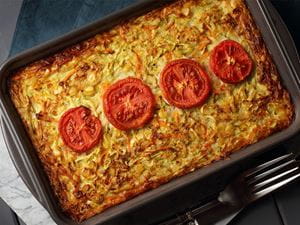 Shutterstock.com
From, "Traditions...A Taste of the Good Life," published in cooperation with your Daily Inbox Newsletter.
INGREDIENTS:
6 slices bacon


6 ears fresh corn


1/2 cup chopped green pepper


1/2 cup chopped onion


1 teaspoon salt


1/8 teaspoon pepper


2 fresh tomatoes, peeled and sliced
TO PREPARE:
In a large skillet, cook bacon until crisp. Remove from skillet, drain on paper towels and crumble. Remove all but 2 Tablespoons bacon fat from skillet. Cut corn from cobs. Add corn, green pepper and onion to bacon fat. Cook over high heat for 5 minutes. Add crumbled bacon, salt and pepper. In a 2-quart casserole, alternate layers of the corn mixture and tomato slices. Bake, uncovered, at 350 degrees for 30 to 40 minutes, until corn is tender.


SERVINGS:
6