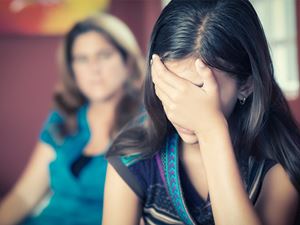 Shutterstock.com
In the sweetest moments of parenting, when your relationship with your children is at its best, you can't imagine fighting with your loved ones. However, at some point, most parents had to work through a hard season and figure out what to make things right with their children.
If you've been or are currently there, understand that you're not alone. These tips can help you bridge the gap between you and your kids. Here are some ways to mend a broken relationship with your kids.
Ask questions.
In a few cases, parents can't understand why there's a rift between them and their kids. At some point, the chasm formed and grew with each passing year. It could be as simple as poor communication or as big as an unhealed emotional wound.
Asking sincere questions to get to the bottom of the issue is a vital step in fixing your relationship. However, you have to prepare yourself for the answers. Whether the dispute is your fault or not, your child will likely have a lot to say, which might not be easy to hear.
Perhaps you should meet with your child privately to ask them any questions that help you realize where things went left. Try your best to stay calm and ask things so your child will feel comfortable opening up to you. You could ask them, "Was there a specific issue that caused the friction" or "What could I have done differently."
The key is remembering that you might not get the answers you'd expect, so be ready for whatever your child tells you without getting defensive. It's not easy, but it will be worth it in the long run. Your willingness to ask tough questions without getting too emotional will build a bridge of trust between you and your kid.
Listen well.
One reason children feel detached from their parents is that they don't feel heard. Perhaps your parenting style has been to lecture and expects your child to stay quiet. Maybe you're so desperate to fix the relationship that you flood the conversation with whatever is on your mind, which is understandable. However, listening well isn't easy, but it shows your child that you care.
Most parents understand that getting their kids to start talking sometimes is problematic. Still, if your children know you're ready to listen, they're more likely to open up. Try your best to listen well, even if you have a lot to say. Don't interrupt, jump in, or try to get your point across. A simple head nod or saying something like, "I never thought about it that way," can help keep the conversation going.
You may be tempted to think about your response while your child is talking. Yet, you're not listening well when thinking of an answer. Think of what King Solomon said, "There's a time to be silent and a time to speak." You'll have more opportunities to fix the relationship if you listen better.
Admit when you're wrong.
Admitting when you're wrong doesn't come naturally for many people. We like to hide our mistakes and try to forget about them. However, when it comes to admitting your wrongs with your children, fessing up to them is a healthy step in moving forward.
Remember, your kid's view might differ from yours. It's tempting to argue about the details, but they don't matter. Instead, try focusing on the central issues without getting lost in the chaos. Admit to your mistakes and be clear about them without making excuses. Even if your kid doesn't accept your admission immediately, they'll see that you made an effort and want to acknowledge how you've added to the issue.
Sometimes, your child may bring up a fault you don't remember. In that instance, open up and tell them that you don't recall, but you'll take it to heart. Ask for time to process and pray about the fault instead of telling them they're wrong. This response is brutal to argue and lets your child know you're committed to fixing the problem. James 5:16 says, "Therefore confess your sins to each other and pray for each other so that you may be healed. The prayer of a righteous person is powerful and effective."
Let things go.
There's a chance you'll need to let things go when trying to fix things with your children. Whether it's things you said or what they did, letting go is better than holding a grudge. Letting go can be challenging, especially if you feel like you're owed an apology. Still, if possible, release the problem and move forward.
James 3:17 says that wisdom from above is willing to yield. As Christ-followers, we yield first to the Holy Spirit and each other in brotherly love. Naturally, we want to hold grudges, but God says to forgive and let go. Try to decipher what you should let go of and what needs to be addressed. Like with many problems in life, things feel bigger in our heads when we should leave them alone. Think about the peace that comes when you let go of old issues between you and your child. It's worth praying about as you attempt to fix your relationship.
The most important thing to remember when mending the relationship with your child is that it might not happen when you want it to. Your child may not be ready to reconcile, and that's okay. If you find yourself in that predicament, give it time. Use this time to pray and gather a small prayer team to join you. It would be best if you considered writing down your small wins in a journal, whether it's your child returning your call or seeing the issue from a different perspective.
If you find yourself in a season where you and your child aren't seeing eye to eye, pray to God that He will bring you back together. It may not happen when you want to, but with His help, anything is possible. Life is too short, so we should do anything to fix our issues with our loved ones.