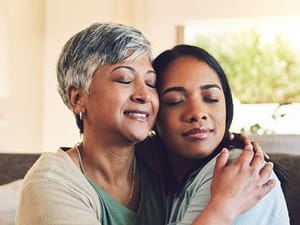 Shutterstock.com
Proverbs 14:26 tells us that whoever fears God has a secure stronghold that will be a refuge for their children. Parents understand that their connection with their children doesn't end once they've grown up. The role of a parent changes through the years, from protector and provider to advisor. Parents want to respect their children's independence while being there if needed. However, maintaining that balance can sometimes be a struggle and, even more so when your adult child is suffering.
Parents know that releasing their grown children into God's care is wise and righteous, but that can be hard given some parents' tend to over-parent and personality. Instead, most parents opt to pray for them, continue to worry, or try to fix things for them. However, that approach doesn't help your children or honor God, keeping you in fear.
So, how do you reach the point of healthily 'letting go and letting God?' The key lies in firmly believing that God will show His power, goodness, and faithfulness in your children's lives. Then, you can be confident that they're in the best hands. Here's how to let go and leave your adult children to God when they're in trouble.
Admitting your struggle with letting go of your children.
When your kids are little, they look to you to solve their issues, and, as a parent, it felt good to be able to do that for them. You were an authority figure for years, so that urge to step in and fix everything can reappear when you see them in distress as adults. In those times, the challenge is to admit that you want to take control and accept that it's not up to you to control anything in their lives. However, you should recognize when thoughts like "I know what's best for them" or "I just want to help them" are leading you to try and take over. Still, changing your wording to "I know God will help them" reminds you whose job it is to care for your adult children and loosen your reigns.
Acknowledge God's sovereignty.
When your children were younger, you spend a lot of energy planning ahead. Figuring out, anticipating, and prepping for possible issues become part of your parenting strategy, and it's still a default setting when your kids face hardships. When that happens, the test is to confess your desire to understand and predict everything and then yield to God's authority. You can retrain your mental routine by remembering that even if God's ways seem mysterious, they're always good. Your prayers can move from asking God to explain His process to expressing respect for His grace.
Speaking praises like "Father, thank You for having a plan for my children's lives" assures you that your children are fully loved and known. Proverbs 3:5-6 reminds us to trust in the Lord and lean not on our understanding. If we submit to Him, He'll make our paths straight.
Let your children make their own choices.
During your children's childhood, as a parent, you try your best to make good decisions for them about everything. Your techniques for weighing options and possibilities typically worked well then, and you're prone to offer it again when they need help. However, part of your new mindset is to see your children as adults and let them be responsible for their lives.
One way to adjust your thinking is to stop saying that you know what they should do and instead lift them to the genuinely all-knowing One. Ask God to help your children grow in wisdom and protect them as they experience the consequences of their choices, and you'll feel a sense of hope and peace about handing them to God.
Accept God's new role for you.
As a parent of teens and young children, you grow accustomed to being actively involved with their lives. Keeping your schedule free in case they need you was normal, so when your children are burdened, you're ready to clear your day for them again. However, the better thing to do is to focus less on serving your kids in person and more on serving God. It's essential to see that God wants you to be there for your children, but not in a hands-on way. Instead, He calls you to be a prayer warrior for them all the time and advise when they ask for it. Requests for them like "God, draw my child closer to You through this trial and help them learn more about You" invite God to step in and do more than you could.
Use the power of prayer.
Some people see prayer as a backup, what to do when they don't know what else to do. However, the truth is prayer is the most potent weapon you have to use on your children's behalf. We know that God hears us if we ask anything according to His will, as detailed in 1 John 5:14. Our prayers lead to an even greater trust in God, and His peace transcends all understanding. When you feel lost, you can still stand by your children in this unique way.
Take care of yourself.
Even when you've given your children to God's care, walking with them through troubling times can deplete you. Setting aside a few minutes a day with God can recharge your spiritual and emotional battles. Express any anger, sadness or fear to Him, celebrate God and give Him glory, and find encouragement in His Word.
The bottom line is now that your kids are grown, it's time for you to do some growing, too. God has been waiting for you to entrust your children to Him, which has called for honesty, self-awareness, and a willingness to be changed. It's not an easy task, but you know that releasing your children to Him will make you a better parent. Prayerfully, you'll feel God's goodness in this season.