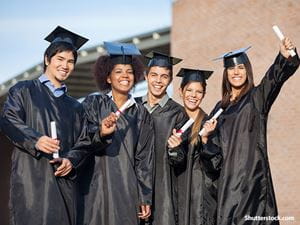 When your child is away at college things can be difficult. The newfound independence can be great for parent and child, but sometimes that alone time can be hard to deal with for both parties. Sending a parent care package can be a fantastic way for parents to still feel nurturing and part of their child's life. The college student also benefits from the emotional pick-me up by feeling loved.
While you may feel tempted to pack yourself in the box because you miss your kid so much, fight the urge.
Make it Fun – Send something that your college student loved when they were a child. Tinker toys, crayons, coloring books board games or maybe even some play-doh. These simple toys from your kid's childhood will provide them with a fun break from their newfound reality.
Music or Movies – Send a subscription to Netflix, an iTunes gift card or a Hulu subscription. If your student is a film junkie, they'll definitely appreciate watching a new flick or refreshing their music library with some great tunes.
Homemade Yum – Does your kid love your cookies or maybe you make a killer brownie? Bake some of these delicious treats and put them in a Tupperware container for them. If there is a special frosting, package that in a separate container. Keep in mind that packages can get shaken and tossed around during their transit. Remember to include enough for their roommate too!
Gift Card – Check out the restaurants and other shops that are around your kid's college campus. Get them a gift card for one of these locations. A gift card will give them an opportunity to try something new and give you something to talk about later.
Favorite Drink – Is there a favorite cocoa mix, coffee or tea that your college student loves? Find the mixture packs and include it in the package. Perhaps they'd like a new tumbler or mug to drink it in as well – find their college themed cup on Amazon or at the local college memorabilia store.
Something Huggable and Comforting – No one is ever too old for a huggable stuffed animal or comforting blanket.
Framed Photo – Go through your favorite photos of the two of you or the whole family and frame the picture. Having a photo by their bedside could serve to be very comforting and remind them how much they're loved.
Holiday Themed Items – If you're nearing a holiday season be sure to send your college student a fun themed gift. For Halloween send candy or fun masks or perhaps a tiny lighted tree for Christmas.
Underwear – Yes, you've probably been buying your kids' underwear since they were a toddler – so some new boxers or briefs will be appreciated. Plus it gives them a laundry break!
Candle – Do you usually burn a specific candle scent at home? Send your college student the same scent to help them feel more at home.
Essential Reading – Books are great gifts that can be enjoyed again and again or at one's leisure. Find an inspirational book that will comfort your kid during this changing period of time. If you have a daughter a highly recommended book is Melissa Kirsch's The Girl's Guide: Getting the hang of your whole complicated, unpredictable, impossibly amazing life.
Flip Flops – Flip flops will be used in the shower or a quick go-to item if they're running late for a class.
Electronic Gadgets – USB cord, adapter or even ear buds will be appreciated by any college student. Even if they're not in immediate need for the gadgets, they'll be used at some point.
Christmas Lights – Yes, I said Christmas lights! Dorm rooms can feel somewhat dingy and the white walls don't have a lot of character. A string of Christmas lights can brighten any weary room and bring a smile to your student's face no matter what.
Vitamins or Emergen-C packets – Okay so you didn't think every item on the list was going to be strictly fun, right? Allow your parenting side to come out and include vitamins or Emergen-C packets to keep your kid healthy – especially if it's cold and flu season. Your child may not initially appreciate this gift however, they will when they're feeling sick or others around them are.
Toiletries – If your kid is use to you purchasing all of their toiletry items then they will appreciate the replenishment. Even if you didn't before, it'll save them the money and time of having to buy these when they're needed.
College can be a difficult transition for both parent and child. A parent care package can be the perfect option to show your child some love. Even though teens tend to play the tough and stubborn card, odds are they'll thoroughly appreciate your generosity. Remember a care package doesn't have to be purely made of necessities, it should include items that will comfort your college student - feel free to get funny and creative.