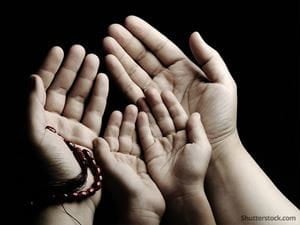 Not that God needs our help. He is all knowing and all powerful.
However, prayer is still essential. Praying is needed to keep our daughters protected in a dark world. We are afraid for our daughters today. Circumstances and situations cause us to fear and to be anxious about their lives and their futures. We are promised in God's Word that He will protect them. In 2 Thessalonians 3:3, we are told that God is with us wherever we go. "But the Lord is faithful and He will strengthen you and protect you from the evil one."
Jesus didn't tell us to pray because he was bored hanging out with the disciples one day. There was a reason. Prayer is a powerful spiritual principle to help and protect us.
God's Word will not return void "but it shall accomplish that which I purpose, and shall succeed in the thing for which I sent it," Isaiah 55:11 said. With this consideration, we need to start interceding for our kids and our families. A prayer for my daughter and for yours can be done in numerous ways. Here are several to get you started.
Let her be confident.The ministry Proverbs 31 shared we need to pray for boldness and confidence. "Father, let my daughter walk in confidence and in the power of your anointing. And let her be a woman of joy and laughter whose Christ-centered character is what makes her most beautiful. Give my daughter a deep desire to listen to You."Let her be humble.A prayer for my daughter could look like this: "Father, allow my daughter to see the beauty of your ways. Allow her to walk in Your light and to serve others, like Christ." There is power in humility and this power will carry your girl far in life.Allow her to be Godly."Father, I offer a prayer for my daughter that she will hear the small still voice inside. Your voice, the one that brings calm. Her own voice, the one that encourages good choices. I pray for my daughter to speak carefully. To raise her voice in defense of the weak. To speak soothingly to those in need. To use words that are productive and kind," Beliefnet offered. When you cover your daughter in a prayer like this, you are setting the foundation for her to be what God called her to do. You can't make her do this, but you can allow God to work in her heart and on her mind.Give her faith.A prayer for a daughter to help her find faith can be based on Matthew 18:3. Jesus said we all must come to Him with a child's faith as it is pure. Petition God to give her faith during good and during bad times. "God give my daughter an anointing of faith and to draw close to you and to overcome any challenge that may work against her. Please give me the direction to encouraged her, strengthen her and the wisdom to guide her."Give her comfort.Pray that your daughter will be comforted as it is recorded in Isaiah 51:3. "The LORD will surely comfort Zion and will look with compassion on all her ruins. He will make her deserts like Eden, her wastelands like the garden of the LORD. Joy and gladness will be found in her, thanksgiving and the sound of singing." Also, ask God to guide her and heal brokenness with His unsurpassed peace. Wow, joy for sorrow and no more mourning? Pretty neat to pray over your gal.Allow her to grow in God.If you want your daughter to grow in the Lord, you need to let her go. It is up to Him to work on her heart, not you as much! A prayer for my daughter today can be: "Father, as I envision her future, I'm fearful about what may lie ahead, especially when she is away from my care. I acknowledge that her safety comes from being spiritually close to you. When my child feels alone, put people in her life to stand with them."A prayer during difficulties.Teach your daughter that there will be times of hardships. In Lamentations, it said that we need to hold onto hope when things are bleak. We are also told to trust in the God at all times, according to Proverbs 3:5-6. We have heard that all things work together for our good, but that can be difficult to remember when you are seeing your daughter suffer. This prayer comes from a mother in Bangalore, India. "Oh God, I pray for my daughter. Kindly give her strength to overcome all the obstacles." Relinquishing control shows God your willingness to allow Him to work in your daughter's life and in your life as well. This doesn't mean that you are ignoring your circumstances. It means you are leaning on Him to take care of her.A prayer for her to trust God.Psalms 66:17-20 gives assurance that God is there for you. "I cried to him with my mouth and high praise was on my tongue. If I had cherished iniquity in my heart, the Lord would not have listened." We need to model this kind of trust for our kids. A prayer for my daughter in this area could be like the following. "Father, please help my daughter to fix her thoughts on Jesus and to not meditate on things that are not of God. Give her unprecedented favor and assurance that you will defend her. Give her knowledge of your power in her life."

A prayer for my daughter will continue for the rest of my days. It is there, that a mother shows her undeniable love and power. If you are burdened as a mom, take heart. "Come to me, all you who are weary and burdened, and I will give you rest. Take my yoke upon you and learn from me, for I am gentle and humble in heart, and you will find rest for your souls," Matthew 11:28 said.