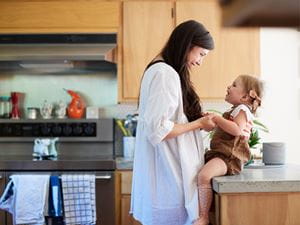 Lightstock.com
Without a doubt, motherhood is one of the most remarkable and challenging journeys a woman can embark on. Many have said that parenting isn't for the faint of heart. This sentiment is true for the married woman with a loving husband who's an active participant in raising the children, but this sentiment is tripled for the single mother.
Often, single mothers don't have the support to parent their children with the tag-team approach that couples can use. She has to do double duty as the breadwinner, menu planner, babysitter, housekeeper, schedule keeper, and so on. They may have the support of loved ones around them, but it's nothing compared to having a partner to help you with things.
During the day-to-day tasks of single motherhood, leaning on the encouragement of God's Word and the strength of an affectionate God who knows you intimately and loves you can give you a deep sigh of relief and a breath of hope. Here are some scripture verses to uplift and remind single mothers that they are loved and known by God. You can write them down in your planner, read them aloud at home, stick them around the house, or pray them back to God when you need Him. These scriptures are sure to strengthen your soul and uplift your spirit.
For the mother that needs to know she's loved.
"The Lord will fulfill His purpose for me; your steadfast love, O Lord, endures forever. Do not forsake the work of your hands." – Psalm 138:8
"Being confident of this, that He who began a good work in you will carry it on to completion until the day of Christ Jesus." – Philippians 1:6
"The Lord watches over the foreigner and sustains the fatherless and the widow, but He frustrates the ways of the wicked." – Psalm 146:9
For the mother who needs to know God is with her.
"No one who hopes in you will ever be put to shame, but shame will come on those who are treacherous without cause." – Psalm 25:3
"All the ways of the Lord are loving and faithful toward those who keep the demands of His covenant." – Psalm 25:10
"Trust in the Lord with all your heart and lean not on your own understanding; in all your ways submit to Him, and He will make your paths straight." – Proverbs 3:5-6
For the mother who struggles daily.
"I am the Lord, the God of all mankind. Is anything too hard for me?" – Jeremiah 32:27
"But whoever listens to me will live in safety and be at ease, without fear of harm." – Proverbs 1:33
"God is our refuge and strength, a very present help in trouble." – Psalm 46:1
For the mother who can't find the words to pray.
"I wait for the Lord, my whole being waits, and in His Word, I put my hope." – Psalm 130:5
"Cast all your anxiety on Him because He cares for you." – 1 Peter 5:7
"May the God of hope fill you with all joy and peace as you trust in Him so that you may overflow with hope by the power of the Holy Spirit." – Romans 15:13
For the mother who wants to sit with Jesus.
"Jesus turned and saw her. "Take heart, daughter," He said, "your faith has healed you." And the woman was healed at that moment." – Matthew 9:22
"See my hands and my feet, that it is I myself. Touch me, and see. For a spirit does not have flesh and bones as you see that I have." – Luke 24:39
"Come to me, all you who are weary and burdened, and I will give you rest." – Matthew 11:28
For the mother fighting loneliness.
"He heals the brokenhearted and binds up their wounds." – Psalm 147:3
"A father to the fatherless, a defender of widows, is God in His holy dwelling. God sets the lonely in families, He leads out the prisoners with singing, but the rebellious live in the sun-scorched land." – Psalm 68:5-6
"Turn to me and be gracious to me, for I am lonely and afflicted." – Psalm 25:16
Behind the closed doors of your house, it can be easy to give way to loneliness as a single mother, especially in challenging times. Plenty of single mothers have walked the long road, crying on the floor, trying to think of how they'll be able to parent through the next hours and days. On those hard days, you should take your prayers to Jesus, reminding yourself that He's your present help in trouble. You can call on Him anytime, and He'll answer. Have these scriptures ready for you to lean on your most challenging days.
Being a parent isn't easy, but being a single mother is one of the most demanding jobs out there. Instead of having a partner to lean on, you must do everything yourself, from being the chef to the disciplinarian. It can be tough when you don't have a support system around you.
There will be days when you feel like your world is crashing around you, and you don't know how you'll get through. However, instead of caving into your negative thoughts, turn yourself to the Lord in those moments. He is your refuge and will get you through anything.