The relationship between a grandparent and their grandchild is special. Grandparents get to be the best of both worlds. They are allowed to spoil their grandchildren, but they can also serve as the voice of reason because they've experienced it all. Grandparents help make the world a little softer, kinder, and warmer. That's why it's important to show grandparents extra love and put forth that additional effort to make them feel special. Showing signs of love doesn't need to be backed by a ton of money. In fact, most of the biggest and long-lasting impressions are made when someone is intentional and genuine with a gesture.
Are you wondering where to start? No worries, we have some heartfelt options the grandparents in your life will love and cherish.
---
Hand Written Notes 

Shutterstock.com
Remember that thing called snail mail? Your grandparents do! Before email and text messages, the postal system was the deliverer of everything. It doesn't matter if you are a tiny tot, an awkward teenager or an adult, the grandparent in your life will fully appreciate a handwritten note by yours truly.
The note doesn't need to be super lengthy or written on fancy paper. Need a writing prompt? Here you go: write down a special memory that you reference regularly, write down a time your grandparent provided wonderful life-giving wisdom to you, write down how excited you are for your next visit together, or share an update (potential conversation starter) for the next time you'll see them. If all else fails, remember to drop your grandparent a sweet card, with Hallmark written words. Anytime you receive mail that isn't a bill or junk mail, the gesture is appreciated!
---
---
Share a Meal

Shutterstock.com
When is the last time you made a meal for your grandparent? If you can't remember, and you live nearby or will be close by, now is the time to share a meal. If you don't have a kitchen or the room, ask your grandparent if you can go to them. Offer to make their favorite dish and clean up afterwards. If you're a cook in progress, ask your grandparent to teach you to cook a dish. Not only will they appreciate your curiosity and willingness to embark on new things, they'll be excited to show off their cooking skills.
---
Make Time to Chat

Shutterstock.com
With the hustle and bustle of the daily grind, quality conversations are often overlooked and under appreciated. Schedule time to make your grandparent a priority. If they are tech savvy, Facetime or Skype with them. If your grandparent isn't the most technical person, go to their house, pull up a chair and enjoy their company. Put down your phone and just listen to what they have to say without any distractions. Making time for your grandparent will show them that you care about what they have to say and the things they've experienced.
If your grandparent lives alone, the company will be appreciated on a different level because their daily interactions are most likely limited.
---
---
Invite Your Grandparent as Your Plus One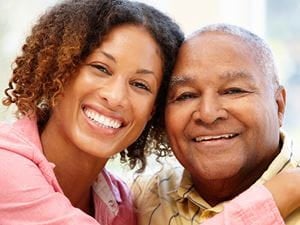 Shutterstock.com
Is there a community event you are thinking about attending? Or maybe you have a work event? Just because your grandparent is older, doesn't mean they don't know how to have fun or wouldn't enjoy a night out. Consider asking your grandparent to be your plus one – you'll probably catch them off guard. Taking your grandparent with you to an event or activity will be a great excuse for them to dress up and get out of the house.
When you get there, take the time to introduce your grandparent to your friends. Give them the opportunity to experience this new environment and get out of their comfort zone. You will probably be pleasantly surprised to see how much fun your grandparent really is.
---
Enjoy the Outdoors

Shutterstock.com
Mother Teresa said, "We need to find God, and he cannot be found in noise and restlessness. God is the friend of silence. See how nature – trees, flowers, grass grows in silence, see the stars, the moon and the sun, how they move in silence. We need silence to be able to touch souls." Take note and learn from Mother Teresa – nature is healing in so many ways.
Take time to enjoy nature with your grandparent. If they are mobility concerns, sit on the porch, push them in a wheelchair, sit at a bench in the park, have a picnic, or take a bike ride. Nature provides so much tranquility and your grandparents will appreciate the simplistic gesture.
---
---
Celebrate Them

Shutterstock.com
Is your grandparent's birthday coming up? Are they celebrating an anniversary? Is it their half birthday? Find a reason to celebrate your grandparent. You don't need a lot of money and the party doesn't need to be big bash. It can be as simple as one cupcake with a candle or their favorite cake. Take the time to celebrate their life and journey.
Oftentimes, we only celebrate the monumental milestones and don't put an emphasis on the regular things. But, why? There's no real reason. So, even if it's not a Hallmark categorized milestone birthday age, go the extra mile and celebrate your grandparent's life and the journey they've worked through.
---
Complete Their Errands

Shutterstock.com
You do not have to be a grandparent to appreciate help with your errands. Offer to go grocery shopping, clean their house, pick up their dry cleaning, wash their laundry, shampoo their carpets, dust the ceiling fans and blinds, pick up their packages, mow their lawn, or fix random repairs in their home.
Do you think they'll just say no, if you offer to help? Then just do it. Show up and do the things that need to be done. Everyone deserves a comp day and the opportunity to relax – give this to your grandparent by completing their long list of errands.
---
---
The small things in life truly make all the difference and are the most impactful. Yes, a trip to Disneyland or cruise will leave an imprint but when it's all said and done we will all remember the little things. Dinners around the table, reading together, spending a rainy day indoors and watching movies, listening to each other, and just being together.
Ultimately, that is what really matters. Don't be bogged down with grandeur acts, instead show your grandparent the little signs of love, from the heart and it will leave a forever impression. It is truly the little things that are the most impactful.