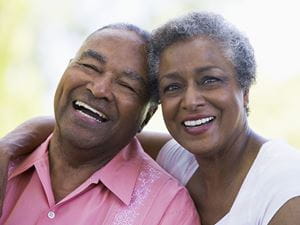 Shutterstock.com
When we think of the holidays, we rarely think of the smaller ones like Brothers and Sisters Day, Peace Day, or Visit Your Relative Day, yes, there is one for that, too. Grandparents Day is not a new holiday. It was started and declared a holiday by President Jimmy Carter on Aug. 3, 1978, and is celebrated on the first Sunday after Labor Day. Grandparents Day is a time when we celebrate another generation so we can connect to the past. Even President Barack Obama called grandparents the quiet heroes of our country. They have overcome great adversity, endured financial hardship, and defended the country for future generations to continue to live in liberty. "Their determination to ensure we could live better lives than they did helped secure our peace and prosperity. They created the world's largest economy and strongest middle class. They built skyscrapers, made innovative advances, and charted new frontiers. They broke down barriers and instilled fundamental values and ideals. And the extraordinary example they set in striving to forge a better future for their families and our Nation reflects the idea that we are all part of something larger than ourselves," Obama explained.
This day and all year we should honor grandparents, and educate our children on how important the older generation really is to the world. Marian McQuade envisioned a day where families got together and desired a set time where people could unit with grandparents in celebration. The visionary worked hard during the '70s to advocate a grandparent holiday. The holiday was first recognized in McQuade's home state of West Virginia. She said: "After working all day on the farm, Grandma would walk off to visit elderly people in the community," she said before passing away in 2008. "Often I would tag along. I never forgot talking with those delightful people. That's where my love and respect for oldsters started." A lot of good things come from the hard work McQuade did for her family and others. It is a testament of being counted for and respecting the many attributes grandparents pass onto us. Like the passing on of culture, recipes, wisdom, hope, and an endearing spirit. With this in mind, let's take time to look at quotes that celebrate grandparents and families. Officially, Grandparents Day does not have an apostrophe, if you wondered. It was never meant to, according to the story, as the founder didn't want it to be a day just belonging to grandparents, but to all generations. This leads us to quotes that remind us of past generations, and those who made a difference.
"My great grandfather used to say to his wife, my great-grandmother, who in turn told her daughter, my grandmother, who repeated it to her daughter, my mother, who used to remind her daughter, my own sister, that to talk well and eloquently was a very great art, but that an equally great one was to know the right moment to stop." -Composer, Wolfgang Amadeus Mozart
"I had a very difficult childhood. I was surrounded by people who had both parents, which made me feel different. Having a bit of a rougher existence early on, it made me appreciate the work ethic that my grandparents instilled in me." -Actor, George Lopez
"I think women as well as men are concerned about jobs and the economy and spending and, and other issues. They're concerned that when their kids graduate from college they have an economy and they have a future in this country and they, they have the same opportunity that we've had and our grandparents have had." - Author, Larry Harvey
"I look at my grandparents and what they dealt with in the Japanese internment in Arizona. That sense of perseverance, of making the best out of an incredibly bad situation, has always been something I drew inspiration from. I always ask myself, 'What in the world do I have to complain about?" -Athlete, Scott Fujita
"If you're lucky enough to still have grandparents, visits them, cherish them and celebrate them while you can." -Journalist, Regina Brett
"My son has godmothers, godfathers, grandparents and so many others in his life who love him as much as I do. They're there for both of us. I may not have a mate or husband, but I'm definitely not a single parent." -Singer, Jill Scott 
"Our parents and grandparents understood this truth deeply. They believed - as we do - that to create jobs, a modern economy requires modern investments: educating, innovating and rebuilding for our children's future by building an economy to last, from the middle class up, not from the billionaires down." -Governor, Martin O'Malley
"I have been grateful for the influence of my grandmother and my grandfather in my life. I remember my grandmother as a queenly woman. My father could be stern, and my grandparents would remind him that we were just boys." -Clergyman, James E. Faust
"The old are the precious gem in the center of the household. To forget one's ancestors is to be a brook without a source, a tree without a root."-Chinese Proverb
"If a child is to keep alive his inborn sense of wonder, he needs the companionship of at least one adult who can share it, rediscovering with him the joy, excitement and mystery of the world we live in." -Author, Rachel Carson
"Because (grandparents) are usually free to love and guide and befriend the young without having to take daily responsibility for them, they can often reach out past pride and fear of failure and close the space between generations." - President, Jimmy Carter
"My children were brought up with their grandparents, and I was brought up with my grandparents. I think the continuity of moving through life together gives people a certain pride." - English Actress, Francesca Annis
We all can take something away from those who blazed a path before us. We don't need a day to remind us of the obvious influences grandparents have on the youth, or on families. However, Grandparents Day is a reminder of what we might be missing, or to recall cherished memories of those who desired a better future for their grandchildren. McQuade had the insight to shine a light on a simple principle to celebrate these influential role models.