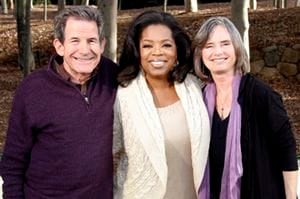 Author Gary Zukav, the author of four bestsellers, made his scheduled his 35th appearance on an Oprah Winfrey show to promote his latest book – Spiritual Partnership: The Journey to Authentic Power.
Zukav says he can teach the reader "the steps to developing this profound new relationship dynamic which enables and empowers us to reach our full potential and create authentic power – and the fulfilling and joyful life that is calling to us all."
Just what is a "spiritual partnership?"
Gary Zukav
On his website, he calls the concept "the current extraordinary transformation in human consciousness – an unprecedented threshold in the human experience."
"This transformation is no less than a revolution of the soul, one that touches the heart of all humanity and is based on spiritual growth,
conscious choices, and a deep celebration and reverence for Life," he says.
Is a spiritual partnership the same thing as a marriage?
"It could be, but usually it is not," he writes in his personal blog. "A marriage is between two people who promise each other to stay together no matter what happens. This can be a very comforting thing, and it can also be a license for either of them to abuse, disregard or disrespect the other.
"Some marriages can continue a long time this way. Perhaps you have seen one."
On the other hand, he writes, a spiritual partnership is between people who promise themselves to use all of their experiences to grow spiritually.
"They use their emotions to show them how to create constructive and healthy and joyful consequences instead of destructive and unhealthy and painful consequences.
"Can you imagine using a horrible, painful, can't-get-any-worse experience to grow spiritually?" he asks in his blog. "Those are among the best kind. Spiritual partners don't squander them by exploding in rage or dissolving into depression."
Any number of people can form a spiritual partnership, he says.
It can be "two people in a live-together, have-children-together, monogamous relationship; six people in a family; or co-workers who want to use their relationships to do more than complain, compete, gossip and judge."
"Of course," he writes, "co-workers can appreciate one another, be grateful for one another and cooperate with one another, but when they set their intentions to do that all the time, they are already experimenting with a spiritual partnership."
Zukav and Francis in 1989; one of his seminars
A Texas native, Zukav was the valedictorian of high school graduating class and an Eagle Scout. He attended Harvard University on a scholarship, but in his junior year left to motorcycle in Europe, North Africa, and the Middle East. In 1964, he worked as a summer volunteer in Mississippi for the NAACP under the direction of Charles Evers, brother of the slain civil rights leader Medgar Evers.
In 1965 he graduated from Harvard and became a U.S. Army Special Forces Green Beret in Vietnam and Laos. He returned to the U.S. in 1970 and moved to San Francisco, where he went through a period that he describes as an emotionally volatile time of sexual addiction, motorcycles, anger, and experimentation with drugs.
In 1975, he was introduced to quantum physics at the Lawrence Berkeley Laboratory, which led to his first book, The Dancing Wu Li
Masters: An Overview of the New Physics, which his website says "plumbed the depths of quantum physics and relativity, winning the American Book Award for Science."
Three of Zukav's books
For several years, he lived in a cabin on the side of Mount Shasta, California, as a self-described "secular monk."
In 1993 he met Linda Francis, who he describes as his "spiritual partner." They co-founded the Seat of the Soul Institute in 1998.
He also has an on-line course on spiritual partnerships, which he says "gives you the keys to access your own creativity and joy in life. This course provides you with the tools you need to transform your life's challenging experiences into blissful opportunities. Through a step-by-step process, each lesson in the course engages you in building the skills you need to become the joyful creator of your own life. Learn how to reclaim your intuition so that you can create authentic power and begin to thrive."
But what exactly is a "spiritual partnership?"
"When two people in an intimate-couple relationship look at their interactions as opportunities to learn about themselves instead of change each other, they are infusing their relationship with the energy of spiritual partnership," he writes. "If they are married, they infuse their marriage with the energy of spiritual partnership, and eventually it will become a spiritual partnership.
"A spiritual partnership is a partnership between equals for the purpose of spiritual growth. Spiritual partners use their delightful experiences together as well as their power struggles to learn about themselves and change themselves.
"This is a new way to live. A new way to create together. A new way to evolve together."
In 1989, his The Seat of the Soul "led the way to seeing the alignment
of the personality and the soul as the fulfillment of life and captured the imagination of millions," according to his website. It rose to the #1 spot on the
New York Times
bestseller list 31 times and remained on the bestseller list for three years.
Three of Zukav's books
In 2000 he wrote Soul Stories, another bestseller, and then co-authored two more bestsellers Francis, The Heart of the Soul: Emotional Awareness and The Mind of the Soul: Responsible Choice.
"Do you know people who want to become more aware of their emotions instead of avoid them?" he writes in his personal blog. "They are potential spiritual partners. Do you know people who strive to take responsibility for the consequences of their choices instead of blaming others for them?
"They are potential spiritual partners. Spiritual partners commit to their own spiritual growth. If this is attractive to you, you are a potential spiritual partner."
Among the themes in his book – we should love more, control less and create positive life experiences so that we can move past the pain in our lives.