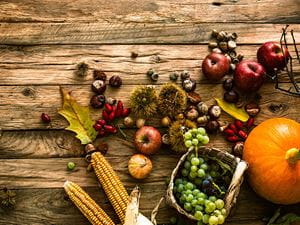 Shutterstock.com
Thanksgiving is a wonderful time of the year when Americans take a break from their work-day activities and gather with friends and loved ones for food, fellowship, and football. However, while Thanksgiving is celebrated by the majority of Americans, many are unaware of the strong Christian origins of this special holiday.
The First Thanksgiving
Thanksgiving was first celebrated in 1621 by the Plymouth settlers in Massachusetts as harvest feast thanking God for his care and provision. These English Pilgrims left Plymouth, England on September 6, 1620 for the New World seeking freedom. After two months at sea, they landed in what is now Massachusetts in November 1620. After conducting a prayer service and signing the "Mayflower Compact" - the first document to introduce self-government to the New World - they prepared for the harsh New England winter.
Sadly, unprepared for the brutal and unforgiving environment they faced, half the settlers died before winter's end due to starvation and disease. However, by persevering in prayer and with the help of Native Americans, they planted crops and reaped a sufficient harvest to carry them through the second winter in the New World.
The Pilgrims were devout followers of Christ who had left the comforts of home, family and friends to pursue their vision of a renewed and reformed Christianity. They were not whiners but chose to maintain an attitude of gratitude even through the most trying times.
Although their hearts were still heavy from the losses suffered the previous winter, there were at least three areas for which they felt particularly grateful to God. First, with the arrival of spring, the sickness that had immobilized the community and taken many of them in death had lifted. Secondly, they were sent an English-speaking Native American, Squanto, who became their interpreter and guide. He helped them establish friendly relations with Massosoit, chief of the Wampanoag, the nearest and most powerful tribe in the region. In March 1621, they had signed an agreement of peace and mutual aid with Massosoit, which resulted in both peoples moving freely back and forth in friendship and trade. Lastly, through hard work and Squanto's advice about farming and fishing, they experienced abundant harvests during the summer and fall of 1621.
The grateful Pilgrims then declared a three-day feast, starting on December 13, 1621, to thank God for His favor and to celebrate with and thank their Indian friends. The Pilgrims did not force their faith on the Indians but they didn't hide their faith either. The Indians still lifted their hearts up in praise and thanksgiving to God.
The next recorded Thanksgiving Day among the Pilgrims was celebrated in the fall of 1623 after a remarkable answer to prayer that saved their harvests. The summer of '23 was unusually hot, causing many crops to suffer. Facing such drought and bleak conditions, then Governor Bradford called the Plymouth settlement to a day of "humiliation and prayer." By "humiliation" he meant a recognition and repentance for the human tendency to trust in one's own human strength and ability rather than in God.
Before the day was over, the Pilgrims had their answer. Governor Bradford said: "For all the morning and the greatest part of the day, it was clear weather and very hot, and not a cloud or any sign of rain to be seen; yet toward evening it began to overcast, and shortly after to rain with such sweet and gentle showers as gave them cause of rejoicing and blessing God...It came without wind or thunder or any violence, and by degrees in that abundance as that the earth was thoroughly wet and soaked ... which did so apparently revive and quicken the decayed corn and other fruits as was wonderful to see, and made the Indians astonished to behold. And afterwards the Lord sent them such seasonable showers, with interchange of fair weather as, through His blessing, caused a fruitful and liberal harvest, to their no small comfort and rejoicing. For which mercy, in time convenient, they also set apart a day of thanksgiving."
Thanksgiving as a National Holiday
In October 1789, in the midst of the gruesome Revolutionary War, President George Washington issued the first presidential thanksgiving proclamation as a day for giving thanks to that "great and glorious being who is the beneficent author of all the good that was, that is, or that will be. . . ."
That same year, the Protestant Episcopal Church, of which President Washington was a member, announced that the first Thursday in November would become its regular day for giving thanks, "unless another day be appointed by the civil authorities." President Washington declared that both Houses of Congress asked him "to recommend to the people of the United States a day of public thanksgiving and prayer, to be observed by acknowledging with grateful hearts the many and signal favors of Almighty God, especially by affording them an opportunity peaceably to establish a form of government for their safety and happiness. . . ."
Many years later, President Abraham Lincoln declared a national Day of Thanksgiving during the Civil War, in the immediate aftermath of the Battle of Gettysburg (July 1-3, 1863) and just days after visiting the sobering battlefield at Gettysburg where he had delivered the timeless Gettysburg address.
Thanksgiving is perhaps one of the most treasured holidays of America's past. Even in the most difficult of times in our nation's history, Americans taken a day to reflect on God's many blessings and thank Him for His care and gifts. When you sit down at your family table this year, make sure you remember the holiday isn't only about food and fun, but a time to say thank you for all that you have.