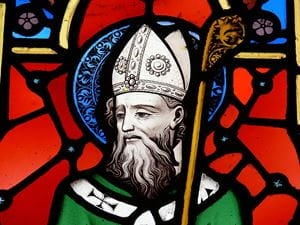 Shutterstock.com
Many people observe Saint Patrick's Day and see it as a fun way to celebrate Irish culture. However there is actually much more to the holiday than people realize. Before the parades, green beer and leprechauns, there was a man named Saint Patrick who was lighting a fire in pagan 5th century Ireland. A man who was willing to stand the gap for Jesus Christ and usher in Christianity into the country.
Misconceptions About St. Patrick
First, there are some misconceptions about Patrick that many are unaware of. Patrick is not really a Saint with a capital S, as he never was officially canonized by Rome. Patrick was also not the first evangelist to arrive in Ireland. Saint Palladius actually takes that role, arriving in Ireland in 431 about five years before Patrick did. Patrick is also not Irish, but actually from what is now known as Dumbarton, Scotland which is just northwest of Glasgow.
History of St. Patrick
Patrick was only 16 when he was captured in a raid and became a slave in Ireland. Ireland in the year 405 was radically pagan and hadn't been very accepting of Christian beliefs. Patrick clung to the Christian faith during this time, despite having largely ignored it in his earlier teen years. His grandfather was a priest and his father was a town councilor, however Patrick admitted that he had yet to really know God. In fact, he even considered himself an atheist at one point.
But while being forced into slavery and having to tend to his master's sheep, he spent the majority of his free time in prayer. Patrick felt that he was being punished by God for not being a believer. Patrick recounts his time as a slave in his memoir titled "The Confession."
In the memoir Patrick writes: "I prayed a hundred times in the day and almost as many at night."
After a dream suggested he escape, he left Ireland and returned home. He had written in his memoir, "I heard in my sleep a voice saying to me: 'It is well that you fast. Soon you will go to your own country.' And again, after a short while, I heard a voice saying to me: 'See, your ship is ready.' "
Once home, Patrick became much more involved in ministry. He struggled deeply trying to understand if he should go back to Ireland and minister to those who had enslaved him. He turned to God in prayer and received an answer in a dream. Patrick knew he had to return, and convinced the church to send him on s small ship back to the island.
Patrick didn't return to Ireland until his mid-40s. At the time, Ireland had been plagued with war, violence, and death. The place had become much worse than the last time Patrick was there.
Saint Palladius had not been very successful in his mission to bring Christianity over, and the returning of Patrick replaced his efforts. Patrick, having spent more time intimately with the people of Ireland, was able to build a more effective strategy. Patrick was familiar with the Irish clan system because his former master, Milchu, had been a chieftain. Patrick began to convert the chiefs first, who would then convert their clans through their influence. Milchu was reportedly one of the earliest converts.
Patrick would preach the gospel, baptize converts, confirm them and help appoint clergy. His ministry lasted 29 years, and he baptized over 120,000 Irishmen and planted 300 churches. Patrick helped Ireland became known as one of Europe's Christian centers. Though Patrick didn't convert the island all by himself, his missionary journeys improved the rate of converts.
History of St. Patrick's Day as a Holiday
St. Patrick's Day started as a religious celebration in the 17th century to commemorate the life of Saint Patrick and the arrival of Christianity to Ireland. Also known as "Feast Day," it always took place on the anniversary of Patrick's death. In the early 18th century, Irish immigrants brought the tradition over to the American colonies, and it was there that Saint Patrick started to become the symbol of Irish heritage and culture that he is today.
By the mid-19th century, the United States saw a massive influx of Irish immigrants that were hoping to escape the Great Famine. This transformed the relatively small-scale Feast Day observance into a full-blown celebration that people wanted to be a part of whether they were Irish or not. In 1903, Feast Day became a national holiday in Ireland, and over time it transformed into what is now called St. Patrick's Day. The holiday has since been celebrated all over the world in countries like the United States, Great Britain, Canada, Argentina, and Australia. It's so popular, it's thought to be celebrated in more countries than any other holiday.
It began as a fairly relaxing holiday of going to mass, watching a parade and eating a hearty meal with family but quickly transformed into one of the biggest parties in the world. If it wasn't for St. Patrick's dedication to bringing his faith to the new country, we wouldn't have such a great reason to celebrate.