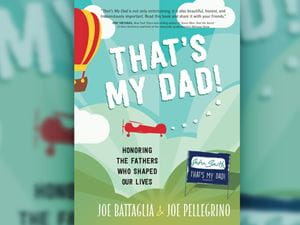 The universal importance of a father is bound up in the phrase, "That's my dad." That's not a dad. It's my dad—a role with significance enough to proclaim it to the world. The tone in which it is spoken is personal and varied. It can be spoken with vigor and pride. With emotional admiration. With brightest glee. With quiet dread.
The importance of a father, though, is universal. Its threads weave throughout every aspect of our culture.
On June 19th of each year, we celebrate Father's Day all over the world—an honoring of not only fathers, but a celebration of the influence of fatherhood, itself. Authors Joe Battaglia and Joe Pellegrino's book, "That's My Dad,"is a celebration in that same vein, a collection of stories, of recounted tales of individual fathers and their influence upon the sons and daughters that love them.Their work goes beyond the celebration, however, and explores the culture-changing power of fatherhood, and, just as importantly, the harsh vacuum that is left in its absence.
In a 2016 interview with Beliefnet.com, Battaglia speaks of the shadow that has fallen over the contemporary cultural ideal of fatherhood, saying that "We've seen a whole shift in our culture, away from the father as wise, as someone who leads." Indeed, Pellegrino goes on to reference Archie Bunker, played by Carroll O'Connor, the infamous star of the 1970's sitcom, "All in The Family," as one of the first reflections of American disenchantment with father figures. As opposed to the guiding hand of Jim Anderson, portrayed by Robert Young, of the 1950's television comedy series, "Father Knows Best," Archie exists as a caricature—a father figure to ridicule rather than venerate. The father was reduced from a positive, almost Godlike figure, to one who treats others as somehow less than human.
Postmodern culture has been defined, largely, by its suspicion of metanarratives—overarching cultural institutions and stories which claim to be truth. When this suspicion uncovers falsehoods and highlights hypocrisy, it has great value. Sometimes, the source of "truth" and "common sense" needs to be evaluated, as everyone experiences their own, unique lives. But a universal application of postmodern thought results in universal disillusionment—truth ceases to exist, and soon becomes a culturally taboo word. But what of those institutions—the ideals of fatherhood, in this case—which are truly how we should live? What happens when the truth is mistaken for lies, and is dismantled?
True fatherhood, defined as a man being a positive role model and family leader, when no longer culturally supported, begins to cease. Pellegrino notes that "Social revolutionists have decided that the father is no longer viable—spokespeople say the father is irrelevant to the situation of how families respond best." He goes on to talk about a powerful scene at a conference connected to Legacy Minded Men, a ministry founded by Pellegrino and focused on raising up Godly men. He describes it, saying that "One day about three years ago, we did something very different. A gentleman came to me—my music leader—and said, 'Joe, would you give me a little bit of freedom (to speak) at this conference?' I said sure. He had a very famous father. What he did was he shared a story about his father, and then invited men to come forward and receive a blessing from the pastors that were at the front of the room. It was one of the most unbelievable sights I've ever seen. Almost 95 percent of the men came up and waited in line—men that were 70 years old bawling their eyes out because they had never received a blessing from their father…and I realized this was an epidemic."
An epidemic, indeed. As reported by the U.S. Department of Health, "63 percent of youth suicides are from fatherless homes." So are 90 percent of all homeless and runaway children. So are 85 percent of children who exhibit behavioral disorders, according to the Center for Disease Control. The lists go on and on, like a trail of tears, making one thing clear; the lack or distortion of the father figure is likely the source of a number of societal ills. The truth that children need the leadership of a good father cannot be denied.
So the question becomes this: what can be done? Battaglia and Pellegrino offer a source of strength, a simple trait that can become the core and guiding principle of great fathers.
Faith.
The same thread that winds throughout culture in the form of fathers has its root set firmly in heaven—in God. Pellegrino speaks to this, saying that "Faith is about identity—what you believe in is what you are in your core. If you don't have something that's foundational and grounding, you'll be all over the road. Faith locks you down and anchors you, and gives you an understanding of who you are. The identity question is a major issue for men—they don't know who they are because society has told them that you need to be this and you need to be that. Everything has changed because we've pushed the church out of the culture, and we've allowed loud voices that are small in number to creep in and change everything."
Battaglia goes on to say that "The good thing about faith, and particularly faith in a God who is everlasting,is that we have standards, not to deny us joy, but to protect us from ourselves, often. If children have no role model at home that says here's what a man is, here's how a man acts, here's how a man treats a woman or other people, then we see what's happening in our country today." Battaglia and Pellegrino describe this ideal as a top-down relationship in which God's example of loving perfection and everlasting standards of fatherhood are passed down to earthy fathers, and from fathers to their children, who continue the cycle. When this cycle is broken, culture becomes broken along with it. The great numbers of angry, broken, fatherless people of our generation attest to this.
In one of the most moving moments of the interview, Battaglia identifies the source of many millennials' anger, a source that reveals one of the weaknesses of postmodern thought, saying that, "a lot of anger comes from fear, because that's where anger comes from, and fear comes from not having an understanding of who loves you so that you don't have to be afraid. It goes back to that primal element that a child needs." Refusing the truth of fatherhood ideals leads to confusion and fear and uncertainty. Children need to know who loves them. Christian or not—everyone can agree to that.
And of the men who do fulfill their responsibilities, who love and care for their children? Battaglia and Pellegrino use their book, and their movement, which can be found at thatsmydadmovement.com, to bring attention to the dads who are doing it right. Battaglia describes their work as "necessary to counterbalance a lot of what the media is suggesting out there and a lot of the caricatures we've seen. This book is a pendulum swing, in a sense, to help people understand the Biblical role of a father and how vital it is to the maintenance of culture and society as a whole." In that sense, "That's My Dad" is wholly successful, each interview bringing out truths about the nature of fatherhood that we can all learn from.
This Father's Day, recognize your father, or the figure, whether it be an uncle, a grandpa, or a teacher, who has stepped in to fill the role. Take time to recognize their value, and maybe, just maybe, set aside some time to get to know him. Pellegrino, speaking of how a child might better know their father, says to "go to where their passion is. Take an interest in their interests. It shows that you care, and that you're making an effort to get to know that." When people know someone cares about them, they open up, and that openness and transparency are what made a relationship real.
Fathers, do the same for your children. If any lesson is to be taken from "That's My Dad," it's that the positive relationship formed and nurtured by both father and child is vitally important, and that it is important that this relationship be passed on to the next generations. In that way, we might move, as a culture, back toward a place of peace, where we do not have to be afraid, because we know who loves us. We'll be able to say, with pride.
"That's my dad."