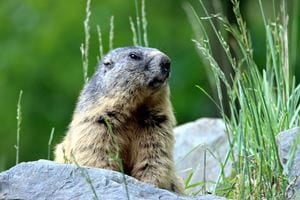 Patrice Schoefolt / pexels
A survey from
OnePoll
has concluded and found that three in five Americans trust Punxsutawney Phil's predictions on Groundhog Day.
The event, which has been held since 1886, consists of the groundhog known as Punxsutawney Phil coming out of his burrow. If Phil sees his shadow and scurries back into his burrow then it means six more weeks of dreaded winter for folks. If Phil doesn't see his shadow, then you can rejoice, for spring is near.
Punxsutawney Phil only has a 39 percent chance of being correct with predictions, but that doesn't stop Americans from putting their faith in the historical icon. As unpleasant as things can get sometimes, it's nice to just have something wholesome to believe in every year.
One might be surprised to learn that the tradition is tied to Christian roots. The celebration originally started on February 2nd in Christianity, when Christians would bring candles to their church to be blessed. They believed the act would bring blessings to their home for the remaining winter weeks.
Time moved on, and the celebration morphed into new forms and to what we now know as a weather prognostication. The prognostication celebration was introduced to Germany long before arriving in the United States. German settlers brought their lore to the U.S., and the animal was changed from a hedgehog to a groundhog.
Punxsutawney Phil first made an appearance in 1886 in a local newspaper with the introduction of Groundhog Day. In 1887 people made the first trek to Gobbler's Knob which is located in Punxsutawney in Pennslyvania , where the event has been held ever since. Every year more and more people from around the world travel to Gobbler's Knob to join in the festivities as the celebration has grown into an entire day of events.
Even though Phil's odds are worse than a flip coin, it's just good fun to join in the tradition year after year. The survey from OnePoll asked 2,000 adults who seem to mostly agree with that statement. Punxsutawney Phil is here to stay whether he's right or wrong. He's a part of American history. He's a legend. While a groundhog's life span is only three years, the
Punxsutawney Groundhog Club
swears in good fun that there is only one Phil. The following excerpt is from their FAQ section.
"There has only been one Punxsutawney Phil. He has been making predictions since 1886! Punxsutawney Phil gets his longevity from drinking the elixir of life, a secret recipe. Phil takes one sip every summer at the Groundhog Picnic, and it magically gives him seven more years of life."
The Club's website is filled with tons of fun facts and quips like Phil has a wife. Unlike Phil, she is not given the elixir of life, so she won't be around forever. When Phil isn't predicting our weather, he enjoys reading a good book and making public appearances. You can usually find him roaming the halls of schools and riding in parade floats. He even gets honored at sporting events. I mean, Phil is super famous, so it just makes sense.
So put on a coat and head up to the small town of Punxsutawney and be a part of a fun American tradition for Groundhog's Day. Regardless of whether you believe his predictions or not, there is entertainment, good food and lively people. There's no better way to spend your day.