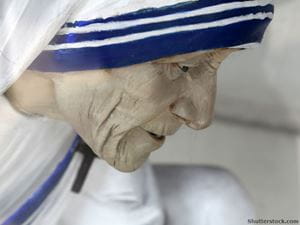 Mother Teresa has become a worldwide model for self-sacrifice and charity. She had a deep understanding of the teachings of Jesus Christ and she lived out these teachings as she served the world's downtrodden. Because of her faith, Mother Teresa was able to intimately reflect on love, prayer, giving, service, poverty, forgiveness and more throughout her earthly ministry. She also had deep hope, abiding faith in God and a revolutionary vision of Christianity that we can still learn from today.
In the midst of the world's poverty and pain, Mother Teresa showed the warm light of God's love and compassion in us all. "You are the light of the world," Jesus told His disciples. "Come, be my light." Jesus similarly urged Mother Teresa in her mission. Throughout her life, she stands as a beacon of light reflecting the heart of God to those who seek Him. In the darkness of human suffering and sin, His signs of nearness and care were reflected. Mother Teresa recognized Jesus as the bread of life, that when He came into the world, He loved it so much that He gave His life for it. Jesus became the bread of life to satisfy our hunger for God and our hunger for love. Mother Teresa stressed the importance of not allowing anything to interfere with your love for Jesus. She believed that if you trust in Jesus as your joy and strength, temptations and difficulties will come, but nothing will break you.
While we may be afraid to say "Yes" to Jesus, it's important that we remember that there is no greater love than His love and no greater joy than His joy. Mother Teresa's prayer was that we would come to understand and have the courage to answer Jesus' individual call with the word "Yes." Her call from God was to help the poor and she answered it. As Christians, it's imperative that we love Jesus generously, trustfully, without looking back and without fear. When you give yourself fully to Jesus, He will use you to accomplish great things. We are called to believe in Him and trust in Him because He is Jesus. That same Jesus is living intimately in you and His hand will be free with you. She believed that you should not look at Jesus away from us because He is not out there; He is in you. Why He has chosen us is a mystery, but our call has great power.
Mother Teresa's life was reflected not only in her work, but in her acts of service. She believed that we all have the duty to serve God where we feel called. Mother Teresa felt a calling by God to help individuals and to love each human being. She didn't think in terms of crowds in general, but in terms of individuals. Mother Teresa believed in the power of person-to-person encounters because the person matters. Loving those around us is central to Christian life. Jesus had two primary commands for His followers. Second only to "love God" is "love your neighbor as yourself." Our neighbors aren't just the people that live next door to us. Our neighbors include the poor, disenfranchised and downtrodden. Mother Teresa answered this call through the fullness of her heart. She believed the fullness of our heart was a result of our actions: how we treat the leper, the dying person and the homeless. But she also believed that we need to be pure in heart to see Jesus in the person of the spiritually poorest. Her thought was that the more disfigured the image of the God was in that person, the greater our faith and devotion in seeking Jesus' face and lovingly ministering to Him.
Long before everyone started talking about it, Mother Teresa and her sisters had gone to the margins and lived with the poor. She believed the more repugnant the work, the greater the effect of love and cheerful service. Mother Teresa shared that she would not have been able to be a Missionary of Charity had she not picked up a woman in the early part of her ministry who was eaten by rats.
Feelings of repugnance are human. Mother Teresa believed that if we give our wholehearted, free service in spite of such feelings, we will become holy. The Bible tells us that we should be invested in the interest of others. Philippians 2:4 says, "Let each of you look not only to his own interests, but also to the interests of others." This means the interests of others should be our interests too. We learn through Mother Teresa's life the power of service. In the service to the poor, we are offered a magnificent opportunity to do something beautiful for God. When we give of ourselves with all our hearts to the poor, it is Christ whom we are serving.
Mother Teresa will always be remembered for what she said and what she did while on this earth. She started her work with no money, depending only on God to help her. Mother Teresa and her followers nursed the sick and dying, taught street children, gave shelter to the homeless, cared for the unloved and the lonely and proclaimed the Word of God. Rich and poor alike have felt inexplicably drawn into the mercy of God's tender embrace by her example as a follower of Christ. Her selfless-love is a powerful example of what it means to love others as Christ loved us and a sign that God still loves the world today.