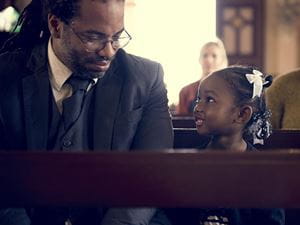 Shutterstock.com
Integrity is a strong quality to possess. A person who has integrity has strong ethical principles that are not compromised, no matter what situation they are in. Trust and honesty are vital components of integrity. Those who put integrity first value the people around them. This is also someone who can be trusted by those around them. They also do the right thing no matter who is watching. Good fathers can teach us a great deal about integrity as they tend to be strong leaders, providers and mentors. You can trust that a father who exemplifies integrity is accountable, self-aware, responsible and truthful in their actions. We can take the lessons we learn from these men and grow from them. Here are six lessons fathers teach us about integrity.
Put your family first.
A good father prioritizes his family and puts their family first. He will provide for the needs of his family, no matter the work and sacrifice. Children will have various teachers throughout their lives, but no other earthly teacher will impact your child as much as a parent. Strong fathers, who are men of integrity, teach their children through their words and through their actions. They don't just meet the physical requirements of the position but also the emotional needs. Children turn to the father to support them in all areas of their life, and a good dad will provide the best way he is able to.
Ask the hard questions.
Values shape our experiences. While we may be limited in our perspectives, life can teach us a ton of important lessons. Our fathers offer a wealth of life experience. They can also teach us ideas and challenge us by asking hard questions, not only to us but also to the people around us. Living a life of integrity requires that we are understanding and empathetic, and our fathers teach us how to be this way. Fathers of integrity are willing to ask tough questions and gain valuable lessons from what those answers reveal.
Turn to God for wisdom.
Another top quality of a good father is that they turn to God and apply His wisdom in their daily walk. They will use this same wisdom and guide their children in the same way. Proverbs 23:24 says, "The father of a righteous child has great joy; a man who fathers a wise son rejoices in him." When fathers are in committed relationships with Christ, they can guide their children to be people of integrity. He will also show them the way to have a close, intimate relationship with God. The Bible reminds us that God is the great example of what a perfect Father looks like. The Bible also says, "Train a child in the way that he should go, and when he is old, he will not turn from it" (Proverbs 22:6). The training a father gives his child allows children to see the life they were intended to live, one that is of great importance according to God's plan. There is no more significant source of wisdom than Him.
Love begins at home.
One of the greatest lessons on integrity from fathers is to love and respect their wives. They give their wives what they need the most by honoring, cherishing and loving them unconditionally. When they do this, it helps children see what a loving relationship looks like. There is no other source they can learn this from but God. A good Christian husband is a man of strength and is totally dependent on the Holy Spirit to display love to their wives and families. This will also allow the children to reflect love in their lives and, when they get older, reflect it in their marriages. God is love, so when fathers turn to Him, for example, they can love those around them better. A good father is comfortable turning to God for empowerment so they can give their children the things they need.
Have a clear sense of what's important to you.
A good father starts with what they know. They teach their children from the lessons they have learned from their own experiences. In order to be people of integrity, we have to have a clear sense of the things that are important to us. The values in our lives constantly shape and reshape throughout our lives as we learn and grow. Fathers teach us to sit down from time to time and look at the values that matter most to us. When we are aware of what we care about the most, we can keep our actions aligned with our values.
Are outward should match our inward
It's essential that what we also project matches what's going on in our hearts.
While it's easy to say our outward should match our inward, this can be hard to put into practice. Good fathers reflect integrity in their actions and their convictions. They aren't afraid to tell their children what's most important. After going through real life situations, their lives have been challenged. They have also had to stand up for what they believe in, not only in their personal lives but also in their private lives with family and close friends.
Being a father is easy, but being a good father requires love, commitment and sacrifice. Good fathers turn to scripture for valuable instruction. Ephesians 6:4 says, "Fathers, do not exasperate your children, instead bring them up in the training and instruction of the Lord." The Bible shows us that fathers throughout history have been diligent in instructing their children to advance their spiritual growth and development. A good father is clear that their children are called to live a life of great importance. Take the time today to thank your father for the lessons they've taught you. If your father has taught you any of these lessons about integrity, he is a good one.