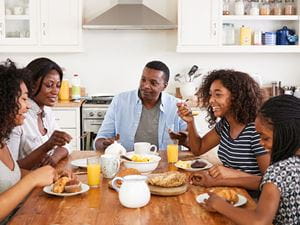 Shutterstock.com
Have you ever struggled to make the right choices to your family? Do you sometimes wonder how to be the best leader, or how to teach your children the best morals? When God created your family, He had a beautiful vision in mind. He wants each of you to thrive and become the best versions of yourselves. He gave us great instructions on how to do so.
The Bible is filled with verses on parenting your children, raising a family, and bringing everyone closer together. You will learn how to be a leader for those that depend on you. Reflect on each of these passages to strengthen your family bonds.
4 Bible Verses About Bringing Family Together
When we put our energy into growing our family closer, we are gifted with indescribable love. When we bring our families closer together in Jesus Christ, that bond is made that much stronger. Bring your family together as God intended.
"Honor your father and your mother, that your days may be long in the land that the Lord your God is giving you." (Exodus 20:12)
"Bear with one another and, if one has a complaint against another, forgive each other; as the Lord has forgiven you, so you also must forgive." (Colossians 3:13)
"How good and pleasant it is when God's people live together in unity!" (Psalm 133:1)
"Behold, children are a heritage from the Lord, the fruit of the womb a reward. Like arrows in the hand of a warrior are the children of one's youth. Blessed is the man who fills his quiver with them! He shall not be put to shame when he speaks with his enemies in the gate." (Psalm 127:3-5)
5 Bible Verses About Family Love
The love a family has for each other can be a strong one. We must let that love flow in all of the relationships – parent and child, husband and wife, and with Jesus Christ. These verse help us understand what that love means.
"Husbands, love your wives, just as Christ loved the church and gave himself up for her." (Ephesians 5:25)
"Love is patient, love is kind. It does not envy, it does not boast, it is not proud. It does not dishonor others, it is not self-seeking, it is not easily angered, it keeps no record of wrongs. Love does not delight in evil but rejoices with the truth. It always protects, always trusts, always hopes, always perseveres. Love never fails." (1 Corinthians 13:4-8)
"Let love be genuine. Abhor what is evil; hold fast to what is good." (Romans 12:9)
"We love because he first loved us." (1 John 4:19)
"So now faith, hope, and love abide, these three; but the greatest of these is love." (1 Corinthians 13:13)
4 Bible Verses on Teaching Children
Are you doing what it takes to set your child up for long term success? This means not only giving them the tools needed to do well in school, but what they need to be spiritually full as well. Teach them the morals and values that your parents instilled in you while you grew up in church.
"Direct your children onto the right path, and when they are older, they will not leave it." (Proverbs 22:6)
"These words I am commanding you today must be kept in mind, and you must teach them to your children and speak of them as you sit in your house, as you walk along the road, as you lie down, and as you get up." (Deuteronomy 6:6-7)
"You have been taught the holy Scriptures from childhood, and they have given you the wisdom to receive the salvation that comes by trusting in Christ Jesus. All Scripture is inspired by God and is useful to teach us what is true and to make us realize what is wrong in our lives. It corrects us when we are wrong and teaches us to do what is right." (2 Timothy 3:15-16)
"Children, obey your parents in the Lord, for this is right. 'Honor your father and mother'- which is the first commandment with a promise - 'so that it may go well with you and that you may enjoy long life on the earth.' Fathers do not exasperate your children; instead, bring them up in the training and instruction of the Lord." (Ephesians 6:1-4)
6 Bible Verses on Setting an Example
Being a parent means being the leader of your family. Here you have to hold yourself up to a higher standard so that your children will follow suit. If you regularly make mistakes without apologizing, for example, they will learn the same behavior. Here are a few verses that will help you stay on top of your game.
"Let no one despise you for your youth, but set the believers an example in speech, in conduct, in love, in faith, in purity." (Timothy 4:12)
"Live such good lives among the pagans that, though they accuse you of doing wrong, they may see your good deeds and glorify God on the day he visits us." (1 Peter 2:12)
"Encourage young men to use good judgment. 7 Always set an example by doing good things. When you teach, be an example of moral purity and dignity." (Titus 2:6-7)
"Live as free people, but don't hide behind your freedom when you do evil. Instead, use your freedom to serve God." (1 Peter 2:16)
"Join together in following my example, brothers and sisters, and just as you have us as a model, keep your eyes on those who live as we do." (Philippians 3:17)
"If I then, your Lord and Teacher, have washed your feet, you also ought to wash one another's feet. 15 For I have given you an example, so that you will do as I have done to you." (John 13:14-15)
3 Bible Verses on Disciplining Your Children
No parent likes to discipline their child. In a perfect world, we wouldn't have to be the strict, harsh parents we sometimes have to be, and instead would enjoy being our child's best friends. When you struggle to find the courage to put your child in time out, remember these verses from the Lord.
"For the moment all discipline seems painful rather than pleasant, but later it yields the peaceful fruit of righteousness to those who have been trained by it." (Hebrews 12:11)
"To discipline a child produces wisdom, but a mother is disgraced by an undisciplined child. When the wicked are in authority, sin flourishes, but the godly will live to see their downfall. Discipline your children, and they will give you peace of mind and will make your heart glad." (Proverbs 29:15-17)
"The one who loves discipline loves knowledge, but the one who hates reproof is stupid." (Proverbs 12:1)
God had a goal in mind when He designed the family unit. He wants to uplift your family and bring you closer together. With His teachings from the Bible, you will become a great leader for your family and children.