Shopping for the best cleaning products to use in your home can be overwhelming. There are so many things to take into consideration like what exactly it can be used for, the ingredients, is it pet friendly? Safe to use around children? Next thing you know you have a closet full of cleaning products specific to certain areas or objects in your home. Out of all the common household products you may have in your home right now, there is something you may have that will solve all of your cleaning worries-Vinegar.
Vinegar is probably one of the best multi-purpose cleaners to use around the house. Anything from microwaves to wood furniture, vinegar can be used to clean. Because of its acidic nature, vinegar is a great disinfect while also being tough on bacteria, dirt, grease and grime. It may not have that lemony-fresh scent, but vinegar is an inexpensive and environmentally safe alternative to store bought cleaners.
There are many types of vinegar such as apple cider vinegar, white wine vinegar, and balsamic vinegar. The best type of vinegar to use for cleaning is white distilled vinegar. This type of vinegar doesn't contain a coloring agent which means it won't stain surfaces.
Check out these 10 incredible ways you can use vinegar to clean at home.
---
Wiping Appliances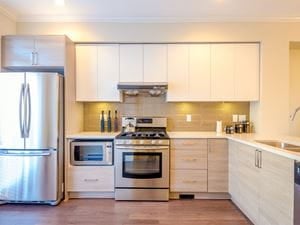 Shutterstock.com
Vinegar makes a great cleaner because it's acidic, which means it's cutting through all the grease and grime that may be found on household appliances. Vinegar is great for inside and outside cleaning of appliances, as well as stainless steel. For convenience you can pour the vinegar into a spray bottle and use a cloth to wipe down appliances.
Microwaves can sometimes be a tedious place to clean, but vinegar can definitely make it easier. Placing a bowl containing one fourth cup of vinegar and one cup of water inside the microwave, and heating for a couple of minutes will loosen up stubborn stains. Afterwards you can take your cloth and see for yourself how easy it will be to wipe away stains. This hack will also eliminate unwanted odors that occupy your microwave. Talk about a two for one; white vinegar will help keep your kitchen at its finest
---
---
Removing Stickers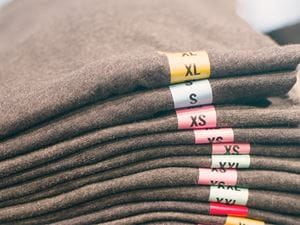 shutterstock.com
Have stickers or the remaining parts of stickers attached to anything? If you're trying to remove a sticker from the wall furniture or even your laptop, don't go out and waste money buying fancy adhesive removal; vinegar will work just fine! Regular cleaning solutions can be ineffective, and most run the risk of actually making the situation worse. Lightly paint the surface of the object with white vinegar until it soaks through the sticker, let it sit for five minutes or so, and then scrape away any remaining residue.
This method also works great with removing stickers or sticky adhesive from clothing. Pour white vinegar onto a paper towel, put it on the fabric and let it soak for a few minutes. Then just grab an old toothbrush to scrub away at the remaining residue and you should start to see the adhesive rolling up. Allow the fabric to dry to ensure the entire adhesive has been removed and then throw it in the washing machine.
---
Removing Odors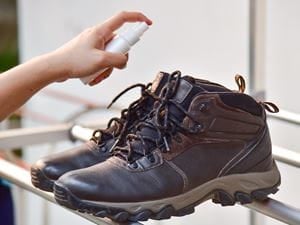 shutterstock.com
As unpleasantly smelling as vinegar can be, another great cleaning hack is that it can actually be used to remove odors. Cooking can sometimes create unwanted odors that can spread throughout the house and last for days. To prevent this, try boiling a pot filled with one half water and one half white vinegar while cooking to remove odors from the air. It isn't going to smell the best at first, but after a couple of minutes it won't smell like anything at all. If you're handling smelly things such as fish, garlic, onions; washing your hands with white vinegar can be a great way to get rid of the stench.
You can also create your own air freshener using white vinegar. Pouring a combination of water, vinegar, and your favorite essential oil into a spray bottle makes an easy to use air freshener to be used around your home.
---
---
Scrubbing Surfaces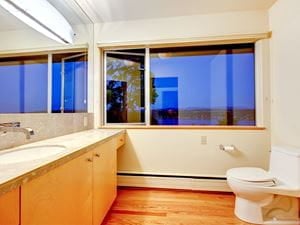 Shutterstock.com
Use white vinegar to scrub away the scum left in bathtubs, solid-surface-counters, shower doors, windows and mirrors.
For cleaning the bathtub, use a spray bottle filled with white vinegar and water to spray the surfaces. Let the solution sit for at least 15 minutes then wipe away with a microfiber cloth or non-scratch sponge.
The same method can be used for cleaning counter tops in both your kitchen and bathroom, however avoid using vinegar if you have granite or marble surfaces. Because white vinegar is acidic, it can cause etching to the surface. You should always use a pH neutral cleaner on natural stones.
No one likes foggy mirrors or windows with streaks, so grab that spray bottle mixture of white vinegar and water to use for regular mirror and window cleaning. A bonus cleaning hack is that you can use newspaper as your cloth to wipe down both windows and mirrors.
---
Cleaning Toilets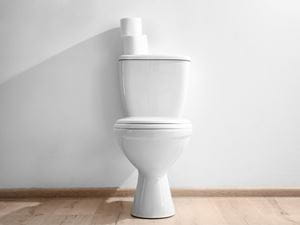 shutterstock.com
Whether you're doing your usual weekly bathroom cleaning or trying to catch up on missed cleaning, white vinegar can get your toilet bowl sparkling again. Start by pouring one half cup into the toilet bowl, letting it sit for an hour, then scrubbing with a toilet brush, and flushing. For tougher toilet stains and rings, pour white vinegar into the toilet bowl and letting it sit overnight. You will be surprised at how well the grimy mess comes off. It will not only remove odors, it will get rid of any germs, bacteria or mold on contact. Paring white vinegar with baking soda or borax make a dynamic duo for bathroom cleaning, especially hard water stains.
Another way to keep your toilet clean and functioning properly is by adding vinegar to the tank. Add three cups of vinegar to the tank and let it stand for 30 minutes before flushing to deodorize your toilet.
---
---
Carpet Cleaning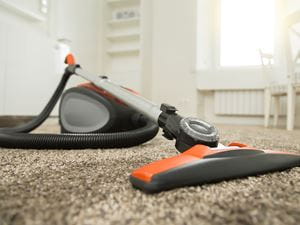 Shutterstock.com
If you are looking for a safe and inexpensive way to clean carpets, white vinegar is the solution-literally. Instead of using toxic chemicals in a carpet cleaning machine, try mixing a ration of one half white vinegar and one half hot water to put into the machine. The mixture can remove almost any type of carpet stain such as pet stains, mud, and red wine. It will also remove any odors from the carpet.
Keep in mind the cleaning technique you use when cleaning carpets. Depending on if the stain is wet or dry will determine what technique you should use. Just be sure to never rub in stains as this will damage the carpet fibers. It's also important to check for color changes or change in texture on a small area before using it on the entire carpet. Carpets made of natural fibers and wool, or silk are delicate and should not be cleaned with vinegar.
---
Removing Rust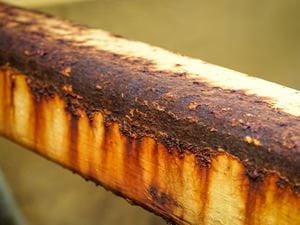 shutterstock.com
Instead of grinding, sanding or even ignoring rust on objects around the house, use white vinegar for a more gentle way of removing rust. White vinegar is an effective method for rust removal. Its acidity, combined with salt is good for removing rust from copper, brass, and pewter objects. It will eat through any rust or corrosion making it easier to scrub off later.
Start by mixing one teaspoon of salt, one half cup of white distilled vinegar and flour to make a past. Then apply it to the metal and allow it to sit for 15 minutes. Using clean water, rinse off the object and pat dry with a cloth. If the object is small enough, you can also submerge the rusted object in undiluted white vinegar and allow it to soak for 30 minutes. It's also important to note that vinegar can react differently depending on the metal, so do your research on the metal you are working with and adjust the soaking time as needed.
---
---
Dish Washing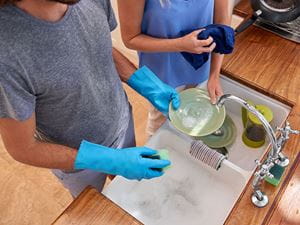 Shutterstock.com
Vinegar is an indispensable tool in the dish washing area. White vinegar is a great rinse aid in the dishwasher. If you want those dishes in the dishwasher guaranteed to be sparkling, try mixing one and one half to two cups of white vinegar in a dishwasher-safe bowl on the top rack of your dishwasher. You can do this with a regular wash cycle and the normal amount of detergent.
White vinegar can also be used to clean the interior of a dishwasher. Start by cleaning out the drain to remove any leftover crud, and then run a cycle with a vinegar rinse. Place a cup of white vinegar on the top rack of the dishwasher and set it to run on a hot cycle. This will transform the inside of your dishwasher and get rid of any lasting grease that has been sticking to your machine.
---
Weed Killing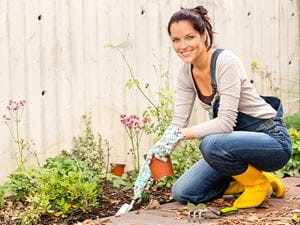 Shutterstock.com
Put down the toxic weed killers and use white vinegar on outdoor gardening or yard work. Pouring full-strength white vinegar on unwanted vegetation is the hassle free way to restoring your gardens and yard. It's a great alternative to the toxic chemicals most commonly used for controlling weeds and pests.

You can also create a homemade weed killer by mixing one gallon of white vinegar into a bucket with one cup of table salt. Stir in one tablespoon of liquid dish washing soap and funnel the weed killer into a spray bottle.
Then, on a dry, sunny day, take your homemade weed killer and completely drench the weeds. Be sure to remember that any plants soaked with this solution will die, so be careful where you are spraying. When you're done, label your weed killer bottle and store it in a cool dark spot for infinite use.
---
---
Laundry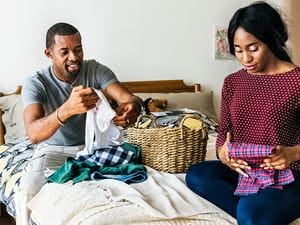 Shutterstock.com
When it comes to laundry, distilled white vinegar can be your saving grace for achieving softer clothes. If you don't like using heavily scented fabric softeners but want softer clothes, distilled white vinegar is your best option. Pour one cup of vinegar into the last rinse cycle for a natural fabric softener. You won't have to worry about any residue being left on your laundry either; this will prevent any lint and pet hair from sticking to clothes. Add one half cup of distilled white vinegar in each load to help clean and deodorize your clothes. You will notice that the vinegar will restore the color of your clothes and remove any odors they have. It will also stop colors from fading. Vinegar is safe to use in standard and high efficiency washers, as well as cleaning the inside of them.
---
Vinegar has proven to be a staple item in household cleaning and the list doesn't stop here. Hop online to check out the different recipes and tricks that are out there involving vinegar. The versatility vinegar has allows it to be used on so many different things. There are great benefits to switching your cleaning products to something more natural such as being skin friendly and allergy free. Be sure to do your research and know exactly what vinegar can be used on to avoid ruining any valuable furniture, metals, or flooring. Cleaning with vinegar is sure to make your home healthier and your wallet happier.